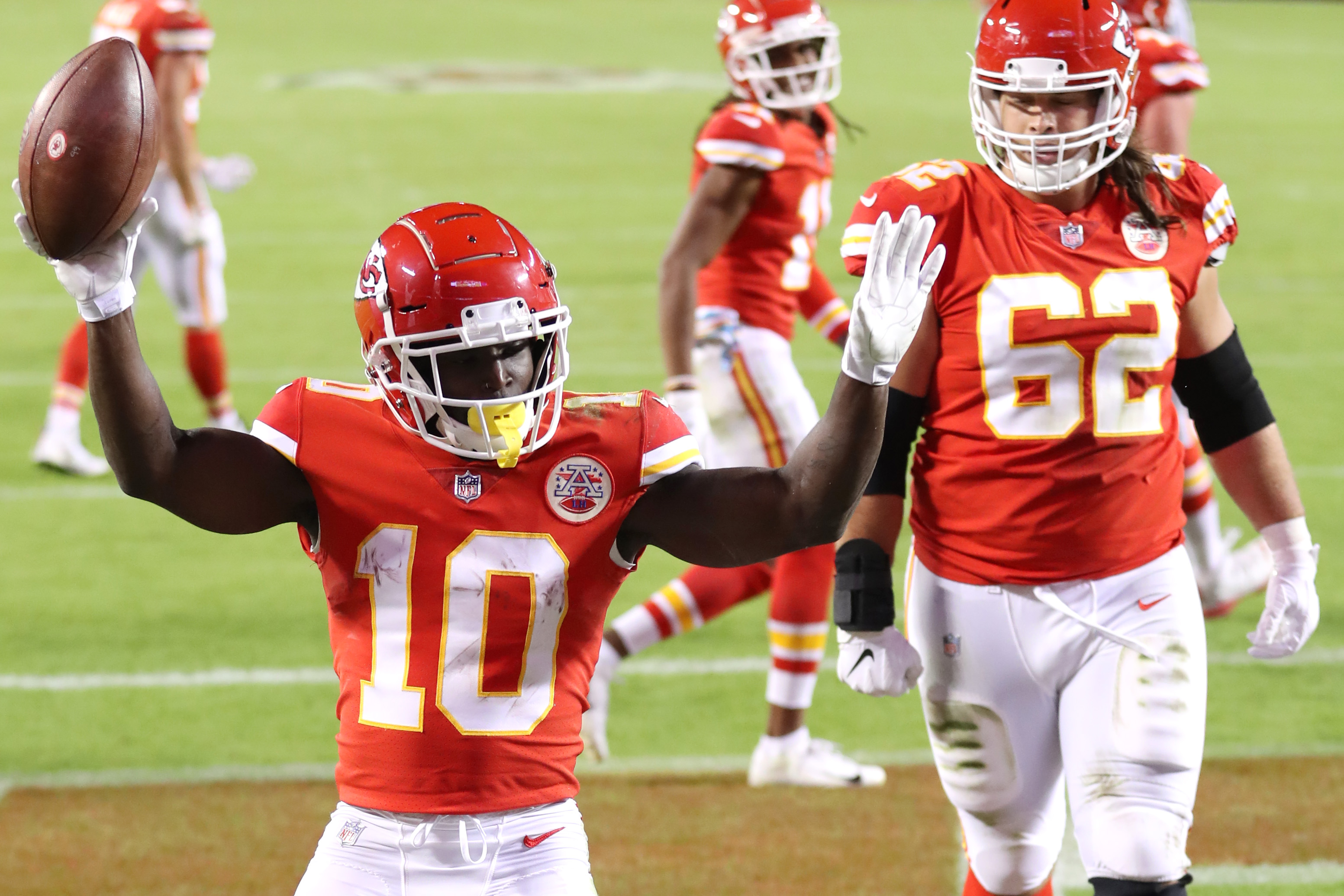 Tyreek Hill's NFL success didn't come out of nowhere. He was always an athletic specimen, always one of the fastest wide receivers of his draft class. Seemingly every week, there's a new highlight of some superhuman feat by Hill.
Yet he didn't go until the fifth round of the 2016 draft. The Kansas City Chiefs, powered by some mix of keen analytics and outright magic, would develop Hill into one of the most talked-about WRs this century. For a guy who went from not getting invited to the NFL Combine, he's now arguably the best WR in years. His numbers get even more impressive if you look at the first half of games specifically.
Tyreek Hill is an undeniable beast in the first half
Tyreek Hill celebrates after a score | Jamie Squire/Getty Images
CBS Sports recently broke down Hill's first-half magic. Since going 165th overall, he's averaged 14.7 yards per catch. He has 21 50-plus yard completions, thanks in part to one Patrick Mahomes' own explosive entrance to the NFL stage in 2017. His 45 receiving touchdowns are the bow on an incredible resume for a WR drafted so late.
His isolated 2020 stats show that he's only getting better, according to Pro Football Reference. He's second on the receiving yards leader board, and first among receiving TD leaders. His synergy with Mahomes is out of this world.
The former MVP has a 139.9 passer rating when targeting Hill, proving that they both benefit from each other rather than the talented QB padding out his targets' stats.
The bulk of this, as USA Today reports, goes down in the first half of Hill's appearances. The Chiefs tend to go out swinging right after the coin flip, and Hill is generally the first punch to their opponent's mouths. Even when Hill isn't quite on point with his receiving prowess early, he simply switches gears.
The Kansas City Chiefs' draft pick magic landed them Tyreek Hill
Tyreek Hill Travis Kelce
🤝
Dominating the NFL

Hill Kelce
77 REC 90
1,158 YDS 1,250
14 TD 9
89.1 YDS/G 96.2@cheetah | @tkelce | #ProBowlVote pic.twitter.com/2mptBWEQ7i

— CBS Sports HQ (@CBSSportsHQ) December 15, 2020
RELATED: Travis Kelce Earned $8 an Hour as a Telemarketer Before Making Millions With the Kansas City Chiefs
Hill was a fifth-round pick. Mahomes, who was always an early first-round candidate, had teams trade up past him. The Chicago Bears made moves to get Mitch Trubisky rather than settling for the future Super Bowl champion. Trubisky now struggles to justify getting playing time over a declining Nick Foles.
Travis Kelce was picked up in 2013, the same year as the Andy Reid hiring sent the Chiefs in a brand-new direction. He fell to the third-round, 63rd overall; a few years later, he emerged as one of the best tight ends in the NFL. These types of decisions were all a little controversial in the moment, surrounded by second-guessing.
It makes one reconsider whether the 2020 selection of an injury-addled Lucas Niang, as Fansided reports, was actually all that risky in the first place.
Other teams went hands-off on him, questioning whether he'd recover from some recent injuries. The Chiefs, apparently, focused instead on the eye-popping fact that …read more
Source:: Sportscasting
(Visited 4 times, 1 visits today)

Aaron Rodgers Fast Tempo Surprises Rams Defense | Rams vs Packers