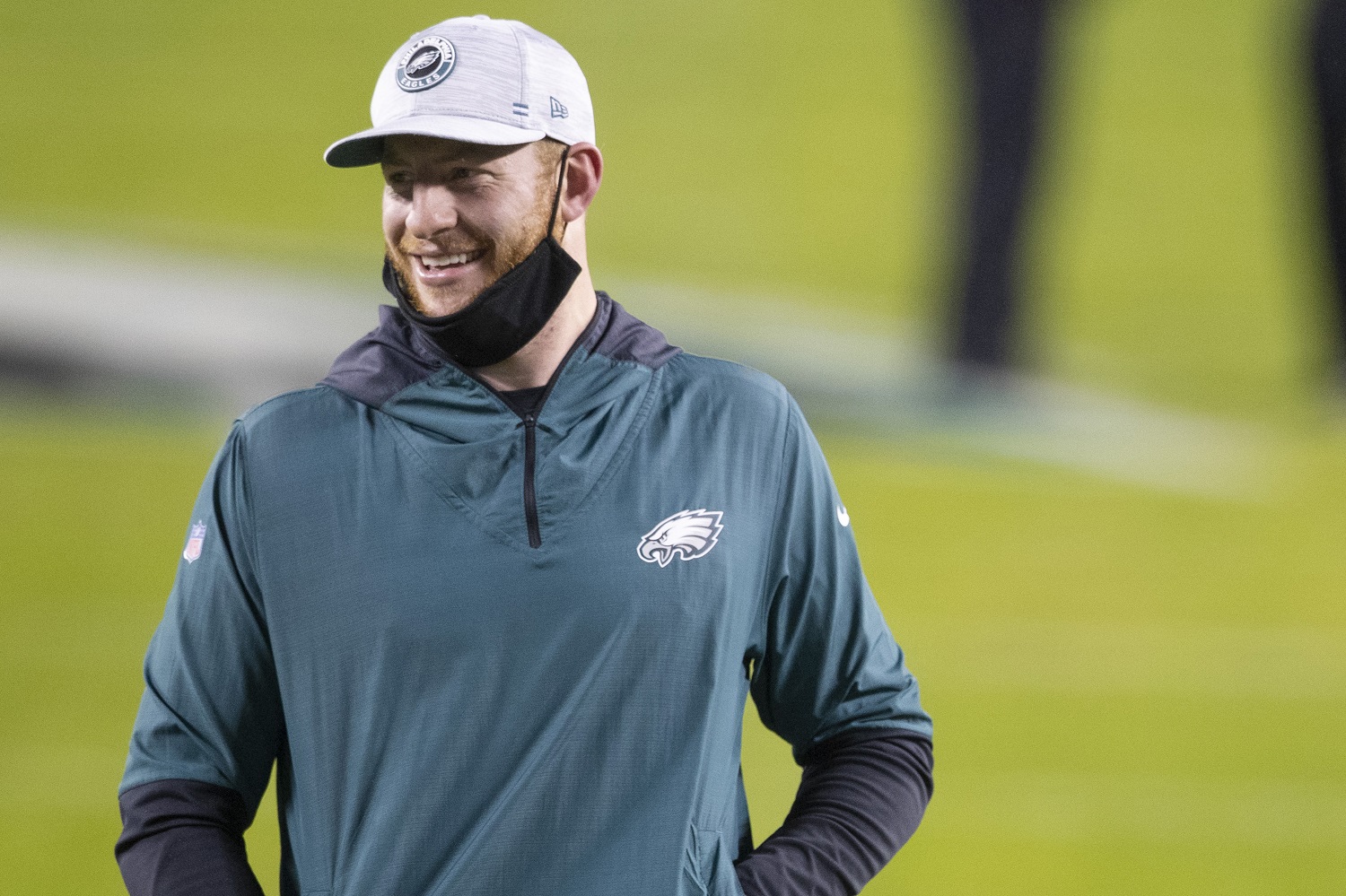 With Doug Pederson now gone as the head coach of the Philadelphia Eagles, the future of Carson Wentz with the franchise seems to look a little better than it did a couple of weeks ago, at least that's what most seem to think. However, there are still quite a few factors in play here and there's certainly still a chance that Philly decides to part ways with the former Pro Bowler, which would certainly be an expensive move but one Jeff Lurie might still be willing to make.
Now, if the Eagles do decide to trade Carson Wentz, most seem to think that he'd end up with the Indianapolis Colts, which actually does make the most sense given his history with Frank Reich. And while just about every sportsbook in the country lists Indy as the top potential landing spot, the Chicago Bears have emerged as one of the new favorites given their issues at the quarterback position.
But wouldn't it be a little hilarious if Carson Wentz ended up with the Bears? You know, because Nick Foles, the guy who filled in for him and won the Eagles a Super Bowl, will likely still be there for at least the next year or two.
The future of Carson Wentz with the Philadelphia Eagles isn't 100% secure just because Doug Pederson got fired
RELATED: Firing Doug Pederson Still Doesn't Fix the Eagles' Biggest Problem
With Philadelphia Eagles owner Jeff Lurie deciding on Monday to part ways with Doug Pederson, the only Super Bowl-winning coach in franchise history (crazy to think that win was less than three years ago), it seems that most people are under the impression that Carson Wentz's future with the team is a bit more secure. And that may be true.
Wentz, who was benched during the 2020 season for Jalen Hurts, signed a four-year/$128 million extension ahead of the 2019 season, a deal that technically hasn't even started yet and runs through the 2024 season if completed. Now, if the Eagles release Wentz, they'll have about $59.2 million in dead money but only if they release him before March 19. If they release him after that, that number jumps to more than $74 million. So this definitely isn't happening.
If Philly trades Carson Wentz, they'd take the biggest dead-cap hit in NFL history at more than $33 million so this isn't the most appealing option either. But that doesn't mean Jeff Lurie won't do it. When he addressed the media on Monday, he said a lot of nice things about Wentz but also called him "an asset," a term normally reserved for trade pieces in NFL front offices.
He also threw out terms like "his heart is in the right place" and talked about the difference in his vision as opposed to Doug Pederson's, which seems more tailored to a younger quarterback, you know, like Jalen Hurts. It just doesn't seem that he's fully on board with Carson Wentz for the future …read more
Source:: Sportscasting
(Visited 5 times, 1 visits today)

Warriors vs Lakers INTENSE FINAL MINUTES of the 4th Quarter! | NBA Season | Jan 18, 2021