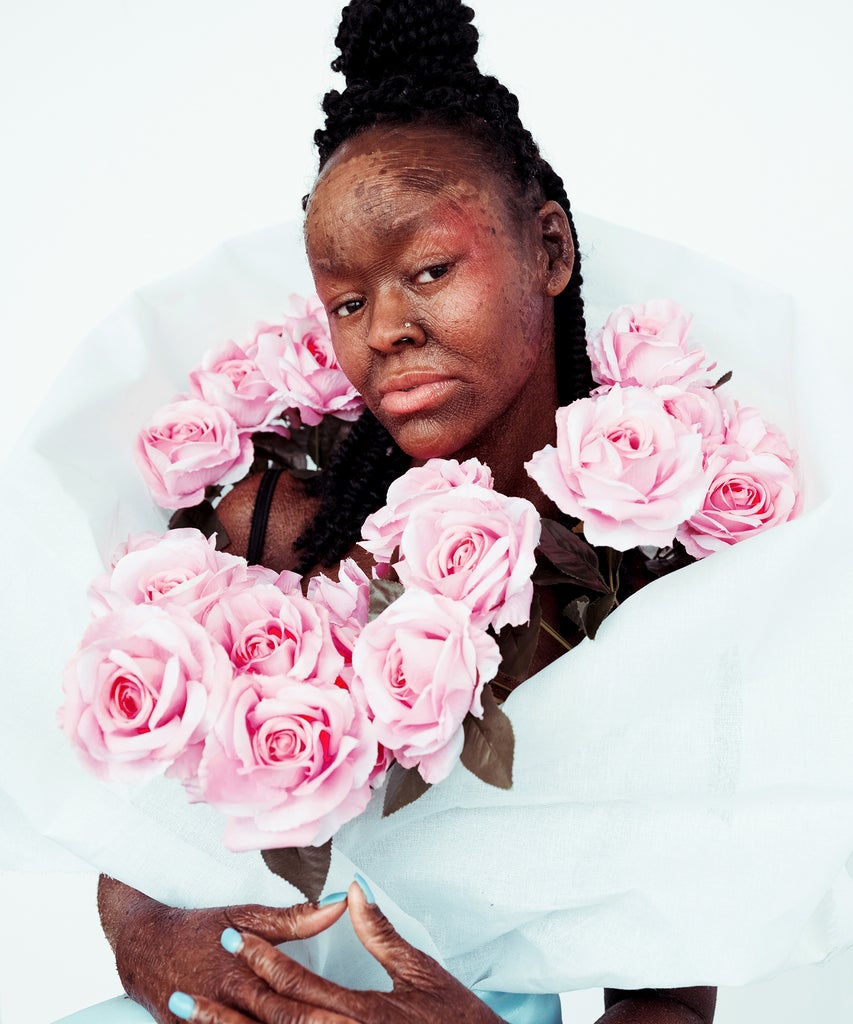 The Real Catwalk is more than just a fashion event — it's a means of empowering and celebrating people in all their unique glory. Founded by model and activist KhrystyAna, The Real Catwalk Project is an inclusive project that works to combat conventional beauty standards and establish a new way forward for the fashion and beauty industry. This year, models were photographed by Ryan Michael Kelly, wearing looks by Guvanch, and spoke about what it is that makes The Real Catwalk so special an experience for them — and for anyone who comes across this pure expression of joy.
Jeyza Gary, She/Her
"The Real Catwalk represents everything that the industry is lacking: true inclusion and diversity. It is a safe space, a place to be honest and free.
"It's important for me to show up for the projects that promote real inclusivity, because my passions aren't only for me. Everything I do is so much bigger than me, quite naturally I'd have to support projects that resonate deeply."
Liz Harlan, She/Her
"I have been in the modeling industry for the past four years and have worked at every size, from a size 14 to a size 2. Although a lot of progress has been made, the industry still demands unrealistic expectations for a model's body whether they are 'straight-sized,' 'plus-sized,' or 'in between-sized.' I felt I could never meet the industry's standards for my body which has led to years of me struggling with eating disorders in order to have particular measurements for work. I took some time off from modeling because of the coronavirus and did a lot of soul searching. I have decided to start modeling again on my terms. Instead of trying to maintain unrealistic expectations for my body, I am committed to my health and eating disorder recovery. 
"When I was growing up there were not many figures in the media whom I could relate, which ultimately impacted my self-worth and how I perceived myself… I think it is important to be a part of projects showcasing real inclusivity because it aligns with my personal beliefs. Every person deserves to pursue their happiness, feel beautiful and comfortable in their own skin."
Jaleesa Graham, She/Her
"I was born missing the lower half of my right arm, and growing up I always wanted to become a model. I was always discouraged because I never saw any models on the runway that looked like me, so I thought that I could not be a model, because I didn't 'look' like a model. The Real Catwalk shows beauty as it should — in different shapes, sizes, looks, and includes everyone's uniqueness. You really feel embraced by everyone, …read more
Source:: Refinery29
(Visited 3 times, 2 visits today)

Dustin Johnson highlights | Round 3 | Genesis | 2021

In the third round of The Genesis Invitational 2021, Dustin Johnson recorded three birdies against 3 bogeys to remain even through 13 holes before play was suspended due to darkness. Johnson is 7-under-par for the tournament. The PGA TOUR returns to iconic Riviera Country Club for The Genesis Invitational. Tournament host Tiger Woods will be in attendance but won't play as he is still recovering from a back procedure last month. World No. 1 Dustin Johnson and defending champion Adam Scott are among the headliners. Notables in the invitation-only field include major champions Brooks Koepka, Bryson DeChambeau, Collin Morikawa, Jordan Spieth, and Francesco Molinari, plus world No. 2 Jon Rahm. Two-time FedExCup winner Rory McIlroy looks to finally lift the trophy at Riviera after holding a piece of the lead Sunday a year ago only to fall to T5. In addition to reigning champ Johnson, FedExCup winners in the field include Justin Thomas, Brandt Snedeker, and Jim Furyk. Here you can find everything you need to stay up to date with the world's foremost golf tour. Check in for highlights from every tournament plus player profiles, swing analysis and all the greatest shots and amazing moments. Teryn Gregson presents the craziest moments from around the world of golf in 'Good, Bad & Unusual'.