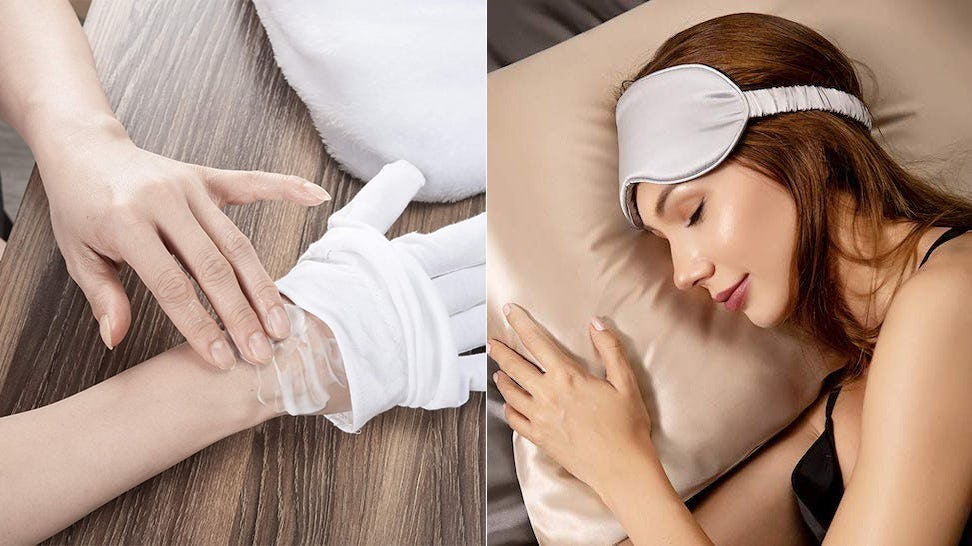 I've never been — and probably never will be — a morning person. Even if I get a full 10 hours of sleep, I'm almost guaranteed to wake up looking like I've had 30 minutes (at most). And while it's totally normal to not feel runway-ready in the morning, there are tons of clever things on Amazon that can help you wake up on the right side of the bed.
I'm not just talking about silk pillowcases that help keep hair healthy-looking, either (but I admit, they're awesome). I know tastes can vary, so I've taken the liberty of including a mix of items in this list for everyone and anyone. There's a whitening pen that buffs away stains from your teeth, along with a cooling blanket to help you stay sweat-free so you feel fresh. And if you wake up with tired, swollen eyes — which is also common — make sure to check out the under-eye patches that help soothe inflammation. Not only do reviewers love them, but they're also made with collagen to help improve your skin's elasticity.
Whether you're freshening up your complexion after a deep sleep or looking for ultra-cute pajamas, you can't go wrong with all the genius things available on Amazon.
Keep scrolling for some of my favorites.
These Satin Pillowcases To Help Reduce Unwanted Morning Frizz
Tired of waking up with unwanted frizz? Swap out your cotton pillowcases with these satin ones. The silky fabric is gentle on your hair and shouldn't absorb any moisture, keeping your 'do smooth and hydrated. And since the pillowcases are available in dozens of colors, it shouldn't be hard to match them to your current sheets.
These Socks Lined With Gel To Moisturize Your Heels
Do you have dry, cracked heels when you wake up? If so, pop these gel-lined socks on, and they can help moisturize your feet while you sleep. You can also wear them during the day — and if you're looking for extra hydration, you can add your own lotion. One size fits most, and they come in various different colors.
The Sleeping Cap Lined With Soft, Hair-Friendly Satin
I've been sleeping in this cap for a few weeks now, and have definitely noticed that my hair has less frizz every morning (thanks to its smooth satin lining that keeps the moisture where it is). It's large enough to fit nearly any length of hair, and the elastic band on the inside helps keep it from falling off throughout the night.
The Milk Mask That Helps Soften Parched Lips
Apply this mask to your lips before bed, and the Persian silk tree extract combined with hyaluronic acid can help soften them in time for the next day. The lavender oil and chamomile extract give it a relaxing scent, and it also "keeps lips soft and not greasy," commented one reviewer.
The Colgate Stain Remover That …read more
Source:: Bustle
(Visited 3 times, 1 visits today)

Dustin Johnson highlights | Round 3 | Genesis | 2021

In the third round of The Genesis Invitational 2021, Dustin Johnson recorded three birdies against 3 bogeys to remain even through 13 holes before play was suspended due to darkness. Johnson is 7-under-par for the tournament. The PGA TOUR returns to iconic Riviera Country Club for The Genesis Invitational. Tournament host Tiger Woods will be in attendance but won't play as he is still recovering from a back procedure last month. World No. 1 Dustin Johnson and defending champion Adam Scott are among the headliners. Notables in the invitation-only field include major champions Brooks Koepka, Bryson DeChambeau, Collin Morikawa, Jordan Spieth, and Francesco Molinari, plus world No. 2 Jon Rahm. Two-time FedExCup winner Rory McIlroy looks to finally lift the trophy at Riviera after holding a piece of the lead Sunday a year ago only to fall to T5. In addition to reigning champ Johnson, FedExCup winners in the field include Justin Thomas, Brandt Snedeker, and Jim Furyk. Here you can find everything you need to stay up to date with the world's foremost golf tour. Check in for highlights from every tournament plus player profiles, swing analysis and all the greatest shots and amazing moments. Teryn Gregson presents the craziest moments from around the world of golf in 'Good, Bad & Unusual'.