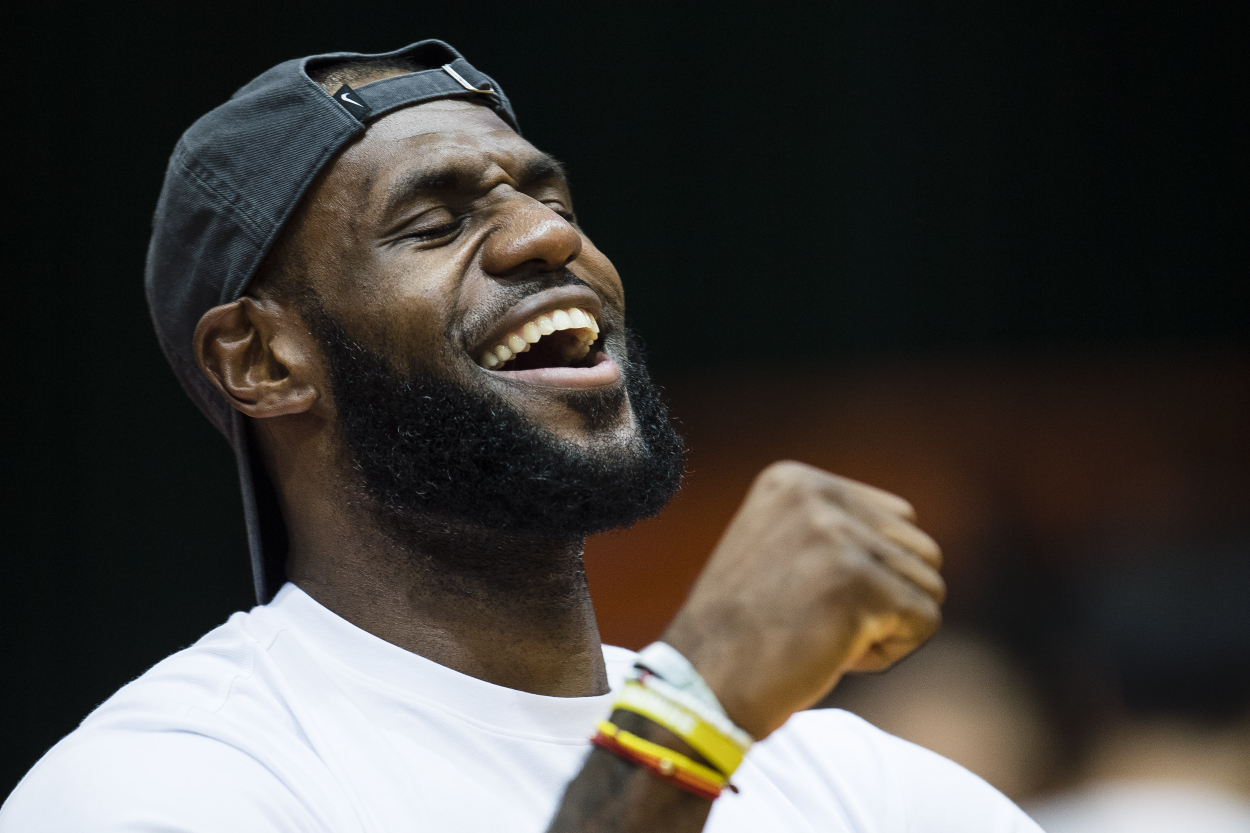 Ever since he was a high school kid, NBA superstar LeBron James has been deemed as the chosen one. He has lived up to all of that hype and then some, too, as James has become one of the top two basketball players of all-time. However, while he is a future basketball Hall of Famer, LeBron James' former Cavs teammate says that he is the "chosen one" of an entirely different game.
LeBron James has been the 'chosen one' in the NBA
RELATED: LeBron James' Upcoming $1 Billion Achievement Is a Feat Michael Jordan Never Even Reached
In February 2002, Sports Illustrated featured LeBron James, a junior in high school, on its cover with the words, "The Chosen One." Many people thought it was potentially too much hype for a teenager. James, though, has lived up to it and then some.
LeBron James went to the Cleveland Cavaliers, his home team, with the No. 1 overall pick in the 2003 NBA draft. In just his third season, he averaged over 31 points per game. He then later led the entire NBA in scoring in his fifth season in 2007-08. James also led the Cavs to heights that the franchise had never seen before, as they reached the NBA Finals in 2006-07.
However, in 2010-11, James went to the Miami Heat and has since been on one of the most dominant runs in NBA history. LeBron James made eight straight NBA Finals appearances with the Heat and Cavs from 2010-11 through 2017-18. He ultimately made nine NBA Finals appearances in 10 seasons from 2010-11 through 2019-20 and won four championships during that span, one coming with the LA Lakers.
James is also a 17-time NBA All-Star, a four-time NBA MVP, and a four-time NBA Finals MVP. He is also third in NBA history in total points with 35,017 and eighth in assists with 9,583. His 27 points-per-game average is also fifth in league history.
Despite all of his NBA accomplishments, though, LeBron James may be the "chosen one" in a different game.
The NBA legend is really good at cards
LeBron James poses for photos with local players of Hong Kong at the Rise Academy Challenge on Sept. 5, 2017. | Power Sport Images/Getty Images
RELATED: Stephen A. Smith Calls Out LeBron James, Claims He Just 'Lied to the American Public'
Kendrick Perkins was LeBron James' teammate on the Cavs in 2014-15 and 2017-18. He has since discussed how good James is at something other than basketball; he's good at cards.
"There's one thing about LeBron. For some reason, when we play cards, he is really just the Chosen One," Perkins said, according to The Athletic. "I've never seen him lose at anything. We will be playing cards and I'd be like, 'Who won?' He'd be like,'S***, not me. I lost,' and he'd try to put it on somebody else, but he'd have all the cash in his hand. Like he would never lose."
Perkins continued: "I've never seen him take an L. It was …read more
Source:: Sportscasting
(Visited 2 times, 1 visits today)

Dustin Johnson highlights | Round 3 | Genesis | 2021

In the third round of The Genesis Invitational 2021, Dustin Johnson recorded three birdies against 3 bogeys to remain even through 13 holes before play was suspended due to darkness. Johnson is 7-under-par for the tournament. The PGA TOUR returns to iconic Riviera Country Club for The Genesis Invitational. Tournament host Tiger Woods will be in attendance but won't play as he is still recovering from a back procedure last month. World No. 1 Dustin Johnson and defending champion Adam Scott are among the headliners. Notables in the invitation-only field include major champions Brooks Koepka, Bryson DeChambeau, Collin Morikawa, Jordan Spieth, and Francesco Molinari, plus world No. 2 Jon Rahm. Two-time FedExCup winner Rory McIlroy looks to finally lift the trophy at Riviera after holding a piece of the lead Sunday a year ago only to fall to T5. In addition to reigning champ Johnson, FedExCup winners in the field include Justin Thomas, Brandt Snedeker, and Jim Furyk. Here you can find everything you need to stay up to date with the world's foremost golf tour. Check in for highlights from every tournament plus player profiles, swing analysis and all the greatest shots and amazing moments. Teryn Gregson presents the craziest moments from around the world of golf in 'Good, Bad & Unusual'.