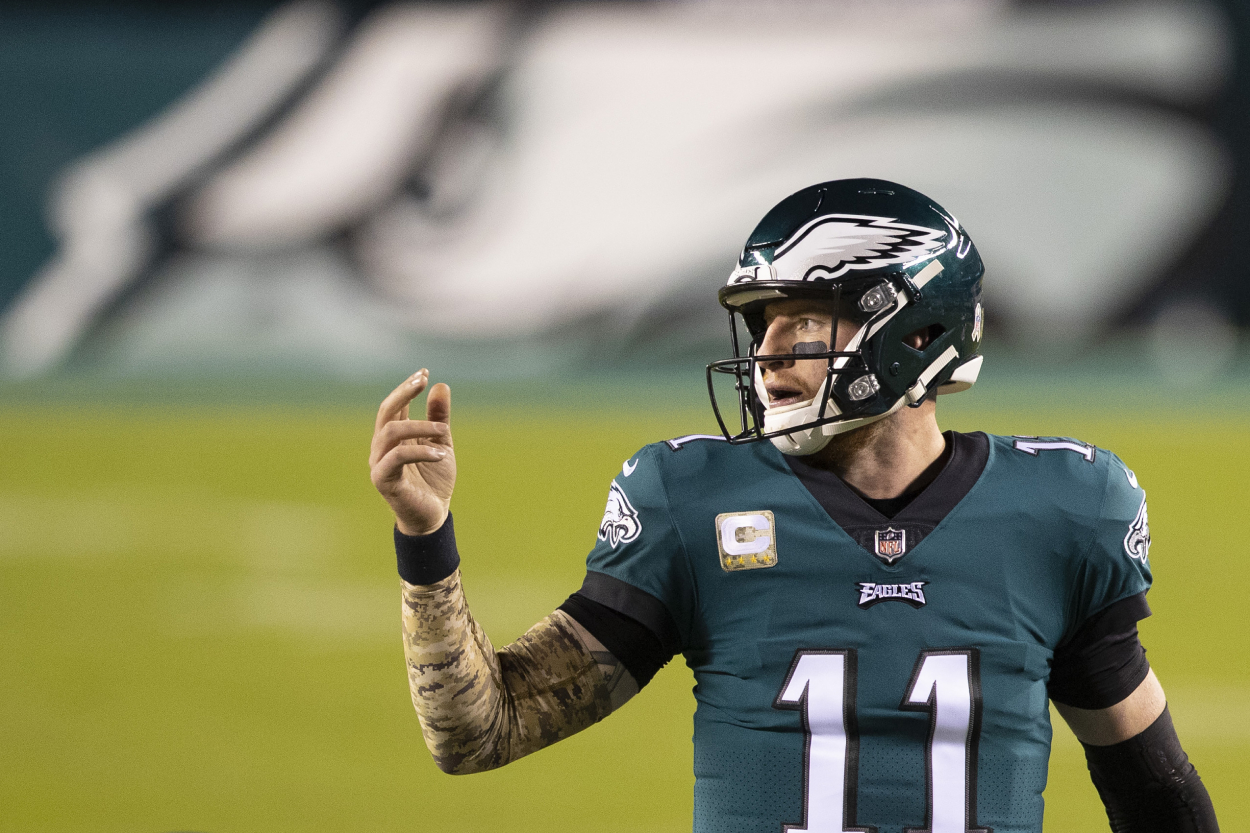 Carson Wentz is getting a fresh start with the Indianapolis Colts. With how stacked the Colts' roster is, Wentz has a chance to win a lot of games in Indianapolis if he can stay healthy and not turn the ball over. However, despite not playing one game as the Colts' quarterback yet, Carson Wentz has already suffered a significant loss, as the former Eagles star will now be saying goodbye to No. 11.
Carson Wentz has worn No. 11 since North Dakota State
RELATED: Philip Rivers Left a Colts Star in 'Complete Shock' With His Final Decision in Indy
Carson Wentz was a star quarterback in college at North Dakota State. In his redshirt junior season, he set school single-season records for passing yards, attempts, completions, and total offense per game, according to his NDSU bio. He threw for 3,111 yards, 25 touchdowns, and 10 interceptions that year and was second on the team in rushing yards with 642. Wentz also led his team to back-to-back FCS national championships in 2014 and 2015.
His play in college helped Wentz go to the Philadelphia Eagles with the No. 2 overall pick in the 2016 NFL draft, too.
In the NFL, Wentz then had a nice start to his career, as he earned Pro Bowl honors in 2017, with 3,296 yards, 33 touchdowns, and seven interceptions in 13 games. He also ultimately threw for more than 20 touchdowns and only seven interceptions in each season from 2017 through 2019, leading the Eagles to the playoffs in each of those seasons.
However, after having a horrible year in 2020, throwing for a league-leading 15 interceptions, the Eagles have since traded Carson Wentz to the Colts.
Wentz certainly had some ups and downs with the Eagles, but the thing that never changed was his jersey number. Wentz wore No. 11 in college and during his five seasons with the Eagles.
That appears to be changing with the Colts, though.
Carson Wentz will not wear No. 11 with the Indianapolis Colts
Carson Wentz of the Philadelphia Eagles looks on against the Dallas Cowboys on Nov. 1, 2020. | Mitchell Leff/Getty Images
RELATED: Peyton Manning's Favorite NFL Moment Involved a Massive Celebration After Seeing Tom Brady Epically Fail
Players have found many ways to keep their jersey numbers when switching teams. Many have even bought expensive gifts for their teammates who wore their numbers in the past.
In Carson Wentz's case on the Colts, though, it appears that he is the one switching numbers.
Despite wide receiver Michael Pittman Jr. just finishing his rookie season, Wentz's new target seems set on keeping No. 11.
"(Wentz) asked me how locked in I am on No. 11," Pittman said on Twitch, according to the IndyStar. "I told him I'm pretty locked in. He said, 'Alright, that's fine. I'm going to change anyway.'"
Pittman also said: "I'm staying No. 11."
So, what number will Wentz wear? Well, according to the IndyStar, Wentz wore No. 20 in high school, but NFL quarterbacks must wear something between 1 …read more
Source:: Sportscasting
(Visited 4 times, 1 visits today)

Dustin Johnson highlights | Round 3 | Genesis | 2021

In the third round of The Genesis Invitational 2021, Dustin Johnson recorded three birdies against 3 bogeys to remain even through 13 holes before play was suspended due to darkness. Johnson is 7-under-par for the tournament. The PGA TOUR returns to iconic Riviera Country Club for The Genesis Invitational. Tournament host Tiger Woods will be in attendance but won't play as he is still recovering from a back procedure last month. World No. 1 Dustin Johnson and defending champion Adam Scott are among the headliners. Notables in the invitation-only field include major champions Brooks Koepka, Bryson DeChambeau, Collin Morikawa, Jordan Spieth, and Francesco Molinari, plus world No. 2 Jon Rahm. Two-time FedExCup winner Rory McIlroy looks to finally lift the trophy at Riviera after holding a piece of the lead Sunday a year ago only to fall to T5. In addition to reigning champ Johnson, FedExCup winners in the field include Justin Thomas, Brandt Snedeker, and Jim Furyk. Here you can find everything you need to stay up to date with the world's foremost golf tour. Check in for highlights from every tournament plus player profiles, swing analysis and all the greatest shots and amazing moments. Teryn Gregson presents the craziest moments from around the world of golf in 'Good, Bad & Unusual'.