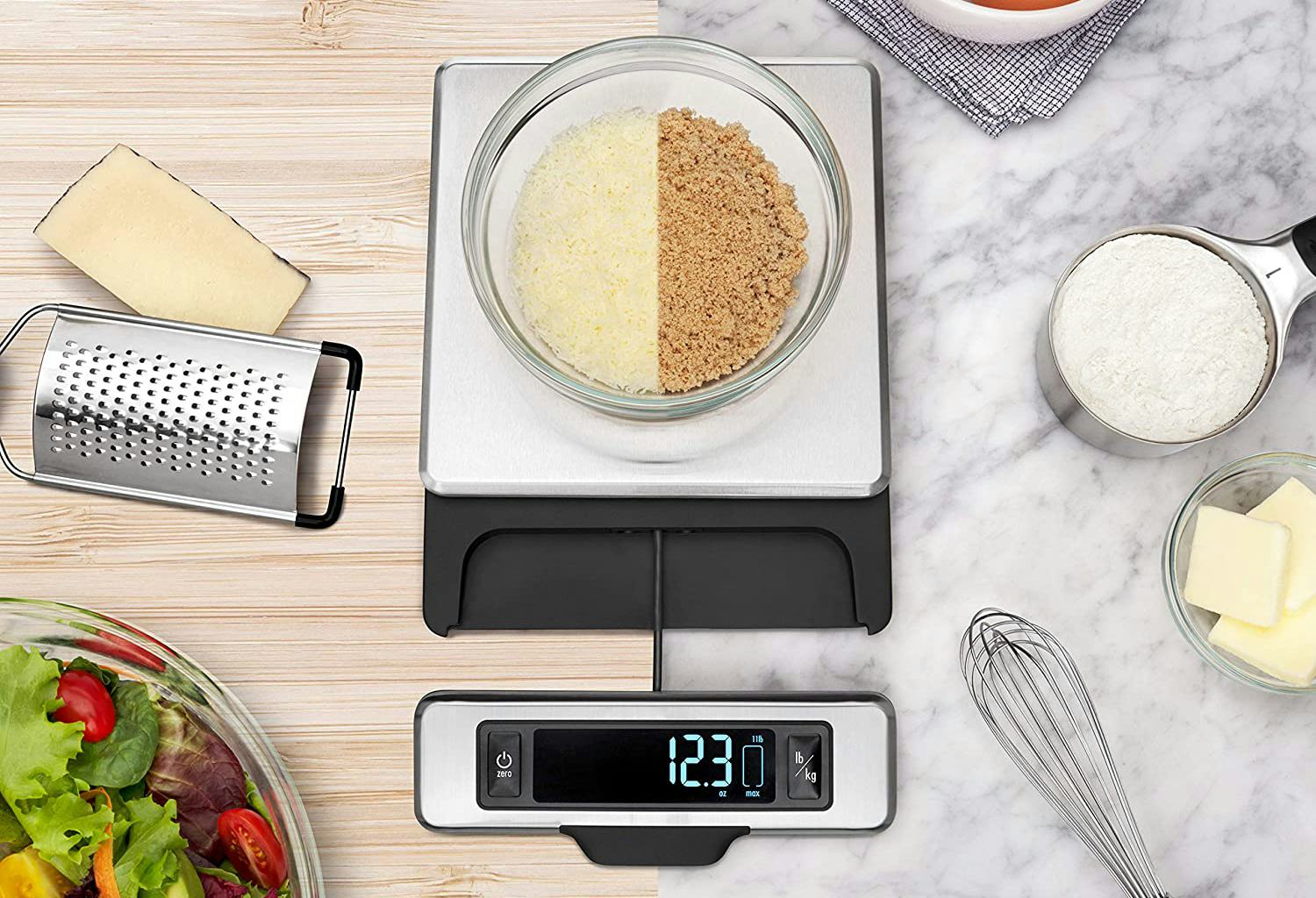 Whether you spend hours in the kitchen each week — or try to breeze through in just a few minutes — meal prepping is a small commitment that can save you a lot of time and stress in the long run. And if you're following a specific style of eating (or working with complex recipes that require weight measurements), a good scale can help you stay consistent while turning out fabulous food results. If getting precise measurements is a priority for you, few methods are as accurate as weighing, and the best food scales for meal prep make it a breeze, thanks to tare functions, clear displays that are easy to read, and the option to toggle between ounces, pounds, grams, and more. Some even measure macronutrient content (macros), so you can track fat, protein, and carbohydrate intake.
Digital scales offer the most accuracy, and give you the option of measuring in multiple units, like grams as well as ounces, so you can weigh a wide range of different foods, from feather-light herbs to heavier meats. If you're looking for insight into specific nutritional content while you weigh, you can opt for a macros food scale that measures fat, protein, and carbohydrates.
After combing through dozens of food scale reviews, it's clear that all of the best kitchen scales have easy-to-read LCD displays, but if you're planning to do your meal prep directly in a big container, there's an option with a pull-out display that keeps the measurement from getting obscured. Last, if you don't plan to keep your food scale out on your countertop for frequent use, look for a style that's slim enough to fit in a drawer.
With all that in mind, these are the best food scales for meal prep that can help make the cooking ritual effective, easy, and consistent.
1. The Overall Best Food Scale For Meal Prep
Measurement units: ounces, pounds, grams, kilograms
Although it's a small investment up front, this digital scale from OXO boasts impressively high ratings from Amazon reviewers thanks to its clever design and ease of use. It features a backlight display which can be pulled out from the base of the scale (much like a drawer), so it's easy to view, even when measuring into wide bowls or plates that would otherwise obscure the readout. Plus, a "zero function" lets you tare the scale mid-meal prep, so you can get an accurate measurement reading of additional ingredients, without having to weigh separately and dirty multiple containers. The OXO has a unit conversion button that makes it simple to switch between ounces, pounds, grams, and kilograms, and is capable of holding up to 11 pounds. The roomy 7-by-7-inch stainless steel platform is smudge- and fingerprint-resistant, and you can remove it for easy cleaning. Last but not least, the slim profile makes this easy to store in your kitchen cupboard or drawer.
According to a …read more
Source:: Bustle
(Visited 1 times, 1 visits today)

Dustin Johnson highlights | Round 3 | Genesis | 2021

In the third round of The Genesis Invitational 2021, Dustin Johnson recorded three birdies against 3 bogeys to remain even through 13 holes before play was suspended due to darkness. Johnson is 7-under-par for the tournament. The PGA TOUR returns to iconic Riviera Country Club for The Genesis Invitational. Tournament host Tiger Woods will be in attendance but won't play as he is still recovering from a back procedure last month. World No. 1 Dustin Johnson and defending champion Adam Scott are among the headliners. Notables in the invitation-only field include major champions Brooks Koepka, Bryson DeChambeau, Collin Morikawa, Jordan Spieth, and Francesco Molinari, plus world No. 2 Jon Rahm. Two-time FedExCup winner Rory McIlroy looks to finally lift the trophy at Riviera after holding a piece of the lead Sunday a year ago only to fall to T5. In addition to reigning champ Johnson, FedExCup winners in the field include Justin Thomas, Brandt Snedeker, and Jim Furyk. Here you can find everything you need to stay up to date with the world's foremost golf tour. Check in for highlights from every tournament plus player profiles, swing analysis and all the greatest shots and amazing moments. Teryn Gregson presents the craziest moments from around the world of golf in 'Good, Bad & Unusual'.