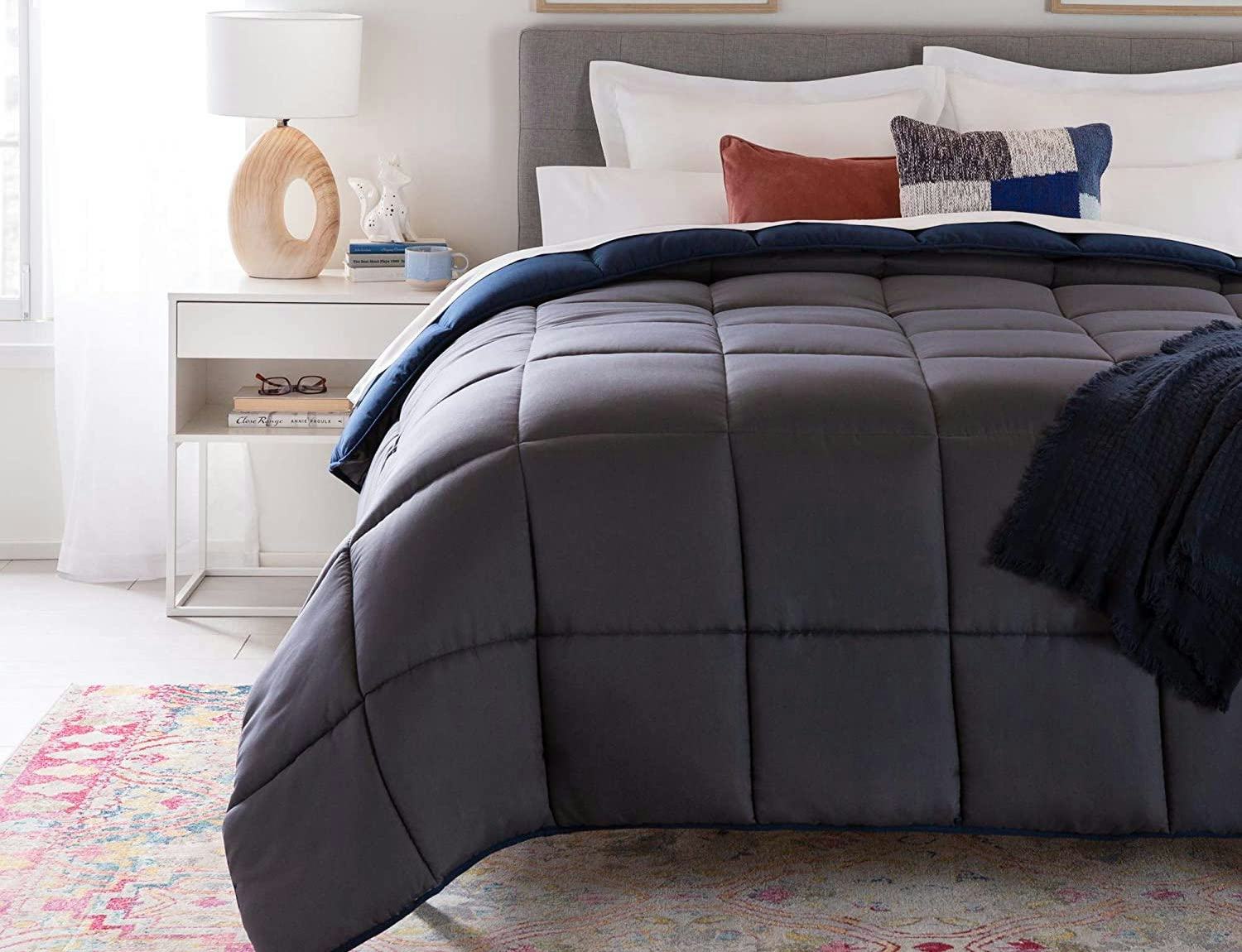 When you're in need of bedding that's comfortable yet easy to care for, a machine-washable comforter is key. The best machine-washable comforters are made with a variety of fill materials and shell styles to meet the different sleeping needs and budgets of shoppers. Here's what to consider when it comes to fill:
Many comforters are filled with durable, relatively inexpensive, and hypoallergenic polyester. Since polyester traps in heat and tends not to be very breathable, it's typically best for cold sleepers. Microfiber is typically constructed from polyester, and it's a popular choice for budget-friendly fill because it's weight and softness can be made to feel similar to down.
Down is best known for its fluffy, lightweight feel and warmth. It's ideal for those who don't suffer from allergies — while some manufacturers list their down fillings as hypoallergenic, dust mites and particles which attach to the down can still cause allergic reactions.
While you can expect to shell out a pretty penny for a silk comforter, it's a great choice for hot sleepers. Silk is naturally breathable and temperature-regulating, which means it is better equipped than many synthetic materials to keep you comfortably cool as you sleep.
The outer shells of comforters are commonly made with breathable cotton or durable polyester. Some machine-washable comforters have additional features, like reversible designs and box stitching (which helps keep the filling from moving around and bunching up). All of the comforters below are comfy and stylish to use on their own — but some also incorporate unobtrusive corner loops, just in case you ever feel like using a duvet.
From affordable finds to a splurge-worthy silk option, here are the best machine-washable comforters available on Amazon.
1. This Fan-Favorite Comforter With 75,000+ Reviews
Materials: Polyester shell with microfiber filling
This hypoallergenic comforter, which boasts a whopping 75,000-plus ratings on Amazon, features a beautiful reversible design, plus box stitching to prevent the filling from shifting. The polyester shell is comfortable and cozy, while the microfiber filling offers softness and warmth. The comforter doubles as a duvet insert with eight built-in corner and side loops, and it comes in 12 colors.
Promising Amazon review: "The most comfortable comforter I've owned. So soft, warm, it does not get ugly when washed and you cannot beat the price."
Available sizes: Twin, Twin XL, Full, Queen, Oversized Queen, King, California King, and Oversized King
Available colors: 12
2. A Budget-Friendly Microfiber Comforter
Materials: Microfiber shell and filling
At under $30, Bedsure's Down Alternative Comforter is a steal. It has a microfiber filling secured with box stitching and an outer shell that the manufacturer describes as shrink- and wrinkle-resistant. Many reviewers have described the comforter as "warm and cozy," and one fan even went so far as to say, "It's very warm! …read more
Source:: Bustle
(Visited 3 times, 1 visits today)

Dustin Johnson highlights | Round 3 | Genesis | 2021

In the third round of The Genesis Invitational 2021, Dustin Johnson recorded three birdies against 3 bogeys to remain even through 13 holes before play was suspended due to darkness. Johnson is 7-under-par for the tournament. The PGA TOUR returns to iconic Riviera Country Club for The Genesis Invitational. Tournament host Tiger Woods will be in attendance but won't play as he is still recovering from a back procedure last month. World No. 1 Dustin Johnson and defending champion Adam Scott are among the headliners. Notables in the invitation-only field include major champions Brooks Koepka, Bryson DeChambeau, Collin Morikawa, Jordan Spieth, and Francesco Molinari, plus world No. 2 Jon Rahm. Two-time FedExCup winner Rory McIlroy looks to finally lift the trophy at Riviera after holding a piece of the lead Sunday a year ago only to fall to T5. In addition to reigning champ Johnson, FedExCup winners in the field include Justin Thomas, Brandt Snedeker, and Jim Furyk. Here you can find everything you need to stay up to date with the world's foremost golf tour. Check in for highlights from every tournament plus player profiles, swing analysis and all the greatest shots and amazing moments. Teryn Gregson presents the craziest moments from around the world of golf in 'Good, Bad & Unusual'.