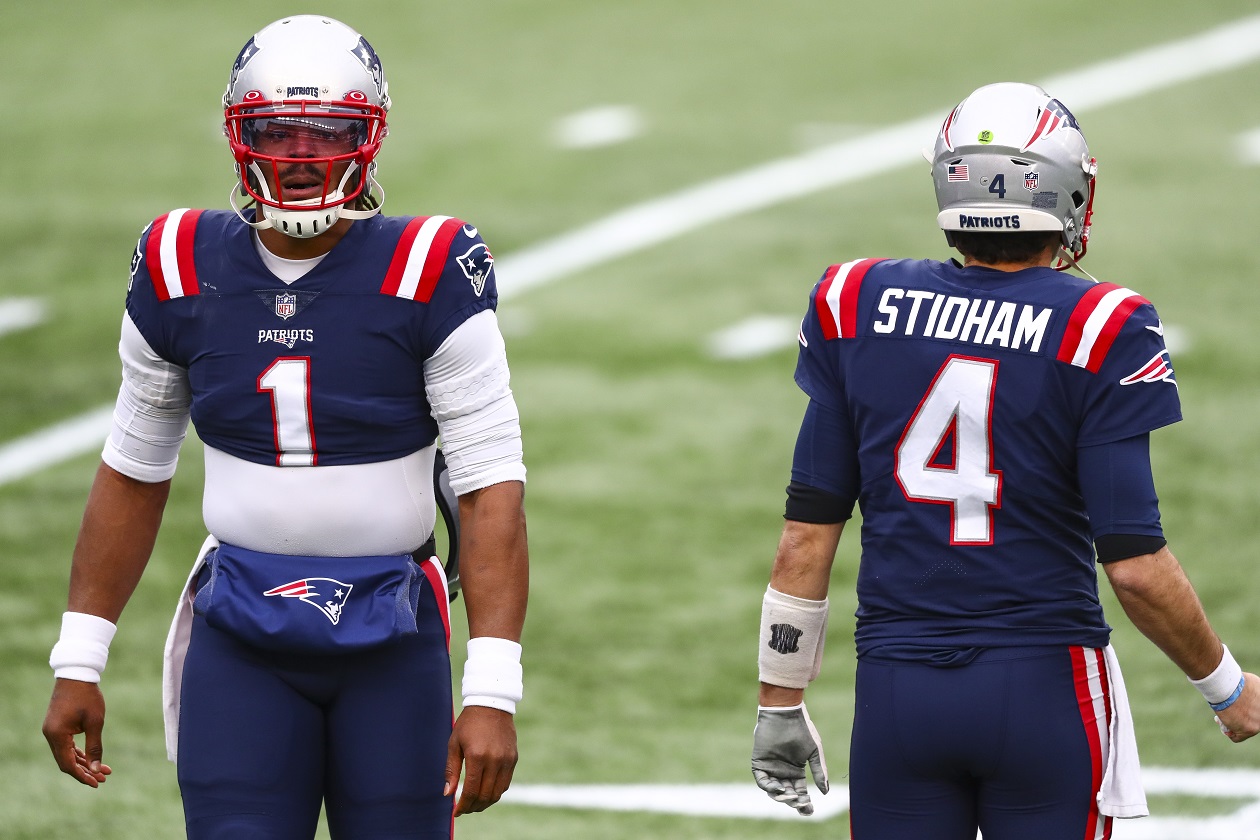 Cam Newton (#1) and Jarrett Stidham (#4) of the New England Patriots warm up before a game against the New York Jets at Gillette Stadium on January 3, 2021 | Adam Glanzman/Getty Images
The New England Patriots' quarterback situation is a mess. In 2020, Bill Belichick finally had to adjust to life without the luxury of a quarterback like Tom Brady, and it was a brutal adjustment. Cam Newton had massive shoes to fill last season and didn't do a great job, as the Patriots suffered their first losing season in 20 years. If comments from his teammates are anything to go by, though, Newton was actually the team's best option.
Jarrett Stidham was once the heir apparent
LISTEN UP DAMNIT! For anyone who thinks Jarrett Stidham should start ahead of Cam on opening day, I've got news for you! pic.twitter.com/jb0cBWrBT3
— Stephen A Smith (@stephenasmith) July 3, 2020
RELATED: Cam Newton Explains 'The Patriot Way' in 2 Words
The other option the Patriots had at quarterback was second-year quarterback Jarrett Stidham. New England took Stidham in the fourth round of the 2019 NFL Draft in the hopes that he would one day succeed fill Tom Brady's massive shoes.
Stidham's early performances were encouraging for the Patriots' coaching staff. During the 2019 preseason, he completed 67.8% of his pass attempts and earned a passer rating of 102.6. The next season, Brady left New England for good, which seemingly set the stage for Stidham to step into the spotlight.
Unfortunately, this is when it all unraveled. In August, the Patriots picked up former NFL MVP Cam Newton to compete for the starting quarterback role. That same month, Stidham went to the hospital with a hip injury.
Stidham's star falls to earth
Cam Newton (#1) and Jarrett Stidham (#4) of the New England Patriots warm up before a game against the New York Jets at Gillette Stadium on January 3, 2021 | Adam Glanzman/Getty Images
Even before that point, however, Stidham had started to lose favor with both coaches and teammates. Greg Bedard of the Boston Journal explained it thusly: "For whatever reason – and I don't know if it was the training camp injury or the offseason thing or what have you, or the way he just conducts himself – there's not a lot of belief in that building."
Somehow, despite having a grasp of the Patriots' offense, Stidham's play had actually regressed in the past year. According to Bedard, he struggled with accuracy throughout the team's practices in 2020 and never had a grasp on the team's starting job.
There was the feeling within the team that if they turned the keys over to Stidham, that it would become a complete debacle down the stretch and that wouldn't be good for anybody.
Patriots reporter Greg Bedard, The Greg Bedard Patriots Podcast
Even as Cam Newton and the Patriots' offense struggled to begin the 2020 campaign, Belichick gave no thought to making Jarrett Stidham the starter. When Newton ended up on the COVID-19 list for their week four game against Kansas City, the Patriots instead gave the nod to Brian Hoyer. It was a steep fall from grace …read more
Source:: Sportscasting
(Visited 5 times, 1 visits today)

Dustin Johnson highlights | Round 3 | Genesis | 2021

In the third round of The Genesis Invitational 2021, Dustin Johnson recorded three birdies against 3 bogeys to remain even through 13 holes before play was suspended due to darkness. Johnson is 7-under-par for the tournament. The PGA TOUR returns to iconic Riviera Country Club for The Genesis Invitational. Tournament host Tiger Woods will be in attendance but won't play as he is still recovering from a back procedure last month. World No. 1 Dustin Johnson and defending champion Adam Scott are among the headliners. Notables in the invitation-only field include major champions Brooks Koepka, Bryson DeChambeau, Collin Morikawa, Jordan Spieth, and Francesco Molinari, plus world No. 2 Jon Rahm. Two-time FedExCup winner Rory McIlroy looks to finally lift the trophy at Riviera after holding a piece of the lead Sunday a year ago only to fall to T5. In addition to reigning champ Johnson, FedExCup winners in the field include Justin Thomas, Brandt Snedeker, and Jim Furyk. Here you can find everything you need to stay up to date with the world's foremost golf tour. Check in for highlights from every tournament plus player profiles, swing analysis and all the greatest shots and amazing moments. Teryn Gregson presents the craziest moments from around the world of golf in 'Good, Bad & Unusual'.