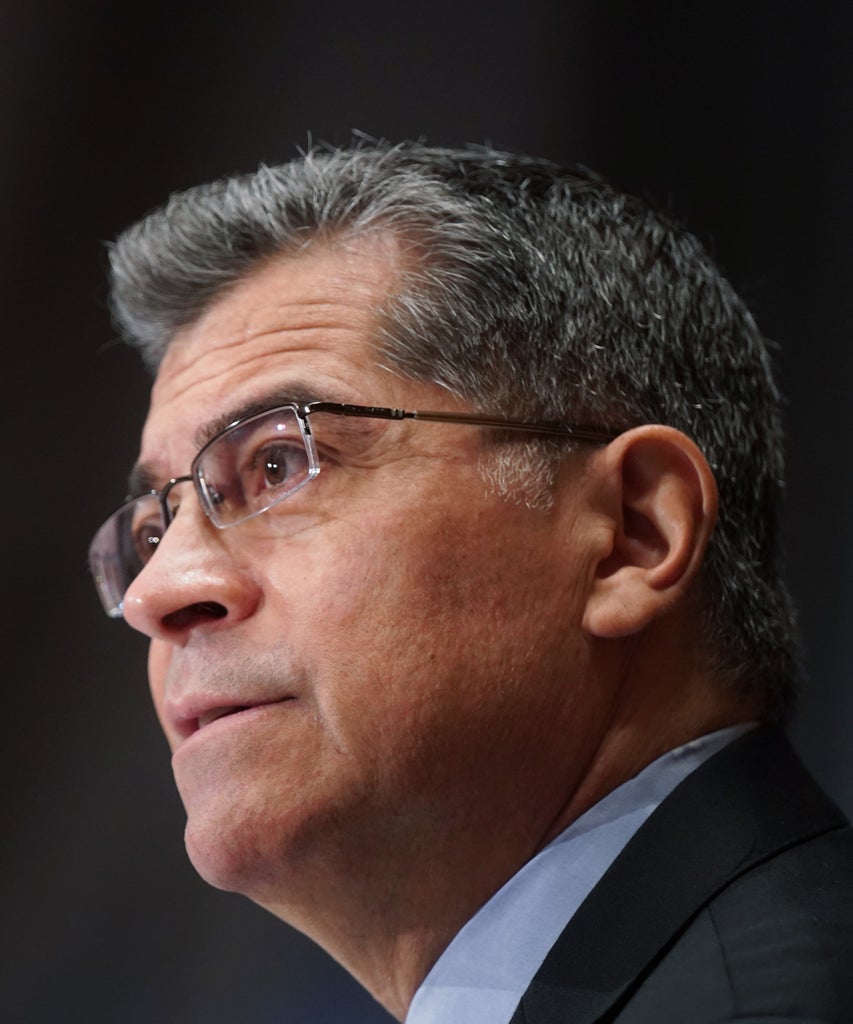 On Tuesday, Xavier Becerra, California's attorney general and President Joe Biden's choice for the nation's top health official, finally received his confirmation hearing — but not without hostility from Republicans. During the testimony before the Senate Health Committee, several GOP senators expressed concerns about Becerra's lack of direct healthcare experience, as well as his explicit support for abortion rights. 
If confirmed as secretary, Becerra would play a vital part in fending off the pandemic, which has taken more than 500,000 American lives so far. So far, the Biden administration has operated without anyone in this post for more than a month. Becerra, California's first Latinx attorney general, was first picked by Biden to be his Health and Human Services secretary in December.
"Members of Congress do not become subject-matter experts just because they are members of Congress, just because they sit on a committee that has health responsibilities," said Sen. Richard Burr, referring to Becerra's experience as a congressman from California, serving on a health subcommittee. "I'm not sold yet. I'm not sure that you have the necessary experience or skills to do this job at this moment."
Sen. Mitt Romney vigorously questioned Becerra's vote against a ban on late-term abortion. "I understand that people have different deeply held beliefs on this issue," Becerra responded. "We may not always agree on where to go, but I think we can find some common ground on these issues." But Romney pushed back. "I think we can reach common ground on many issues, but on partial-birth abortion, it sounds like we are not going to reach common ground there," he said.
Becerra is only one of Biden nominees facing opposition from the GOP. Neera Tanden, Biden's nominee to lead the Office of Management and Budget, has faced particular scrutiny, with Republican lawmakers refusing to confirm her due to her inappropriate behavior on social media. Tanden's nomination was put in dire straits last week when Sen. Joe Manchin, a self-described "moderate conservative Democrat," said he wouldn't support her due to her public statements and tweets.
"Congress has to be able to trust the OMB director to make countless decisions in an impartial manner, carrying out the letter of the law and congressional intent," Republican Sen. Susan Collins said on Monday. "Neera Tanden has neither the experience nor the temperament to lead this critical agency. Her past actions have demonstrated exactly the kind of animosity that President Biden has pledged to transcend."
Despite Tanden facing public rejection from both Republicans and progressives, the White House said Tuesday that they are standing behind her.
Republicans have similarly targeted Becerra since his selection was announced. Sen. Tom Cotton even went so far as to launch a digital advertisement in Georgia and New Hampshire that tied Becerra to California's poor response to the pandemic. In his ongoing campaign against Becerra, Cotton …read more
Source:: Refinery29
(Visited 2 times, 1 visits today)

Dustin Johnson highlights | Round 3 | Genesis | 2021

In the third round of The Genesis Invitational 2021, Dustin Johnson recorded three birdies against 3 bogeys to remain even through 13 holes before play was suspended due to darkness. Johnson is 7-under-par for the tournament. The PGA TOUR returns to iconic Riviera Country Club for The Genesis Invitational. Tournament host Tiger Woods will be in attendance but won't play as he is still recovering from a back procedure last month. World No. 1 Dustin Johnson and defending champion Adam Scott are among the headliners. Notables in the invitation-only field include major champions Brooks Koepka, Bryson DeChambeau, Collin Morikawa, Jordan Spieth, and Francesco Molinari, plus world No. 2 Jon Rahm. Two-time FedExCup winner Rory McIlroy looks to finally lift the trophy at Riviera after holding a piece of the lead Sunday a year ago only to fall to T5. In addition to reigning champ Johnson, FedExCup winners in the field include Justin Thomas, Brandt Snedeker, and Jim Furyk. Here you can find everything you need to stay up to date with the world's foremost golf tour. Check in for highlights from every tournament plus player profiles, swing analysis and all the greatest shots and amazing moments. Teryn Gregson presents the craziest moments from around the world of golf in 'Good, Bad & Unusual'.