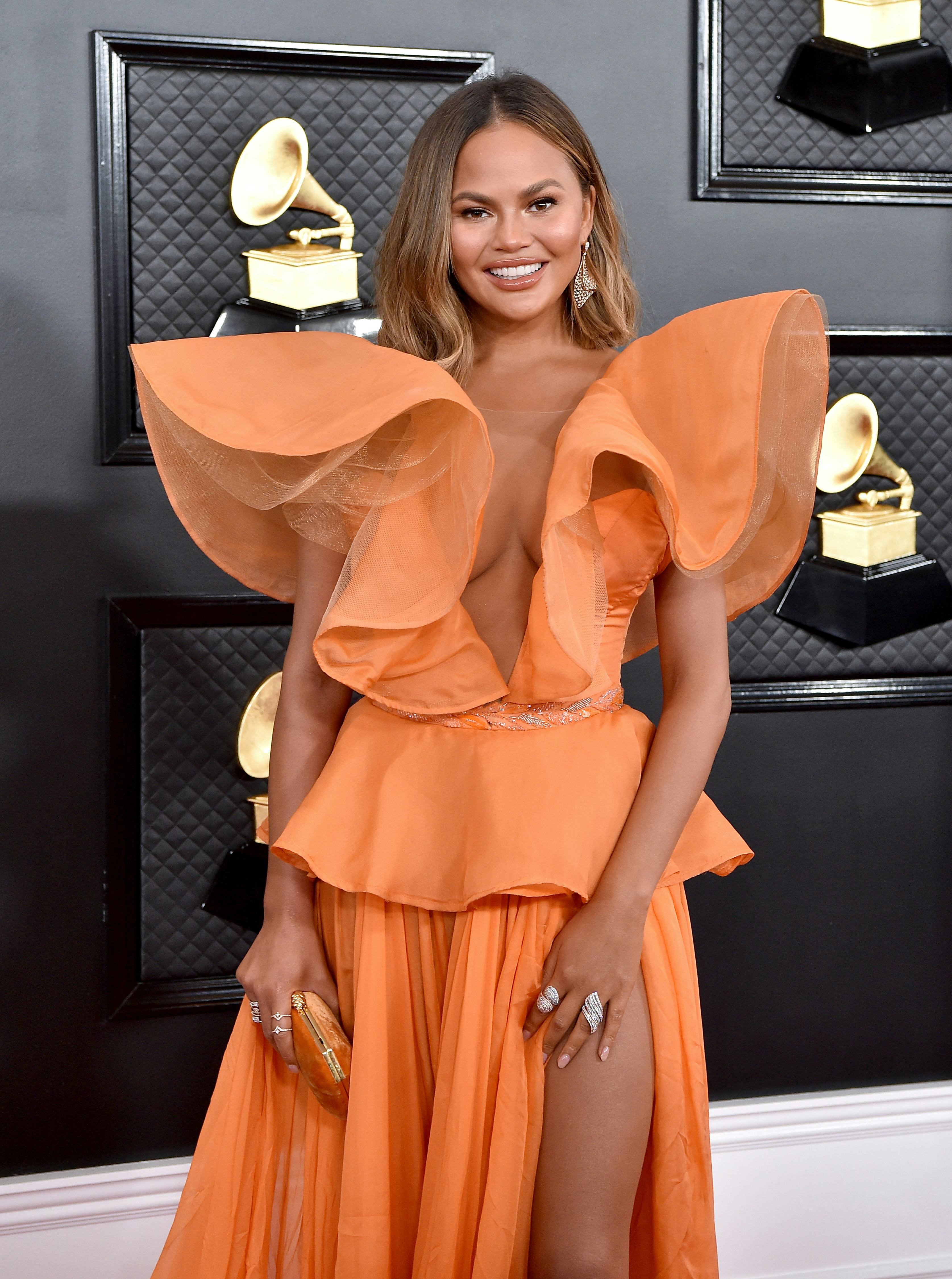 Chrissy Teigen wants people to know that she's done counting calories. After years of dealing with the "ups and downs" of "dieting and diet culture," the Cravings cookbook author revealed in People's April cover story that she's "thrown all of that out the window" in exchange for things that actually make her happy and fill her life with joy.
"I think now at this point in my life it's more important for me to enjoy things as they come," the 35-year-old said, adding that she indulges whenever she feels like it. "I eat things when I want them. Because if I don't my mind personally goes crazy," she continued. "I kind of put my mind over body a little bit, mind and spirit over body. If it's going to make me happy and make me feel good, then I indulge in it."
The realization that she could eat food that she actually enjoys came when the Lip Sync Battle host began to understand that traditional dieting wasn't working for her. "I've lived a whole life. I've spent way too many years counting calories, scheduling way too many workouts and trying to figure out what my term for wellness was for myself," she said. "I've been trying to figure that out for so so long."
Now that Teigen has kids — 4-year-old Luna and 2-year-old Miles — with husband John Legend, she knows that wellness actually means spending time with her family. "Now I know that it's on the ground playing with my kids, getting out there, going to a park, going to an aquarium, being able to drive around with my kids in the car," she explained. "That is activity for me and I enjoy doing things like that."
However, Teigen's physical activity isn't limited to family time; she's also found some fun workout classes that she actually looks forward to. "I do love yoga and pilates now but the balance in it is really nice because it's nice to be able to kill two birds by playing with my kids and getting that activity in honestly. To me that's more fun," she added. "John is different, he's the kind of guy who can go to the gym at like 6, 7 in the morning every single day no matter what but me, no, I try to have fun with it."
Health and wellness, for Teigen, is about more than food and exercise, though. In December 2020, the model took to Instagram to reveal that she had given up alcohol. "One month ago, on my birthday, I got this book from my doctor and friend," she wrote alongside a photo of Holly Whitaker's self-help book Quit Like a Woman: The Radical Choice to Not Drink in a Culture Obsessed with Alcohol. "I was done with making an *ss of myself in front of people (I'm still embarrassed), tired of day drinking and feeling like sh*t by 6, not being able to sleep."
A month later, Teigen …read more
Source:: Bustle
(Visited 3 times, 1 visits today)

GRAMMYS 2021: Watch Doja Cat's ELECTRIFYING Say So Performance

Doja Cat took fans to the future with an electrifying performance of her smash single 'Say So' during the GRAMMYs, which aired Sunday on CBS. For the 25-year-old singer's debut appearance at the GRAMMYs, she delivered impressive vocals and fierce choreography. ET spoke with Doja on the red carpet ahead of music's biggest night, where she explained what it felt like to attend her first-ever GRAMMY Awards.