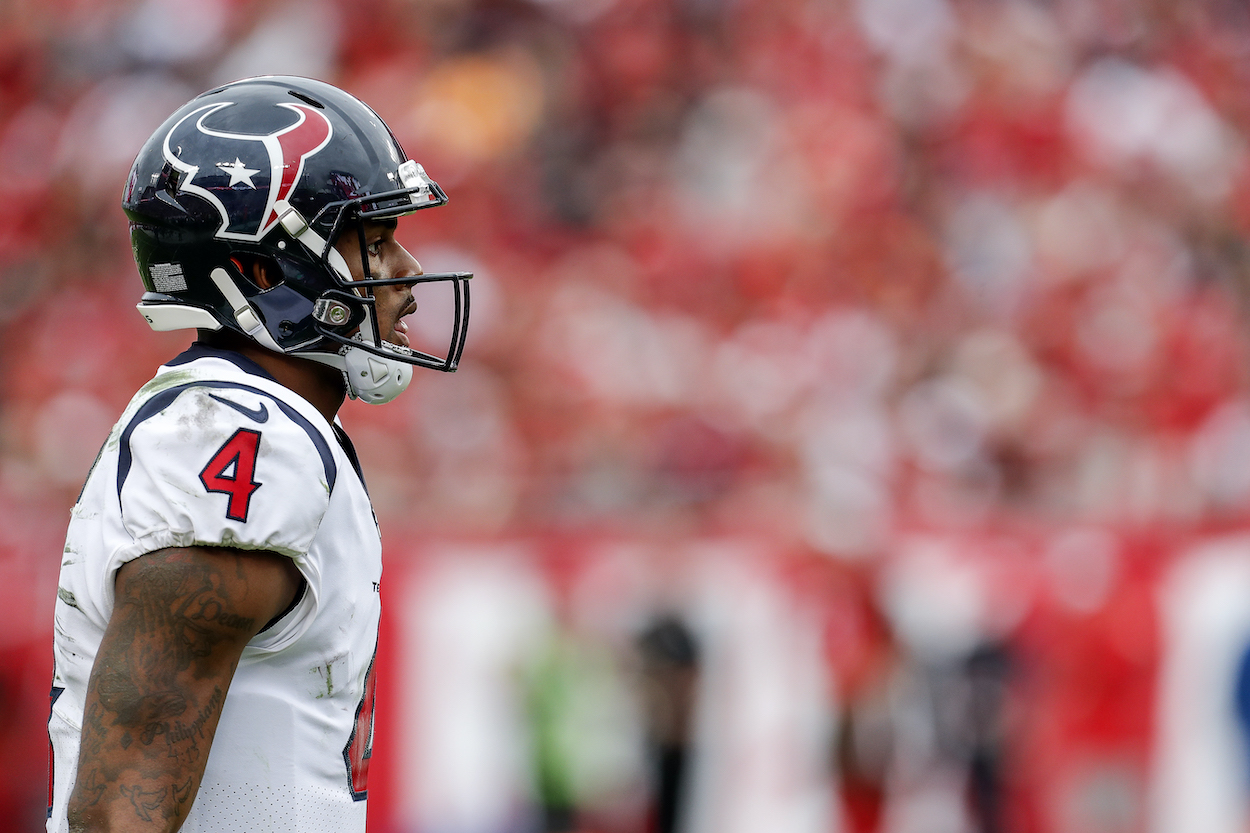 The Deshaun Watson offseason saga has taken another unexpected turn. After weeks of anonymous sexual assault accusations from numerous women, Watson's first accuser has finally come forward to reveal her identity. In an emotional Tuesday press conference with her attorney, Tony Buzbee, Ashley Solis detailed the night she claims Watson assaulted her during a massage therapy session at her house.
Deshaun Watson's number of accusers reaches 22
Houston Texans QB Deshaun Watson | Don Juan Moore/Getty Images
RELATED: A Single Tweet From the Houston Police Department Has Changed Everything About the Deshaun Watson Case
Deshaun Watson entered the 2021 NFL offseason thinking his future with the Houston Texans was going to be the biggest problem he'd face this summer. But that all changed last month. On March 16, a sexual assault lawsuit was filed against Watson by a woman who became known as Jane Doe 1. Six days later, another lawsuit was filed against Watson using the same Texas attorney, Tony Buzbee.
Since then, 20 additional women have come forward to accuse Watson of similar assaults involving massages, bringing the list to 22.
Watson immediately came out and denied the accusations after the first lawsuit was filed. In a Twitter statement, Watson said he's "never treated any woman with anything other than the utmost respect" and that "this isn't about money for me — it's about clearing my name, and I look forward to doing that."
"I believe that any allegation that Deshaun forced a woman to commit a sexual act is completely false," Watson's attorney, Rusty Hardin, said in a statement at the time.
Although 22 different women have come forward to accuse Watson of sexual assault over the last few weeks, none of them had revealed their names or faces. Until Tuesday.
Watson's first accuser reveals her identity in emotional press conference
Ashley Solis is the first person represented by attorney Tony Buzbee to come out publicly with her accusations against #Texans QB Deshaun Watson.
"I was afraid. I'm not afraid anymore. Deshaun Watson assaulted and harassed me." pic.twitter.com/XhqB5WS5nL
— Dov Kleiman (@NFL_DovKleiman) April 6, 2021
RELATED: The Houston Texans May Finally Have a Backup Plan In Case Deshaun Watson Hits the Road
On Tuesday morning, Ashley Soris, who went by the alias Jane Doe 1 for nearly a month, revealed her identity and spoke to the media in an emotional press conference alongside Buzbee. Soris, who is a licensed massage therapist, initially claimed Watson went "too far" during a session at her home last March.
"I hope every woman or man out there who is a survivor hears my story, and I hope my story gives them courage to speak out."
"I'm not afraid anymore," Soris said as she wiped away tears. "I'm here to take back the power and take back control. I'm a survivor of assault and harassment. Some days I feel like a hero, other days I feel like a failure.
"I can no longer practice the profession I …read more
Source:: Sportscasting
(Visited 7 times, 1 visits today)

GRAMMYS 2021: Watch Doja Cat's ELECTRIFYING Say So Performance

Doja Cat took fans to the future with an electrifying performance of her smash single 'Say So' during the GRAMMYs, which aired Sunday on CBS. For the 25-year-old singer's debut appearance at the GRAMMYs, she delivered impressive vocals and fierce choreography. ET spoke with Doja on the red carpet ahead of music's biggest night, where she explained what it felt like to attend her first-ever GRAMMY Awards.