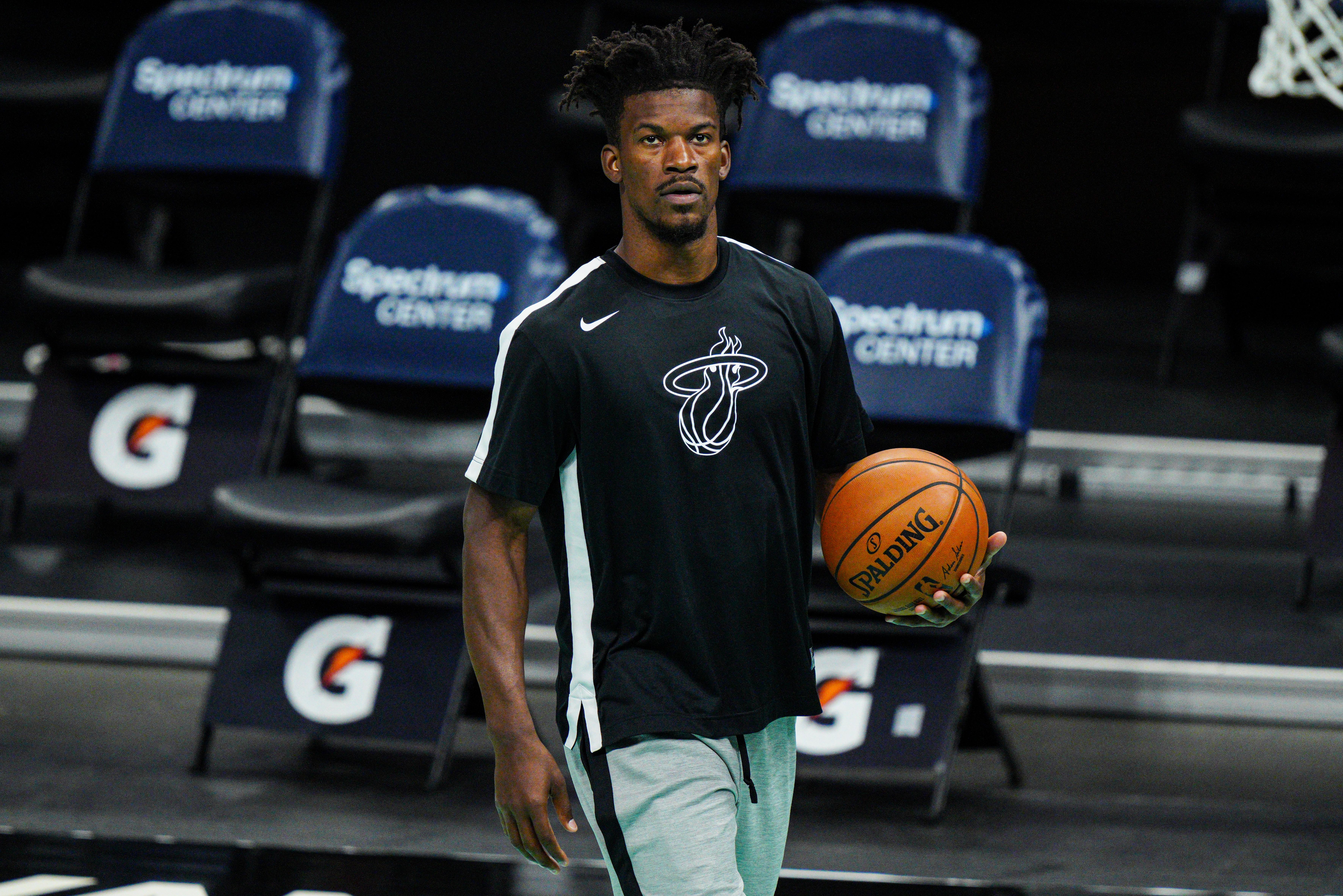 The Miami Heat's Jimmy Butler | Jacob Kupferman/Getty Images
Sure, the Lakers may have won the 2020 NBA Finals, and LeBron James earned the series MVP, but the true head-turner throughout was Jimmy Butler. With
Jimmy Butler tried to carry his team to an NBA championship in 2020. While Miami lost to LA, the Heat forward's impressive play and defense again LeBron James had everyone talking. This season, Miami struggled at the onset; Butler was out due to COVID-19 protocols, and it hurt the team.
Now that he's back, they've returned to winning. But true to his nature Butler is taking things in a different direction. Instead of pulling his points from threes, the 31-year-old is taking more shots from shorter ranges and burying the competition. How will this help Miami? If their play since his return is any indication, they may end up back in the NBA finals.
Jimmy Butler's impressive NBA Finals performance
The Miami Heat's Jimmy Butler | Jacob Kupferman/Getty Images
Sure, the Lakers may have won the 2020 NBA Finals, and LeBron James earned the series MVP, but the true head-turner throughout was Jimmy Butler. With fellow teammates Bam Adebayo and Goran Dragic injured, Butler needed to step up his play for the Heat to even compete — and he did just that.
In Game 3, the Heat pulled out a victory 115-104, with Butler finishing with 40 points, 13 assists, and 11 rebounds. Those stats are combined with the fact that he went head to head with James, an exhausting feat all on its own. 
While those stats are staggering, here's another. Of those 40 points, none of them were three-pointers. Butler's known to launch a few from behind the arc, so not even attempting a shot from downtown shows how his play is starting to change. And the change is the opposite of most NBA teams.
Miami's dismal start to the season
"I'm not worried. We're not worried. Just play better. Keep playing basketball the right way. Stay together through the L's, through the W's, and we'll be just fine. We'll be fine." – @JimmyButler
Cup of Joe // @CafeBustelo https://t.co/W9h8TjTBIz
— Miami HEAT (@MiamiHEAT) March 22, 2021
RELATED: Jimmy Butler Finally Signed a Big-Time Endorsement Deal Nearly a Year After Leaving Nike
After a shortened offseason, the Miami Heat started 2021 on the wrong note. Their record was 7-13 and everyone wondered when the defending Eastern Conference champs would look like the team of old. Injuries and COVID-19 protocols interfered with the team's ability to connect. The loss of Butler on the court made it clear how important he is to the team.
Since his return, the Heat have gone 15-6 and are continuing to climb up the standings. Butler's ball control and ability to limit turnovers have increased Miami's possession. Now, they have someone that can drive down the lane and either attract a foul or pass the ball to the open player for a quick score. 
Jimmy Butler is limiting his three-point shots
Averaging 21.3 PPG, 7.9 RPG, 7.3 APG on the season, we showcase @MiamiHEAT leader Jimmy Butler!
BLAZERS/HEAT – Tonight at 7:30pm/et on TNT
Source:: Sportscasting
(Visited 6 times, 1 visits today)

GRAMMYS 2021: Watch Doja Cat's ELECTRIFYING Say So Performance

Doja Cat took fans to the future with an electrifying performance of her smash single 'Say So' during the GRAMMYs, which aired Sunday on CBS. For the 25-year-old singer's debut appearance at the GRAMMYs, she delivered impressive vocals and fierce choreography. ET spoke with Doja on the red carpet ahead of music's biggest night, where she explained what it felt like to attend her first-ever GRAMMY Awards.