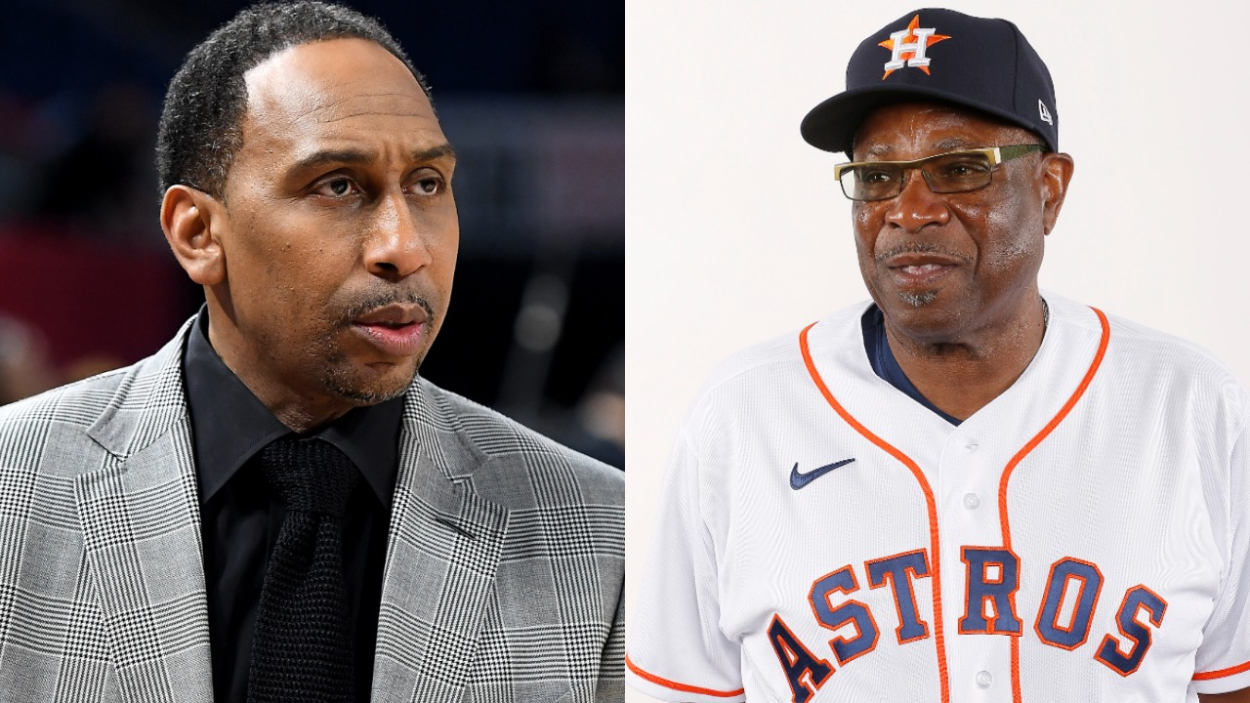 When Dusty Baker became the Houston Astros' manager in 2020, he took over a team coming off a highly controversial sign-stealing scandal. However, while Houston received plenty of hate from fans on social media last year, they escaped the boos at opposing stadiums due to COVID-19. Now, the Astros are paying for the actions they committed in 2017 and 2018. Baker isn't happy about it, either, and has voiced his frustrations. ESPN's Stephen A. Smith, though, has a strong message for him, as he believes that Baker and the Astros need to "suck it up."
Dusty Baker is frustrated with the amount of hate the Astros are receiving
RELATED: Cancel the World Series…the Oakland A's Have Already Won the 2021 MLB Season With What They Did to the Houston Astros on Saturday
After stealing signs during 2017 — the year they won the World Series — and part of 2018, the Houston Astros are finally receiving boos and more from opposing teams' fans following the MLB investigation that concluded in early 2020.
While the Astros certainly deserve it, some fans are taking it too far. In a recent game against the LA Angels, fans first threw an inflatable trash can over the outfield wall. This was obviously pointed toward the team stealing the signs and then relaying them to the batters by banging on trash cans. No, an inflatable trash can isn't too bad. It can't hurt anyone. However, not long after that, fans then threw an actual trash can over the wall.
Dusty Baker became the Astros' manager after their sign-stealing scandal, but he is tired of the way fans are treating his team.
"You can tell the amount of hostility and the amount of hatred in the stands," Baker said, according to the New York Post. "How many in the stands have never done anything wrong in their life? We paid the price for it. How many people have not cheated on a test or whatever at some point in time? I mean it's easy if you live in glass houses, but I don't think anybody lives in glass houses."
He continued: "I think that sometimes we need to look at ourselves before you spew hate on somebody else. It's a sad situation for America, to me, when you hear things – I mean what are the kids supposed to think in the stands? And some of them are kids that are following their parents. It's sad to me. People make mistakes. We paid for ours, and I wish they'd leave it alone."
As the New York Post pointed out, the Astros didn't really pay "the price for it." The manager was fired, but the MLB didn't punish any players.
Stephen A. Smith said Dusty Baker and the Astros need to 'suck it up'
(L-R) Stephen A. Smith and Dusty Baker. | Stacy Revere/Getty Images; Michael Reaves/Getty Images
RELATED: Carlos Correa Is Forcing the Houston Astros Into a $120 Million Dilemma
Following Dusty Baker's comments, …read more
Source:: Sportscasting
(Visited 8 times, 4 visits today)

GRAMMYS 2021: Watch Doja Cat's ELECTRIFYING Say So Performance

Doja Cat took fans to the future with an electrifying performance of her smash single 'Say So' during the GRAMMYs, which aired Sunday on CBS. For the 25-year-old singer's debut appearance at the GRAMMYs, she delivered impressive vocals and fierce choreography. ET spoke with Doja on the red carpet ahead of music's biggest night, where she explained what it felt like to attend her first-ever GRAMMY Awards.