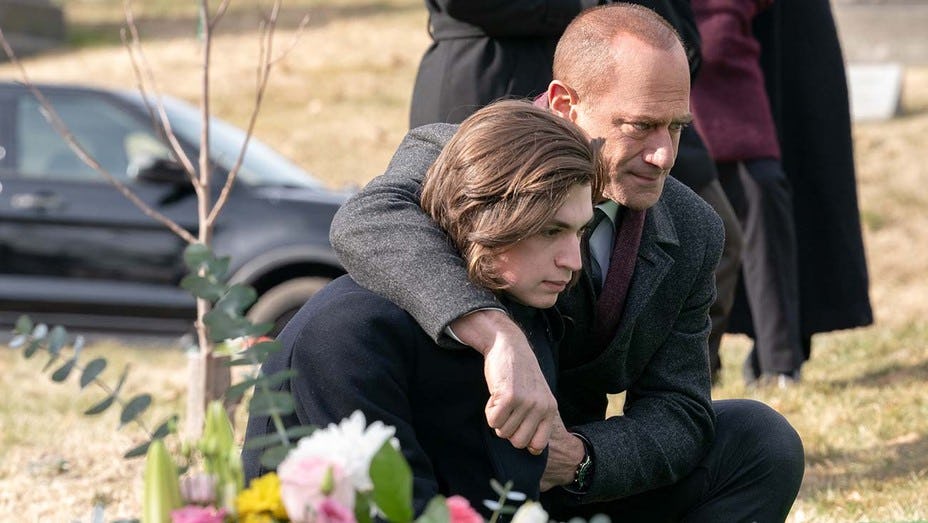 Spoilers for the season premiere of Law & Order: Organized Crime ahead. The premiere episode of Law & Order: Organized Crime aired on April 1, and fans have a lot of thoughts. On one hand, viewers have long been anticipating a reunion between NYPD Capt. Olivia Benson (Mariska Hargitay) and Detective Elliot Stabler (Chris Meloni). But unfortunately, when fans learned the reason for Stabler's return to the force — the untimely death of his wife Kathy — many were not happy.
In the episode, which was an emotional crossover between Special Victims Unit and the new spinoff Organized Crime, Kathy was badly injured when a bomb went off in her and Stabler's rental car. She later died, which is what ultimately motivated Stabler to search for her killers and rejoin the force. Fans online, however, were quick to point out that showrunners did not have to do Kathy like that. "They bring Stabler back to the NYPD by fridging his wife. I'm done," one fan tweeted. "Fridging," for those who don't know, is when female characters are killed off in order to advance a male protagonist's storyline.
According to The Hollywood Reporter, once fans made their feelings known about the decision to kill off Kathy, showrunner Ilene Chaiken got on a call with reporters to explain that this particular storyline was already in place when she took over for the original showrunner, Matt Olmstead. "When I joined this show, it was a fait accompli — a premise I was given to work with," she said. "I wasn't in any way put off by it — I was immediately drawn in."
Chaiken went on to explain that, in order for the show to work, there needed to be a really good reason for a character who's been absent for nearly a full decade to make his grand return. "When you tell a story about a character who's been gone for many years, a question you have to answer is 'why now?'" she continued. "[Kathy Stabler's death] as a storytelling catalyst is one of the best 'why nows' I could think of."
Of course, not all fans were disappointed. In fact, many viewers were pulled back into the story just as the showrunners intended. "OMG. KATHY," one fan wrote on Twitter. "Well, my *ss is BACK on this Law & Order train. I'm back." Several other fans echoed that sentiment, with many admitting that the episode brought them to tears. "Just finally watched Law & Order: SVU where stabler returns and I am UGLY crying," another person wrote.
It seems that Law & Order creator and executive producer Dick Wolf also stands behind the decision to kill off Kathy, saying that the show's preview was "one of the most dramatic teasers I can remember on any show." "I didn't see anything that was critical of that storytelling choice," he added, "[but] …read more
Source:: Bustle
(Visited 5 times, 3 visits today)

GRAMMYS 2021: Watch Doja Cat's ELECTRIFYING Say So Performance

Doja Cat took fans to the future with an electrifying performance of her smash single 'Say So' during the GRAMMYs, which aired Sunday on CBS. For the 25-year-old singer's debut appearance at the GRAMMYs, she delivered impressive vocals and fierce choreography. ET spoke with Doja on the red carpet ahead of music's biggest night, where she explained what it felt like to attend her first-ever GRAMMY Awards.