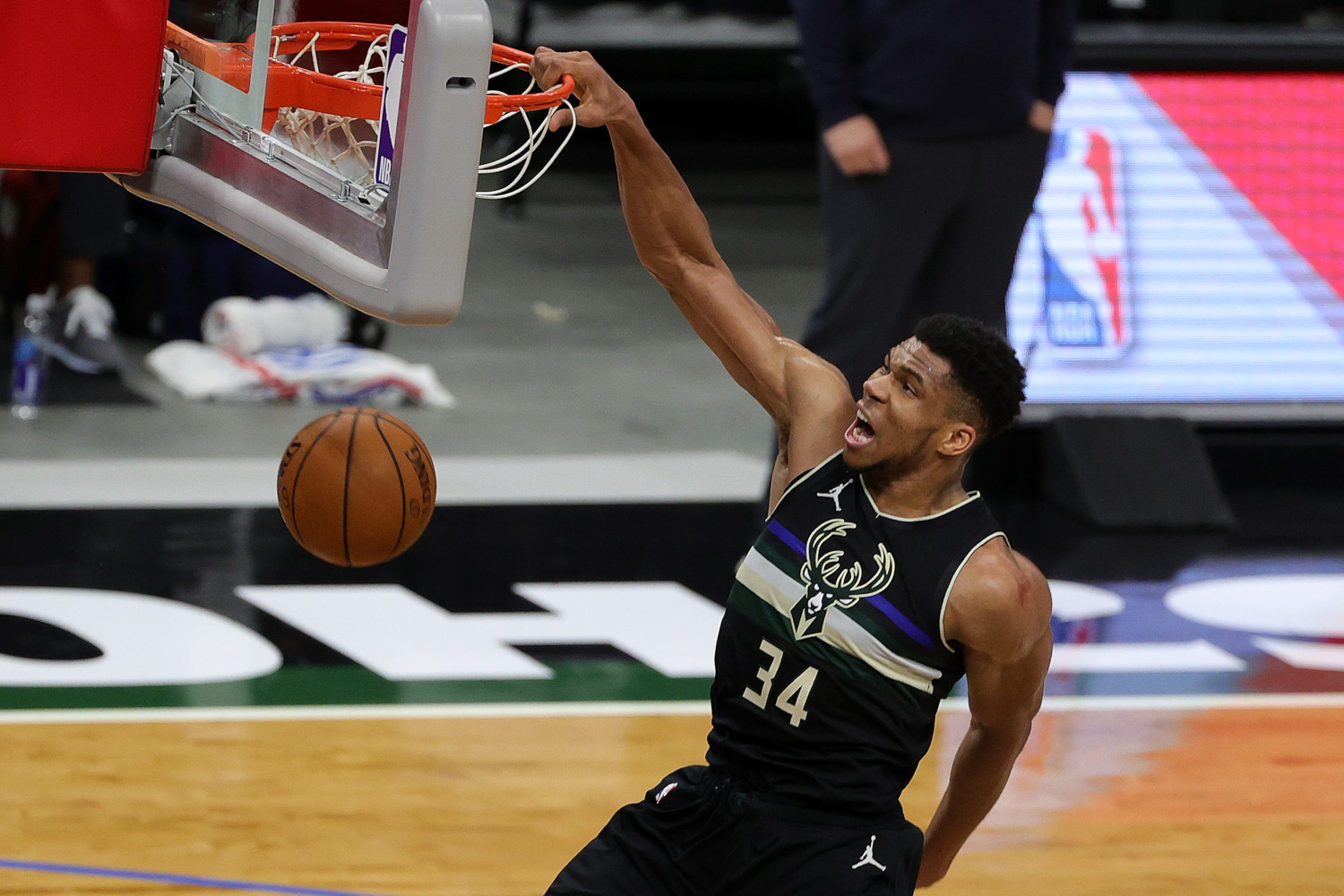 The Milwaukee Bucks likely will not finish with the best record in the NBA this season. That's significant because they did so the last two years before struggling in the playoffs. For a team as good as the Bucks, should a late-season game be a barometer of much? Ordinarily no, but Thursday night's loss to the Houston Rockets had so many red flags flying it's a surprise FEMA wasn't contacted.
The Bucks lost to the Rockets 143-136, the most points Milwaukee has surrendered since losing to the Chicago Bulls 151-135 on April 14, 2008. So yes, it's been a while. Two-time reigning NBA Most Valuable Player Giannis Antetokounmpo barely played. He aggravated a sprained right ankle less than a minute into the game.
But if you rely so much on one player that you can't handle the NBA's worst team, it has to cause concern.
Milwaukee Bucks are a complicated team to figure out
RELATED: Giannis Antetokounmpo's 'Favorite Moment' of His NBA Career Didn't Even Involve Him Touching a Basketball
So many of the standard metrics say the Milwaukee Bucks are a great team. They are in the NBA's top 10 in offensive and defensive efficiency and second in net rating. They average 116.2 points per 100 possessions offensively (fifth) and allow just 110.0 defensively (seventh), working out to a net of plus-6.2 points (second).
That's why Thursday was such a shocker. Even without Antetokounmpo, the Bucks should never get lit up for 143 points by a Houston team that ranks in the bottom five in offensive efficiency (27th overall at 106.7). That the Rockets are 25th in defensive rating (113.3) merely adds to the mystery.
On Wednesday, the NBA fined Rockets guard Kevin Porter Jr. $50,000, per ESPN, after he violated the league's health and safety protocols related to COVID-19 with a trip to a Miami strip club. On Thursday, he stripped down the Bucks to the tune of a career-high 50 points (one for every thousand he was fined in a coincidental twist). His 32 second-half points were more than his previous career high of 30. He also had 11 assists.
Porter, however, had help.
Christian Wood dropped 31 points on the Bucks, and Kelly Olynyk went for 24 points and 13 rebounds. Khris Middleton (33 points) and Bryn Forbes did what they could for Milwaukee at the offensive end, but Houston rang up 78 points in the second half to come back from an early 17-point deficit.
Scrutiny on the Bucks is immense
RELATED: Stephen A. Smith Exposes the Brutal Irony of Giannis Antetokounmpo's Controversial Celebration
Milwaukee had the NBA's best record in 2018–19 and led the Toronto Raptors 2–0 in the Eastern Conference Finals before the roof caved in. Toronto won four straight games and went on to win the franchise's first championship. Last season, the Bucks never got things put back together when play resumed in late July after a four-month-long shutdown caused by the coronavirus pandemic.
They won just three of eight games in the bubble to close out the irregular regular season of …read more
Source:: Sportscasting
(Visited 2 times, 1 visits today)

GRAMMYS 2021: Watch Doja Cat's ELECTRIFYING Say So Performance

Doja Cat took fans to the future with an electrifying performance of her smash single 'Say So' during the GRAMMYs, which aired Sunday on CBS. For the 25-year-old singer's debut appearance at the GRAMMYs, she delivered impressive vocals and fierce choreography. ET spoke with Doja on the red carpet ahead of music's biggest night, where she explained what it felt like to attend her first-ever GRAMMY Awards.