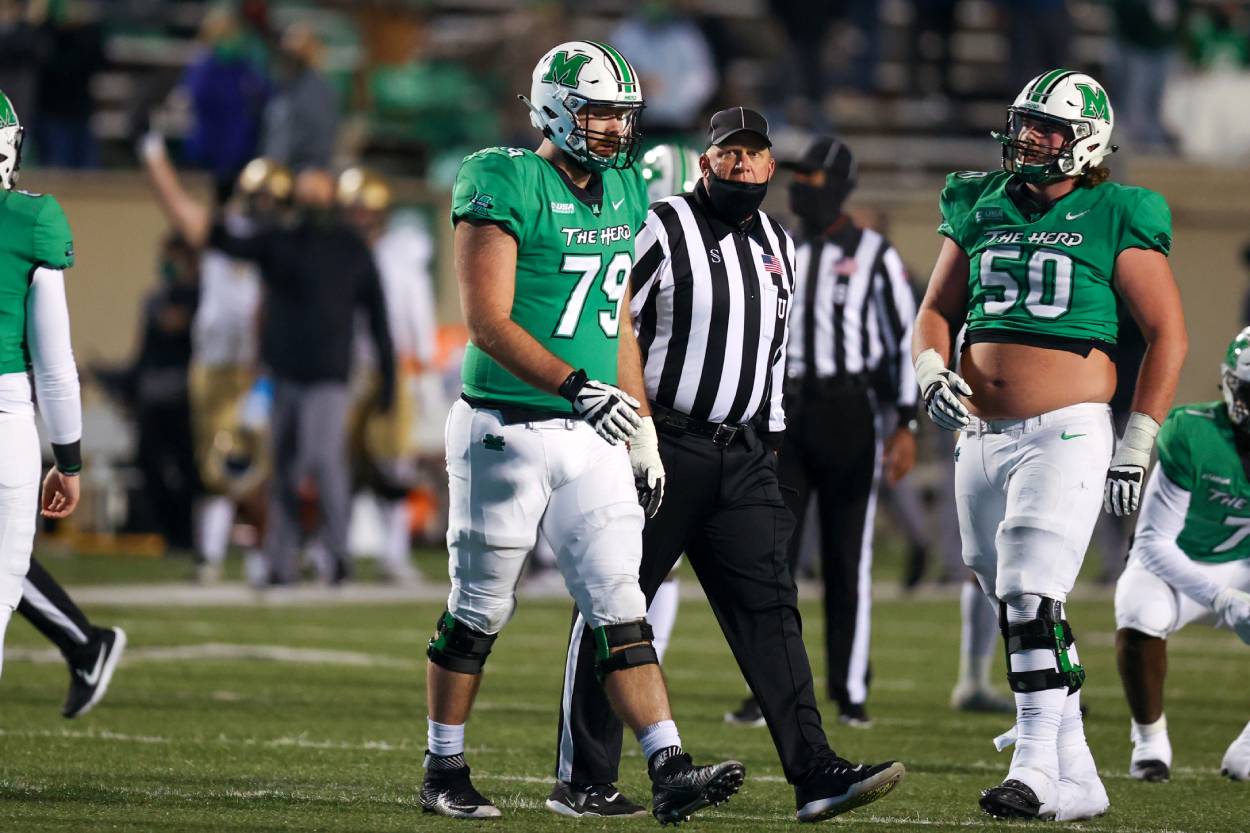 The Dallas Cowboys may already have a problem on their hands in rookie offensive lineman Josh Ball.
Ball, who completed his college career at Marshall, joins a Cowboys team in need of young offensive line prospects. However, Dallas will need to address its decision to add a prospect who had a disturbing history of dating violence allegations in college.
Florida State suspended Josh Ball for dating violence in college
If ya need info on #DallasCowboys latest pick Josh Ball, here are the charges from the injunction FSU used to kick him out of the program, the victim's statement & the petition for protection Ball had to sign!@1053thefan #NFLDraft2021 pic.twitter.com/xA9drHKJfE
— Kevin Hageland (@OThankKevin) May 1, 2021
RELATED: Seahawks OL Chad Wheeler Arrested After Terrifying Domestic Violence Charges
A top offensive line prospect from Virginia, Ball began his college football career under Jimbo Fisher at Florida State.
After he started nine games at left tackle during the 2017 season, Ball's college career came to a halt in May 2018. According to Sports Illustrated, the university suspended him after a judicial panel hearing. SI reported that he and his accuser had reached an agreement "in a petition for protection against dating violence" in November 2017.
The injunction mentioned 11 incidents between Ball and his accuser, three of which involved physical contact. Ball allegedly assaulted the woman after breaking her cell phone during one incident. He allegedly threw her into a closet during a separate incident because she did not return his text messages quickly enough.
The agreement mandated Ball had to stay at least 500 feet away from her residence, her parent's residence, and her church. Ball transferred to Butler Community College (Kansas) after his suspension.
Ball went to Marshall after his stint in junior college
The Dallas Cowboys selected Marshall offensive lineman Josh Ball in the 2021 NFL draft. | Frank Jansky/Icon Sportswire via Getty Images
RELATED: Jason Kidd's Violent Domestic Abuse Arrest Led to His Trade to New Jersey
After a year in junior college, Ball hoped to return to the FBS level. By December 2018, he had his eyes set on a reunion at Florida State.
The Athletic reported at that time that Ball was interested in re-enrolling at FSU and joining the Seminoles in January 2019. Ball's ex-girlfriend released a public statement in which she expressed her frustration with the school's administration and head football coach Willie Taggart for exploring the idea of bringing him back.
Ball did not return to FSU, and he instead signed with Marshall. He spent two seasons there and started at left tackle in 2020.
The Cowboys need to address the decision to draft Ball
"The past is the past and everybody's moved on so I don't really have a comment on all that." – Josh Ball with us. Bad answer to me if allegations are true. Some people don't get to move on from that trauma so easily.
— Jeff Cavanaugh (@JC1053) May 1, 2021
RELATED: Frightening Details About Chad Wheeler's …read more
Source:: Sportscasting
(Visited 4 times, 1 visits today)

GRAMMYS 2021: Watch Doja Cat's ELECTRIFYING Say So Performance

Doja Cat took fans to the future with an electrifying performance of her smash single 'Say So' during the GRAMMYs, which aired Sunday on CBS. For the 25-year-old singer's debut appearance at the GRAMMYs, she delivered impressive vocals and fierce choreography. ET spoke with Doja on the red carpet ahead of music's biggest night, where she explained what it felt like to attend her first-ever GRAMMY Awards.