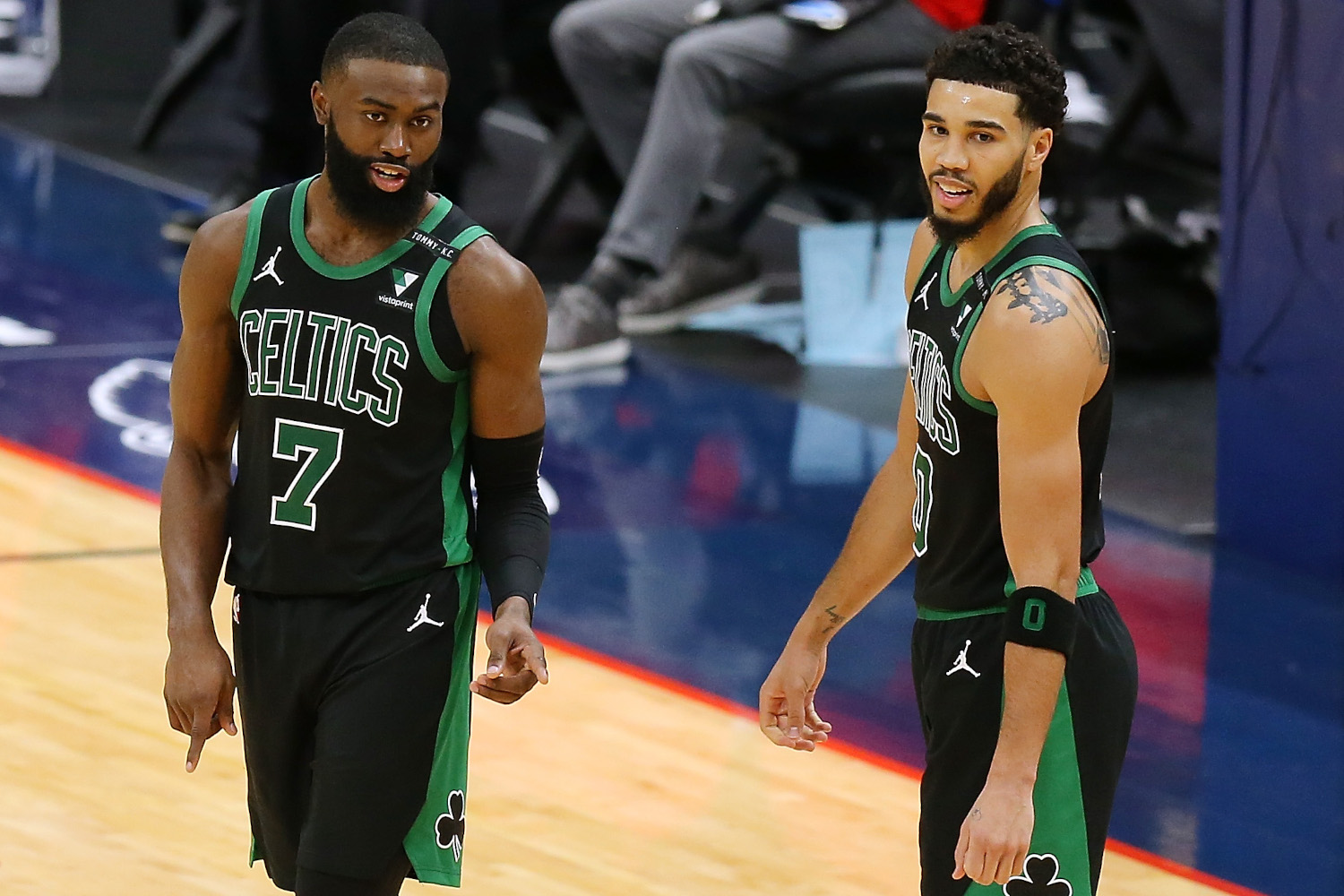 The Boston Celtics had a bad Sunday. Their 129–119 loss to the Portland Trail Blazers not only dropped Boston into play-in territory, but it could have cost them at least one star player. Late in the game, All-Stars Jayson Tatum and Jaylen Brown collided. Both players left the game, and Brown's injury looked serious.
If it wasn't for bad luck, the Celtics might have none at all this season. Boston has reached the Eastern Conference Finals in three of the last four seasons, but 2020–21 has been challenging for the C's. The Celtics are one game behind the Atlanta Hawks and Miami Heat for the final two guaranteed playoff berths in the East. If Boston is without Brown for an extended period, any hopes of a long postseason run take a significant hit.
Boston Celtics have struggled with continuity
RELATED: The Boston Celtics Add Another 'Worst Loss Ever' to Their Lengthy List
Injuries and illness have been the only constants for the Celtics this season. In 65 games, Boston has used 32 different starting lineups. Only four players – Tatum, Brown, reserve Grant Williams, and rookie Payton Pritchard – have missed less than 10 games.
Tatum struggled earlier this season because of a bout with COVID-19. Evan Fournier, acquired from the Orlando Magic at the trade deadline, has played in just 10 games and is struggling badly with his recovery from the coronavirus. Defensive ace Marcus Smart was out for more than a month with a calf injury. Former All-Star Kemba Walker began the season recovering from a knee injury and is now out with a strained oblique.
Boston is hardly the only team in the NBA to struggle with injuries and illness this season. Losing two All-Stars on the same play, though, takes lousy luck to a new level.
Jaylen Brown was already dealing with a bad ankle
Brad Stevens on the update about Jayson and Jaylen's status after collision pic.twitter.com/eZuwgXoS3K
— Celtics on NBC Sports Boston (@NBCSCeltics) May 3, 2021
RELATED: Boston Celtics Coach Brad Stevens Makes Shocking $70 Million Decision
Brown was a game-time decision to play on Sunday because of a banged-up right ankle. That is the same ankle he favored as he hopped off the court after colliding with Tatum Sunday night.
Tatum and Brown comprise much of the offensive punch for the Boston Celtics. That is particularly true because Walker has posted his worst numbers since 2014–15, averaging 18.2 points and 5.0 assists in 31.5 minutes per game. He is shooting only 40.9% overall and 34.8% from 3-point range, down from 42.5% and 38.1%, respectively, last season.
Tatum averages 26.5 points per game and tied a franchise record on Friday with a 60-point explosion against the San Antonio Spurs, per ESPN. Brown is putting up 24.7 points a night. Their combined 51.2 points per game ranks second among tandems behind Bradley Beal and Russell Westbrook of the Washington Wizards, who average a combined 52.9 points per …read more
Source:: Sportscasting
(Visited 5 times, 1 visits today)

GRAMMYS 2021: Watch Doja Cat's ELECTRIFYING Say So Performance

Doja Cat took fans to the future with an electrifying performance of her smash single 'Say So' during the GRAMMYs, which aired Sunday on CBS. For the 25-year-old singer's debut appearance at the GRAMMYs, she delivered impressive vocals and fierce choreography. ET spoke with Doja on the red carpet ahead of music's biggest night, where she explained what it felt like to attend her first-ever GRAMMY Awards.