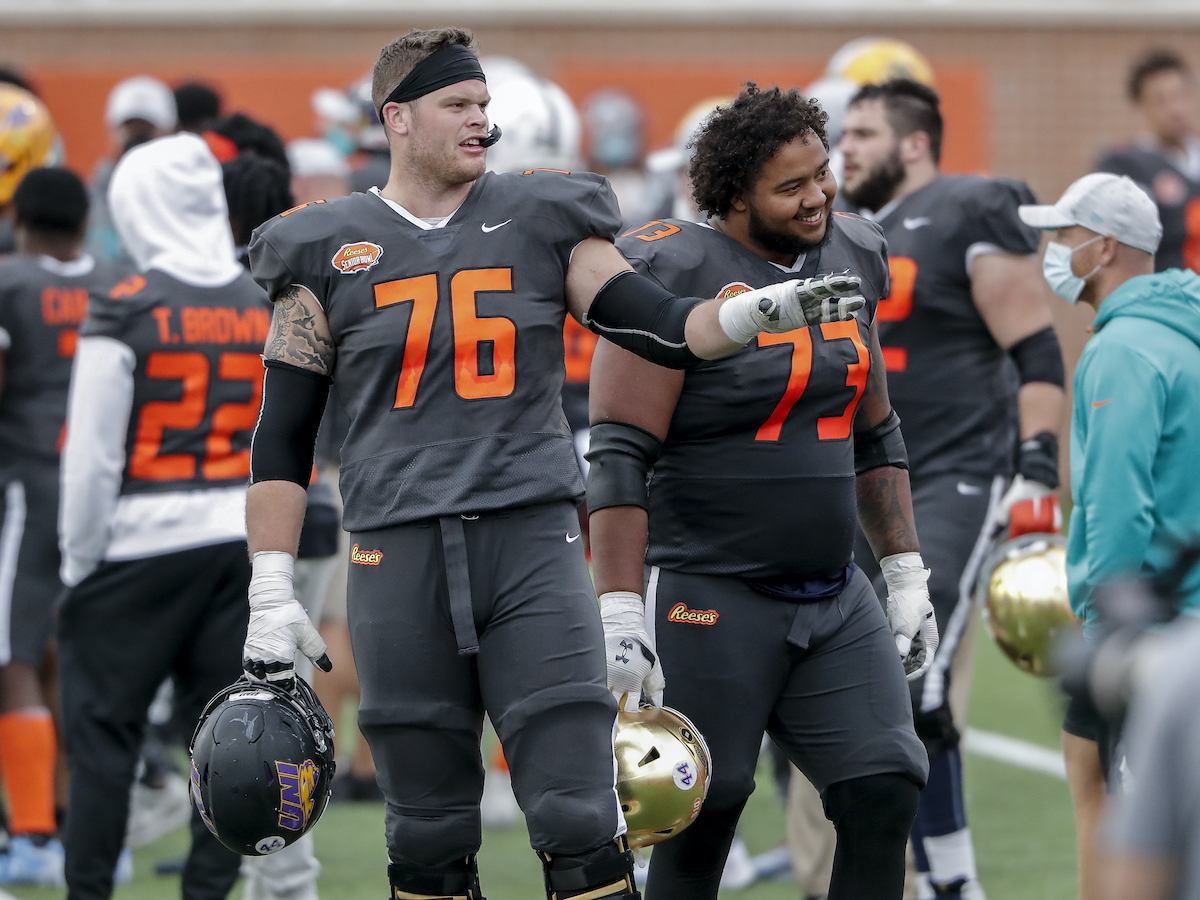 There are times in the NFL draft when the stars align and the combination of a team and the player they pick are just perfect. Sometimes, it's the player's style of play on the field that fits the team just right. Other times, it's their demeanor off the field that works so well with a franchise.
In the case of Buffalo Bills third-round pick, offensive tackle Spencer Brown, it is his understanding of the team's most passionate fans that make him seem like a perfect fit for Western New York. Brown demonstrated this understanding in the hours after he was drafted with a viral video that was a direct shout-out to the Bills Mafia.   
Bills drafted Spencer Brown in the third round of 2021 NFL draft 
Spencer Brown |Photo by Don Juan Moore/Getty Images
Related: Who Owns the Buffalo Bills?
The Bills' biggest needs going into the draft included edge rusher, defensive back, and offensive line. After taking pass rushers with their first two picks, the Bills front office turned their attention to the offensive line. With their third-round pick, the Bills selected Brown, an offensive tackle from Northern Iowa.
According to BuffaloBills.com, Brown hails from a very small town in Iowa. He played tight end on his high school's eight-player football team while also competing in basketball, track, and golf. He was very lightly recruited out of high school but became a standout at Northern Iowa. During his career at the school, he was named to the All-Missouri Valley Conference second team in 2019 and a preseason FCS All-American prior to the eventually-postponed 2020 season.
ESPN evaluates the 6'8", 311-pound Brown as a raw talent with potential. If he develops well, he could turn into a strong backup for both tackles or possibly even a starter. This makes Brown a very good fit from a football perspective. The lineman should absolutely make the Bills regular-season roster this year and possibly make a contribution.
Bills Mafia fans are known for an outlandish ritual
The most passionate Bills supporters are known as the Bills Mafia. Yahoo! Sports explains that the name started in 2010 when a fan on Twitter named Del Reid used the hashtag #BillsMafia. The name would eventually catch on and grow in popularity. Nowadays, it is quite common for fans, the media, NFL players, and the team itself to refer to Bills fans this way.
The Bills Mafia has risen to prominence thanks to a few rituals that have gone viral over the years. One Bills Mafia member famously douses himself with condiments in front of screaming fans before home games.
Another, less silly tradition of the Bills Mafia is their charitable donations. The fans raised large sums of money for then-Bengals quarterback Andy Dalton's charity after he helped them make the playoffs in 2018. They did the same for Oishei Children's Hospital in Buffalo in the name of Bills quarterback Josh Allen's late grandmother in 2020.
The tradition Bills Mafia might be most known for though is table smashing. A quick …read more
Source:: Sportscasting
(Visited 4 times, 1 visits today)

GRAMMYS 2021: Watch Doja Cat's ELECTRIFYING Say So Performance

Doja Cat took fans to the future with an electrifying performance of her smash single 'Say So' during the GRAMMYs, which aired Sunday on CBS. For the 25-year-old singer's debut appearance at the GRAMMYs, she delivered impressive vocals and fierce choreography. ET spoke with Doja on the red carpet ahead of music's biggest night, where she explained what it felt like to attend her first-ever GRAMMY Awards.