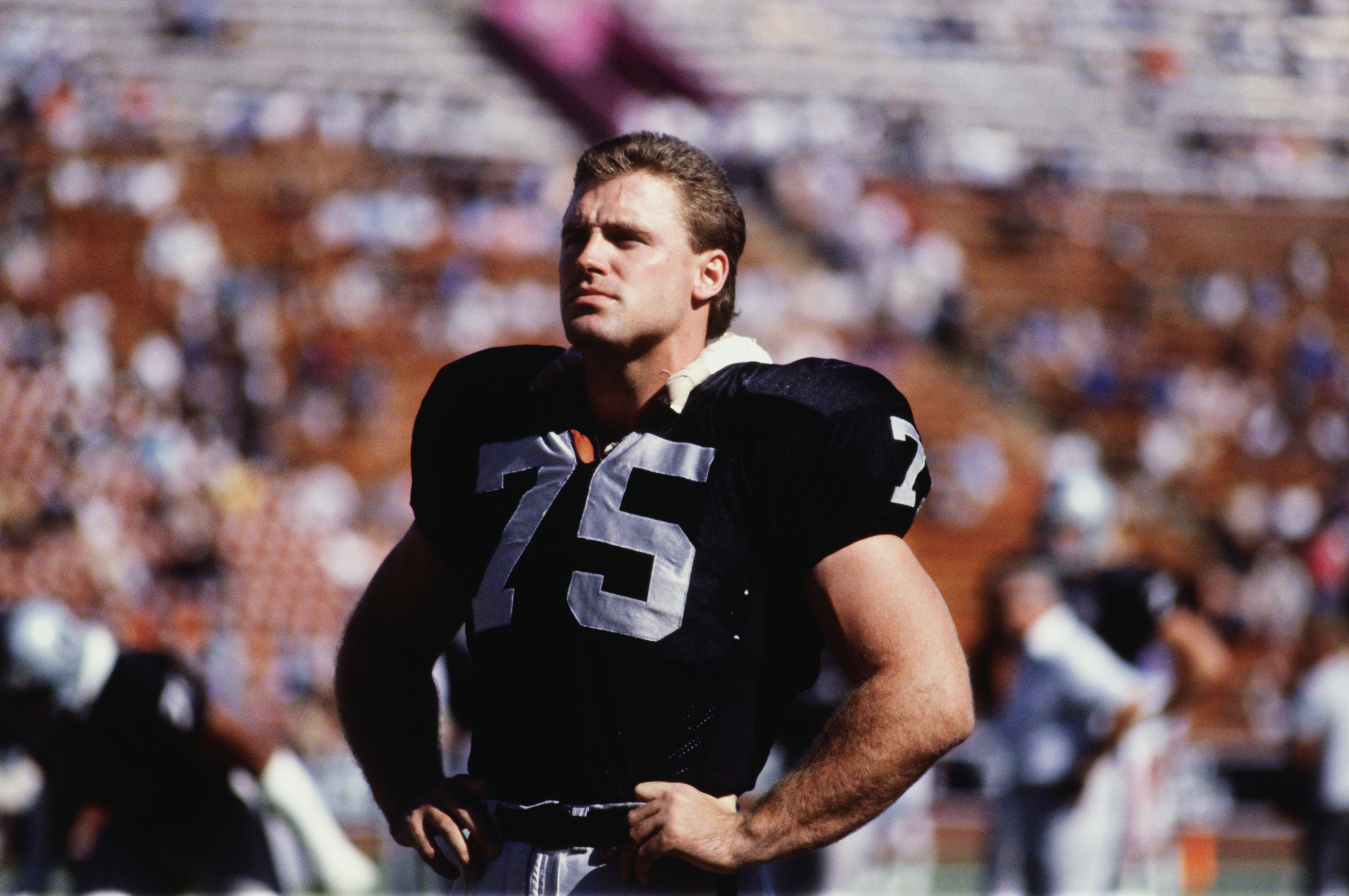 For dedicated NFL fans, the most exciting part of the offseason is the draft. The draft gives struggling teams a chance to add potential stars to their roster. More successful franchises, meanwhile, try to find useful role-players later in the draft. Of course, not all draft classes are stocked with the same talent.
The 1981 class was easily one of the most stacked drafts in NFL history. In particular, that draft had an overwhelming amount of defensive talent, including Lawrence Taylor, Kenny Easley, Howie Long, and others. Let's look at the 1981 draft's case as the greatest defensive class in NFL history.
The 1981 draft's Hall of Fame contingent
Raiders player Howie Long in 1987 | Bettmann/Contributor
RELATED: Where Did Fox Sports Analyst Howie Long Play College Football?
It's no exaggeration to say that the 1981 class contained arguably the greatest number of impact defenders of any draft. One statistic amply illustrates that fact: seven of the 1981 draftees went on to be enshrined in the Pro Football Hall of Fame after retirement.
Linebacker Lawrence Taylor spent 13 seasons playing for the New York Giants. In that time, Taylor racked up 10 Pro Bowl and eight First-team All-Pro selections, per Pro Football Reference. He also won three Defensive Player of the Year awards, and two Super Bowl rings. Taylor entered the Hall of Fame in 1999, his first year of eligibility.
Defensive end Howie Long enjoyed an equally lengthy career, spending 13 seasons with the Oakland Raiders. In that time, he made eight Pro Bowl teams, received three First-team All-Pro selections. He also won one NFL Defensive Player of the Year award, and one championship. Long entered the Hall of Fame in 2000.
Linebacker Mike Singletary spent 12 years playing for the Chicago Bears. His resume includes 10 Pro Bowls, 7 First-team All-Pro selections, two NFL Defensive Player of the Year awards, and one Super Bowl victory. Singletary was inducted into the Hall of Fame in 1995.
The 1981 NFL draft's Hall of Fame list goes on
Lawrence Taylor, Ronnie Lott and George Rogers made AP All-Pro – in 1981. Who deserves to make it this year? https://t.co/xwyK5HLjwf pic.twitter.com/q1PYPlSqTS
— AP NFL (@AP_NFL) January 6, 2017
RELATED: Howie Long's Teammates Have Included John Travolta and Christian Slater
Arguably the most accomplished defensive player of the 1981 draft was defensive back Ronnie Lott. In a 14-year career spent mostly with the San Francisco 49ers, Lott made 10 Pro Bowls, eight First-team All-Pros, and won four Super Bowls. He also twice led the NFL in interceptions. His 63 career interceptions put him at number eight on the all-time list. He entered the Hall of Fame in 2000.
In his 15-year career, spent mostly with the New Orleans Saints, Rickey Jackson made six Pro Bowls, received five Second-team All-Pro selections, and won one Super Bowl. He made the Hall of Fame in 2010.
Kenny Easley played seven seasons for the Seattle Seahawks, receiving five Pro Bowl and three First-team All-Pro selections, as well as …read more
Source:: Sportscasting
(Visited 4 times, 1 visits today)

GRAMMYS 2021: Watch Doja Cat's ELECTRIFYING Say So Performance

Doja Cat took fans to the future with an electrifying performance of her smash single 'Say So' during the GRAMMYs, which aired Sunday on CBS. For the 25-year-old singer's debut appearance at the GRAMMYs, she delivered impressive vocals and fierce choreography. ET spoke with Doja on the red carpet ahead of music's biggest night, where she explained what it felt like to attend her first-ever GRAMMY Awards.