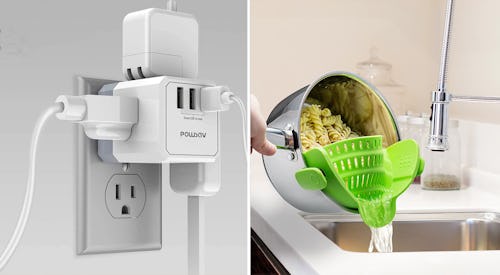 There are two rules I always follow when it comes to shopping online: 1) If a deal seems too good to be true, it probably is — and 2) You can go ahead and ignore rule number one if that product has thousands of positive reviews. That's because when something has a gigantic following, you can usually rest assured that the low price means it's a bargain and not a scam. Since there are so many products on Amazon that are shockingly affordable, I always turn to the review sections for reassurance before adding them to my cart.
But if you're not sure where to begin, don't worry — I've picked out some of my favorite deals for this list to help you get started. There are handy kitchen gadgets, including an over-the-sink drying rack, as well as a nourishing hair mask that's chock-full of argan oil (both with thousands of positive reviews). And if you've got a long flight coming up, make sure to check out the screen magnifier I've included. Not only does it make it easier to watch movies on your phone, but more than 7,000 reviewers gave it either four or five stars.
Whether you're looking for a bargain or simply browsing, there are tons of cheap things on Amazon that reviewers rave are worth the money. Keep scrolling to check out some of my favorite picks.
This Finishing Stick That Helps Smooth Flyaways
BestLand Hair Finishing Stick
Amazon
Whether you've got flyaways or some unwanted frizz, this finishing stick can help smooth things out. The plant-based formula gently moisturizes your strands without leaving behind any greasy residues, and it goes on transparent — making it perfect for all hair colors.
A Bottle Of Rose Hip Seed Oil That's Rich In Nutrients
PURA D'OR Organic Rosehip Seed Oil
Amazon
Rich in various nutrients including essential fatty acids, antioxidants, vitamins, and more, this rose hip seed oil can be added to your skin for extra moisture and increased collagen production. It can also be used in your hair to help rejuvenate your scalp and roots, and it's packed into a bottle with a pump as opposed to a dropper.
A Hydrating Cream That's Chock-Full Of Essential Ceramides
CeraVe Moisturizing Cream
Amazon
Ceramides can help strengthen your skin while preventing further moisture loss, and this cream contains three of the most essential ones: 1, 3, and 6-II. It's suitable for use from your head to your toes, and the formula absorbs quickly without any sticky residues.
An Electric Fleece Blanket That Works In The Car
Stalwart Electric Car Blanket
Amazon
With an extra-long power cable, this electric blanket reaches all the way from the auxiliary power outlet to the back seat of your car. It's perfect for everything from tailgates to road trips, and the fleece material is cozy all on its own — even without heat.
These Cotton Makeup Removers That Can Be Used Over & Over Again
Wegreeco Reusable Cotton Rounds
Amazon
Searching for easy ways to be …read more
Source:: Bustle
(Visited 7 times, 1 visits today)

Celebrities React To Kanye West - Donda (Official Album)

Celebrities React To Kanye West - Donda (Official Album) Kanye West Finally Releases " Donda " Album on August 29,2021 instead of September 3rd, 2021. The album features 27 songs in total including "Hurricane," "Praise God," "Moon," and "New Again" and comes with a runtime of 108 minutes and 59 seconds. However, the track "Jail pt 2" is not currently streamable. Kanye West's highly anticipated 10th studio album spans 26 songs and has features from Travis Scott , Jay Z , Kid Cudi , The Weeknd, Lil Baby and more. Donda is named after Kanye West's late mother Donda West , who died at the age of 58 following plastic surgery complications in 2007. The record is West's first since the release of his 2019 gospel album Jesus Is King, which earned him a best contemporary Christian album Grammy. In Todays' video we're going to be showing you celebrities' reactions to " Kanye West - Donda (Official Album) " What do yall think of the album? Leave your thoughts down below! Don't forget to give this video a thumbs up, subscribe to the channel, and hit that bell icon so you don't miss out on any future videos!