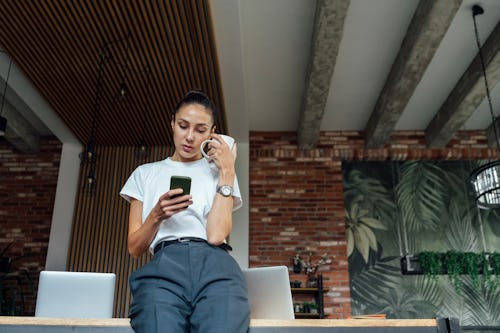 Passive aggressive behavior can be one of the most frustrating conflicts to deal with in a relationship — romantic or otherwise. Instead of talking through a problem and solving it as soon as possible, one person decides to pretend like everything is "fine" even when it's clearly not. They may even shut you out or give backhanded compliments. When you're on the receiving end of this behavior, it can be tough to know what to say and leave you feeling pretty helpless. If you're stuck on what to do, there are some texts you can send someone who's being passive aggressive that will help open up a dialogue between you two.
As Dr. Caroline Madden, PhD, licensed marriage and family therapist, tells Bustle, passive aggressive behavior comes from a place where someone doesn't feel like they have an equal amount of power. "It's like what you do to a boss you don't like," Madden says. "You can't tell him off, but you can take an extra 10 minutes at lunch that he doesn't know about. It's a tactic that children use, and it's harmful because the passive aggressive person has a mindset that even if they told their partner directly, they wouldn't get what they want. By being dramatic about it, they make that prediction come true."
Everyone deals with hurt feelings and conflict in their own way. According to Madden, some people are naturally passive aggressive and have a tough time opening up about their feelings, while others may have learned that being direct doesn't work. If your friend or partner has a hard time letting you know how they're really feeling, it's important to be patient and calm. The last thing you want to do is mirror their behavior and cause even more distance in the relationship.
If someone in your life is being passive aggressive, here are some examples of texts you can send.
"I hear what you're saying, and I apologize if my actions made you feel that way. That wasn't my intention. Can we maybe talk about how this may have been a miscommunication?"
Even if you don't think you've done something wrong or you don't even know why the other person is mad, it's important to acknowledge their feelings. As Jose Ramirez, licensed mental health counselor, tells Bustle, this is a good text to send because it shows your partner that you get that they're upset, and it validates them. "Asking to discuss how this may have been a miscommunication softens it up and will help clear up any confusion," Ramirez says. "This is a good way to deescalate a tense conversation and not play into the passive-aggressive behavior."
"I think we should talk about what's going on with us."
When someone is acting up, it might be your gut instinct to leave them alone until they get over it. But as psychotherapist and writer, Emily Mendez, M.S. EdS, tells Bustle, that's the …read more
Source:: Bustle
(Visited 5 times, 1 visits today)

Celebrities React To Kanye West - Donda (Official Album)

Celebrities React To Kanye West - Donda (Official Album) Kanye West Finally Releases " Donda " Album on August 29,2021 instead of September 3rd, 2021. The album features 27 songs in total including "Hurricane," "Praise God," "Moon," and "New Again" and comes with a runtime of 108 minutes and 59 seconds. However, the track "Jail pt 2" is not currently streamable. Kanye West's highly anticipated 10th studio album spans 26 songs and has features from Travis Scott , Jay Z , Kid Cudi , The Weeknd, Lil Baby and more. Donda is named after Kanye West's late mother Donda West , who died at the age of 58 following plastic surgery complications in 2007. The record is West's first since the release of his 2019 gospel album Jesus Is King, which earned him a best contemporary Christian album Grammy. In Todays' video we're going to be showing you celebrities' reactions to " Kanye West - Donda (Official Album) " What do yall think of the album? Leave your thoughts down below! Don't forget to give this video a thumbs up, subscribe to the channel, and hit that bell icon so you don't miss out on any future videos!