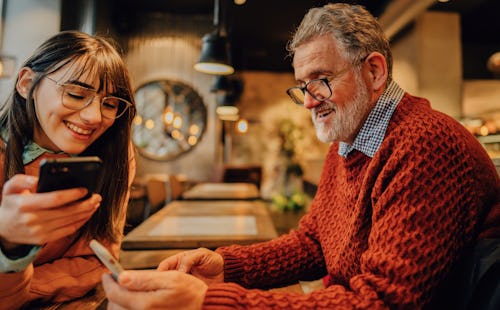 Your parents never thought to consider that you might have a burner social media account, but after Connecticut Sen. Richard Blumenthal awkwardly asked Facebook to crack down on secret profiles, Boomers are suddenly questioning what finsta means. Now your parents want to know what finsta is, exactly. And do you have one? And if so, what illicit, NSFW life are you living on private mode?
Your finsta — a portmanteau of fake + Instagram — is probably just an account you use to lean into your secret K-pop fandom, or post pictures about your nightstand cup collection, but it does have a mysterious and exciting ring to it, right? Over the last two weeks, per Google Trends, there's been more searches for information on finstas than, well, ever. Sen. Blumenthal has brought forth a wave of curiosity about a trend that, while not new, has been relatively on the down-low among the kids for years. "Finsta" is no longer a pop culture reference that the only cast of Euphoria would drop casually — now, your mom's curious, too.
What Finsta Means To Gen Z
A finsta is not just a place to post imperfect or personal photos, according to Gen Zers, who coined the term, but a place to make IRL-worthy connections. "My finsta is a private, yet public journal where I am selective about who I reveal my personal life and deep inner thoughts to," Yeji, 20, a college sophomore, tells Bustle. "I've had one since high school, and I like it because it allows me to make deeper connections with people who I genuinely care about," she says. Her public-facing profile, Yeji says, is more of a photo journal that allows people to get an idea of what her life and interests are, but not get too close. "Finsta is a place to show your raw, genuine, and vulnerable self," she says.
Just having an alt account has inspired Yeji to change the way she treats all social media posts so there isn't too much of a discrepancy between both accounts. "I try not to make it a performance of how put together my life is," she says.
According to Zainab, 21, a recent college graduate, a finsta is less a place to flex a flashy secret life that's not aligned with who your parents think you are, and more a place to be yourself. "My parents would definitely recognize me from my finsta more than my public account," she tells Bustle, adding that while she does post an occasional party pic, it's mostly "mundane, unfiltered photos."
Zainab says started her private page because she felt she didn't have the energy to take high quality pictures and keep up with the trends. "With my finsta account, which has about 10% the amount of followers of my main account, I can post whatever I like — food, animals, clothes, and selfies, looking rough." Because only people who she's already connected to follow …read more
Source:: Bustle
(Visited 2 times, 1 visits today)

Celebrities React To Kanye West - Donda (Official Album)

Celebrities React To Kanye West - Donda (Official Album) Kanye West Finally Releases " Donda " Album on August 29,2021 instead of September 3rd, 2021. The album features 27 songs in total including "Hurricane," "Praise God," "Moon," and "New Again" and comes with a runtime of 108 minutes and 59 seconds. However, the track "Jail pt 2" is not currently streamable. Kanye West's highly anticipated 10th studio album spans 26 songs and has features from Travis Scott , Jay Z , Kid Cudi , The Weeknd, Lil Baby and more. Donda is named after Kanye West's late mother Donda West , who died at the age of 58 following plastic surgery complications in 2007. The record is West's first since the release of his 2019 gospel album Jesus Is King, which earned him a best contemporary Christian album Grammy. In Todays' video we're going to be showing you celebrities' reactions to " Kanye West - Donda (Official Album) " What do yall think of the album? Leave your thoughts down below! Don't forget to give this video a thumbs up, subscribe to the channel, and hit that bell icon so you don't miss out on any future videos!