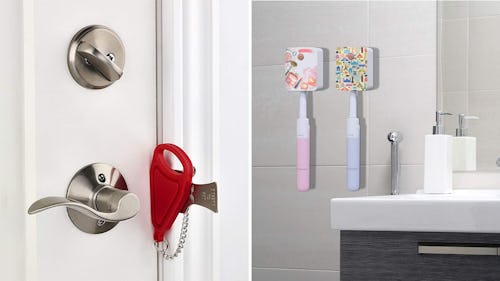 Not to sound like my mother after she just finished a 1000 Ways To Die marathon, but potential dangers could be lurking anywhere — even in your own home. Luckily, thanks to some brilliant innovations, minimizing said dangers has never been easier. There are countless products that make your home a lot safer, and they're way more affordable than you might think. (Read: no one here expects you to drop $400 on a smart doorbell, so you can exhale.)
The first step, according to experts, is to narrow down your home's biggest hypothetical hazards. Were your window locks installed sometime around the turn of the century? Does your shower leak, leaving a miniature swimming pool on the bathroom floor? Maybe you have a bad habit of leaving your hair straightener plugged in, or maybe you have a small child who (for some reason) loves to open up every single cabinet in your kitchen.
My advice? Incessant worrying never did anyone any good, but nipping potential dangers in the bud could help to put your mind at ease moving forward. These 40 genius inventions fix all of those risks and more — and those who are accident-proofing on a budget will be happy to hear: They all cost less than $35 on Amazon.
These Smart Plugs So You Can Control Electronics From Your Phone
Kasa Smart Plug (2-Pack)
Amazon
Left the straightening iron on? How about the coffee pot? What if you want to turn on the lights so it looks like someone's home — but you left the house three hours ago? Kasa Smart plugs to the rescue. These little devices let you set schedules, control your devices from your phone, and even use voice-activation via Alexa and Google Assistant.
This Portable Lock Wherever You Need It
Addalock
Amazon
Add locks to doors that don't have any, or gain extra security in buildings where other people have the key — like hotels, apartments, and AirBNBs. Addalock is a portable, easy-to-use purchase for extra peace of mind, and some even say it's the "best purchase [they] ever made!"
Some Blackout Curtains In Virtually Any Color Or Size
AmazonBasics Blackout Curtains
Amazon
These affordable blackout curtains block out all light for improved sleep and improve temperature-retention to save you money on heat and air conditioning — but they're also great for privacy. Their opaque fabric means people can't see in, so you can protect yourself when you're home and your valuables when you're not. Get them in all different colors and lengths.
These Cut-Resistant Gloves For Cooking, Gardening, & Fix-It Jobs
Dowellife Cut Resistant Gloves
Amazon
Because they're made from a special cut-resistant, high-elastic nylon, these gloves protect your hands from blades, thorns, rough surfaces, and sharp objects. They're available in various sizes, and despite their durability, they're stretchy and form-fitting so your hands stay nimble while you work.
Available sizes: S – XL
This Brilliant Foot Rest To Keep You Steady While …read more
Source:: Bustle
(Visited 6 times, 2 visits today)

Celebrities React To Kanye West - Donda (Official Album)

Celebrities React To Kanye West - Donda (Official Album) Kanye West Finally Releases " Donda " Album on August 29,2021 instead of September 3rd, 2021. The album features 27 songs in total including "Hurricane," "Praise God," "Moon," and "New Again" and comes with a runtime of 108 minutes and 59 seconds. However, the track "Jail pt 2" is not currently streamable. Kanye West's highly anticipated 10th studio album spans 26 songs and has features from Travis Scott , Jay Z , Kid Cudi , The Weeknd, Lil Baby and more. Donda is named after Kanye West's late mother Donda West , who died at the age of 58 following plastic surgery complications in 2007. The record is West's first since the release of his 2019 gospel album Jesus Is King, which earned him a best contemporary Christian album Grammy. In Todays' video we're going to be showing you celebrities' reactions to " Kanye West - Donda (Official Album) " What do yall think of the album? Leave your thoughts down below! Don't forget to give this video a thumbs up, subscribe to the channel, and hit that bell icon so you don't miss out on any future videos!