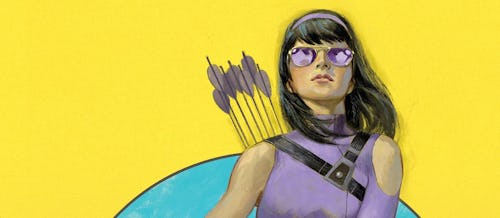 With Phase 4 of the Marvel Cinematic Universe well underway, fans have been gifted with series after Disney+ series spotlighting different superheroes, including Loki, WandaVision, and The Falcon and The Winter Soldier. Marvel also already dropped Easter eggs introducing the Young Avengers, a new generation of heroes in the comic books. One member of this new guard is Kate Bishop, who will be a major part of the upcoming Disney+ Hawkeye series airing on Nov. 24. It follows master archer Clint Barton, played by Jeremy Renner, passing the baton (err, bow) to Kate, played by Hailee Steinfeld.
A TV show isn't the only project in store for the young archer this November. She will also be getting a new five-part comic book series, Hawkeye: Kate Bishop, written by New York Times best-selling author Marieke Nijkamp (Before I Let Go) and illustrated by Enid Balám (Reptil), with the cover design by Jahnoy Lindsay (She-Hulk, Luke Cage).
"Kate's always been one of my favorites, and to spend time with her is such a thrill," Nijkamp tells Bustle. Though she can't reveal what exact characters readers will come across in the books, Nijkamp promises fans will "find some familiar faces," including a "very excitable dog," "someone from Kate's past," old "villains with a flair for the dramatic," as well as newer felons. Here's everything to know about the new Hawkeye: Kate Bishop comic book series.
Who is Kate Bishop?
A comic favorite, Kate debuted in the Young Avengers #1 comic in 2005. This new ensemble includes the descendants of OG crimefighters, like Scarlet Witch and Vision's twin offspring, Wiccan and Speed; Isaiah Bradley's grandson, Patriot; and Ant-Man's daughter, Cassie Lang, aka Stinger. Also in the group are Kid Loki, Hulkling, and Iron Lad. In 2016, Kate finally got her own solo comic book series with Hawkeye #1.
After suspecting her father, Derek, of being involved in villainy (he is), Kate's investigation lands the young girl in a kidnap-for-ransom situation. The Avengers save her, and that's when she first encounters Clint Barton as Hawkeye. At her sister's wedding years later, she's held hostage, again, by robbers. The Young Avengers appeared and tried to help, but it was Kate who ended up saving the day, gaining respect and an invite from Cassie to join their group. When Clint is thought to be dead down the line, Kate takes on the Hawkeye mantle and eventually becomes Clint's protégée when he returns.
Like Clint, she doesn't have any superpowers — just really, really good aim. She also knows various martial arts and is trained in close combat following a Central Park attack.
The Hawkeye: Kate Bishop Plot
Hawkeye: Kate Bishop picks up with Kate ready to leave her crime-fighting life in Los Angeles. "She's racked up quite a bit of experience running a …read more
Source:: Bustle
(Visited 5 times, 1 visits today)

Celebrities React To Kanye West - Donda (Official Album)

Celebrities React To Kanye West - Donda (Official Album) Kanye West Finally Releases " Donda " Album on August 29,2021 instead of September 3rd, 2021. The album features 27 songs in total including "Hurricane," "Praise God," "Moon," and "New Again" and comes with a runtime of 108 minutes and 59 seconds. However, the track "Jail pt 2" is not currently streamable. Kanye West's highly anticipated 10th studio album spans 26 songs and has features from Travis Scott , Jay Z , Kid Cudi , The Weeknd, Lil Baby and more. Donda is named after Kanye West's late mother Donda West , who died at the age of 58 following plastic surgery complications in 2007. The record is West's first since the release of his 2019 gospel album Jesus Is King, which earned him a best contemporary Christian album Grammy. In Todays' video we're going to be showing you celebrities' reactions to " Kanye West - Donda (Official Album) " What do yall think of the album? Leave your thoughts down below! Don't forget to give this video a thumbs up, subscribe to the channel, and hit that bell icon so you don't miss out on any future videos!