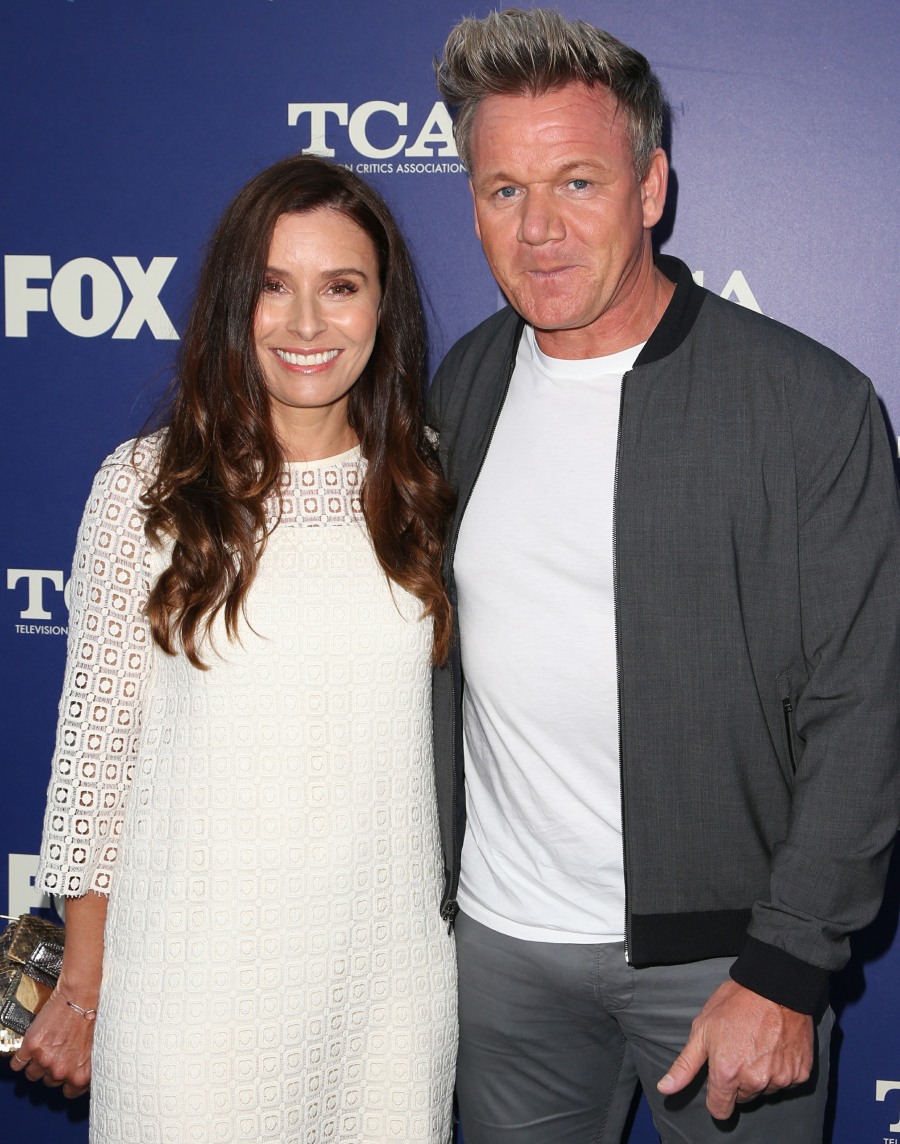 Gordon Ramsay is one of those guys, right? By that I mean… I don't like him, I don't watch his shows, and from what little I know about him, he seems like a rage monster. But I still would. I would bang him. I wouldn't admit it to anyone after the fact and I would definitely be ashamed of it, but he has some bizarre appeal, right? Or is it just me? I've been known to be attracted to deeply troubled dudes. Anyway, Gordon Ramsay is happily married, and he recently talked about his marriage to wife Tana in an interview with The Times. Apparently, he lost 50 pounds over the course of his 12-year marriage just because he wanted to "keep" his wife.
Gordon Ramsay is revealing the very personal reason behind his body transformation. In a recent interview with The Times, the celebrity chef, 51, admitted that his fear of losing wife Tana, 41, pushed him to shed over 50 lbs. after she told him that he needed to take care of his body or risk ending their 12-year marriage. Calling himself "fat" and "overweight," Ramsay recalled having a conversation with his wife about his weight, even viewing old photos of his fuller physique.
"Tana was not impressed with the way I was," the Kitchen Nightmares host said. "I was overweight, 18 stone [252 lbs]. I looked like a sack of s—. I look at the pictures and think, 'How did Tana stay around?' Because Tana has got better-looking and more gorgeous. And there she is, getting in bed with a fat f—."
The couple has four children together: 19-year-old daughter Megan, 18-year-old twins Holly and Jack, and 16-year-old daughter Matilda. Ramsay, who attributed his weight gain to snacking during long work hours and a busy schedule, also shared how he felt self-conscious when he looked at his reflection in the mirror, even comparing himself to close friend David Beckham.
"I didn't have a figure. I didn't feel that good," he said. "'It was painful. I used to look at myself in the mirror and think, 'Holy s—!' So it was a big wake-up call.'
By cycling and training for triathlons, Ramsay said he went from weighing 18 stone (approximately 252 lbs.) to shedding four stone (approximately 56 lbs.) and currently weighs 14 stone (approximately 196 lbs.). In addition to his wife's alarming warning, Ramsay focused on his health due to losing his 53-year-old father to a heart attack.
"That's only a couple of years' time. I've got this reminder to get fit, it's scary," he said. "I get the fear on a daily basis. I may have not got on with him, but I still miss him. I miss everything I could have had from him if he was still alive in his 70s."
[From People]
I've always heard that both men and women tend to gain weight when they get married, possibly because they no longer are "on the …read more
Source:: Cele|bitchy
(Visited 8 times, 1 visits today)