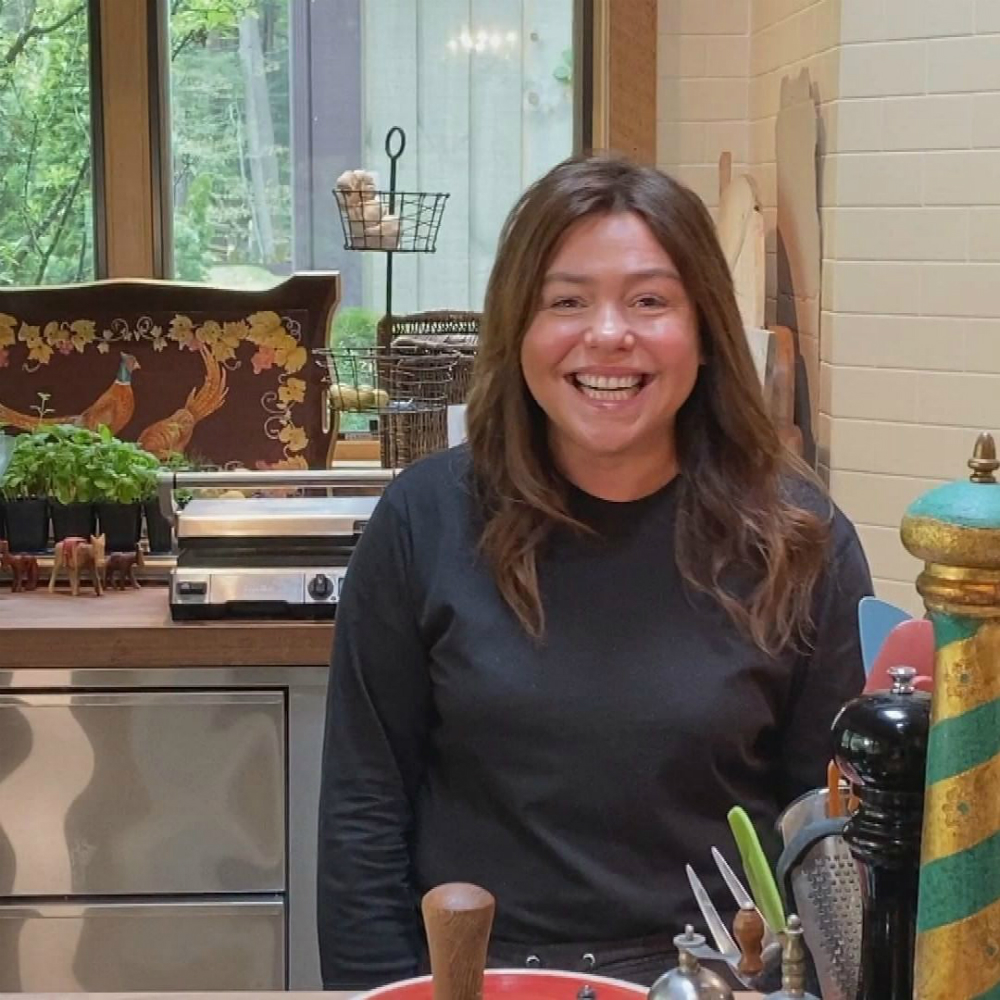 Yesterday marked the premiere of Rachael Ray' talk show's 15th season. Rachael has brought viewers into her New York home through her talk show for years, however never so much than when quarantine went into place and it became home base for the show. But on August 9th, that home was destroyed by a chimney fire, taking with it a lifetime of memories for Rachael and her husband, John Cusimano. Fortunately, they both escaped unharmed, as did their dog, Bella. Rachael and John discussed the fire and its devastation for her show's premiere. Over the weekend, Rachael posted some photos and video of the fire and its aftermath as a preview for her fans. In one shot, she showed her burned out home in the background over which she wrote:
On August 9th, my house burned. 15 years of memories; 40 years of notebooks, drawings, thoughts, my life's work…In the years that I lived here, I learned an awful lot. In the few weeks since it burned, I think I've learned even more. Today we're going to share what's left of our home.
In another IG, she showed a promo of the show that showed both footage of the house burning and what Rachael walked back into once the fire was put out. The videos and photos are heartbreaking, especially when you listen to Rachael's description of what went through her mind when she ran upstairs to collect what she could, but realized it was too late when she heard the fire in the walls:
I ran upstairs to get medicine, my notebooks, my mother's high school ring, you know – things – that when your house is burning down, you don't want to leave. But when I ran to the top of the stairs, I could hear the fire in the wall. I could hear electricity, I could hear… danger. Because I am a part of the Denis Leary Firefighter Foundation and the first female on their board, I've been in enough fake control fires to know to be very scared of sounds and fire itself. So I immediately turned, to run out and there was a Hadley Reserve firefighter standing literally next to me, "Get out! Get out!" I'm like, "I'm trying! I'm trying!" (laughing) yelling at each other. And he said, "Go! Go!" and we ran down the stairs and John was coming up the stairs as we were going down the stairs. And I said, "You can't go, you can't go in there. You can hear the fire in the walls.
[From YouTube]
Rachael showed a few clips of the fire consuming her home as she spoke, it's really quite chilling. But, Rachael being who she is, she used her story as an opportunity to share fire safety tips with viewers by interviewing the fire investigator who let her back into her house the day following the fire. You'll never be emotionally prepared to lose your home, but having some idea of …read more
Source:: Cele|bitchy
(Visited 1 times, 1 visits today)