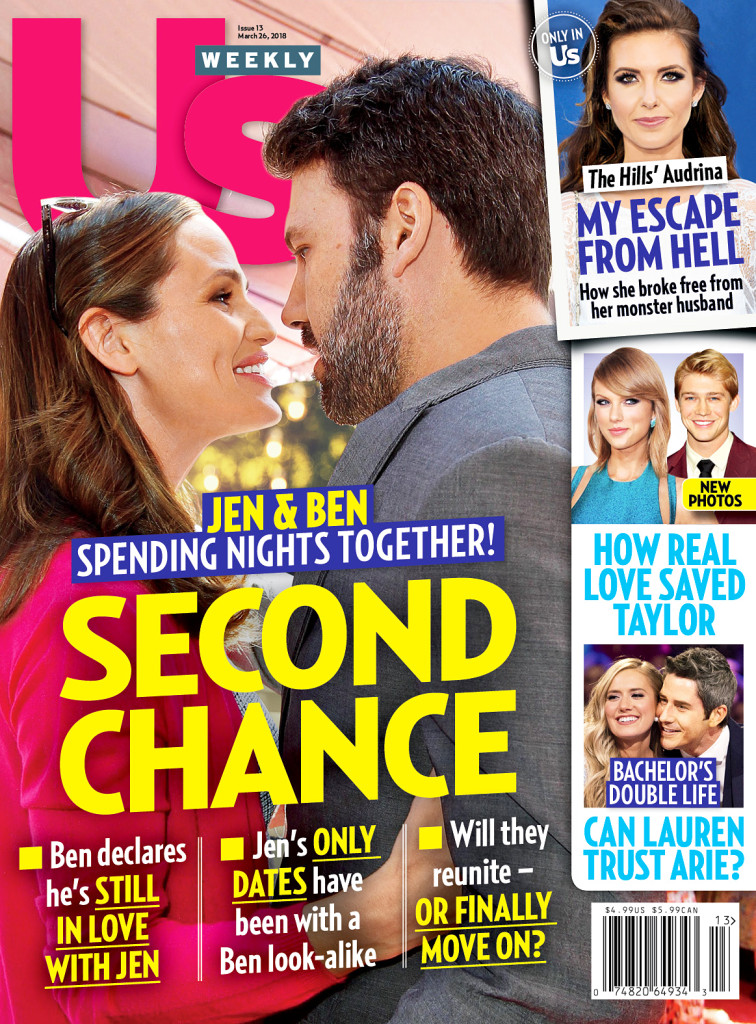 Ever since US Magazine got bought out by American Media, which also owns The National Enquirer and Radar, they've gone from second tier People Magazine to tabloid. While I have no doubt that US used to get stories straight from Jennifer Garner's people, they're resorting to misleading tactics to move magazines lately. (I don't blame them for that, print publishing has to be a struggle.) So take this story for what it is – a misleading bait and switch cover. Their article online doesn't support the impression the cover gives, it just reiterates the history we've heard so many times – they tried over and over again but it didn't work. There is some new information here though, particularly the claim that Garner has been dating. I'm not so sure about that, the few times she's been photographed out with men they've looked like business associates. She doesn't sound ready to date but that would be great gossip – better than the staleness US is serving.
After Jennifer Garner and Ben Affleck announced their separation in 2015, the couple went through a heartbreaking period of nearly two years where the actress tried to save their marriage.
"She put her heart and soul into fixing the relationship and wanted so desperately to turn things around for the children's sake as well as theirs," says a pal. "She forgave him for so much, and still he couldn't change…"
Since the April 2017 divorce filing, "he's begged her to come back several times, but she has no interest," says the insider.
Yes, even though the Batman v. Superman actor, 45, has officially moved on to Saturday Night Live producer Lindsay Shookus, he had at one point been telling friends he wanted his ex back. (A source close to the couple denies Affleck is "looking back," insisting, "When they filed and decided they were moving on, that was it.")
Ultimately, Garner was reminded of the struggles her ex would always have. The source close to the duo notes, however, "there were a number of reasons" their relationship failed. And Affleck "is continuing to work on himself and stay healthy…"
Now, Affleck has been with Shookus, 37, for nearly a year. "He loves and adores her," says a source. "This is a relationship he takes seriously…"
Recently, Garner has begun going on few quiet L.A. dates with new men — including one Affleck look-alike, says a source. "Jen is ready to go with her feelings and give love another try," explains the pal.
And while it's "no exaggeration to say that Ben broke her heart and left her in a terrible place emotionally," adds the pal, "it's been almost three years since they called it quits. It's time for her to move on."
[From US Magazine]
I really hope US is taking old quotes and re-framing them because if Garner and Affleck's PR people participated in this it's embarrassing. The crux of the story rings true to what we've heard to date. While I have no doubt that Affleck would …read more
Source:: Cele|bitchy
(Visited 2 times, 1 visits today)