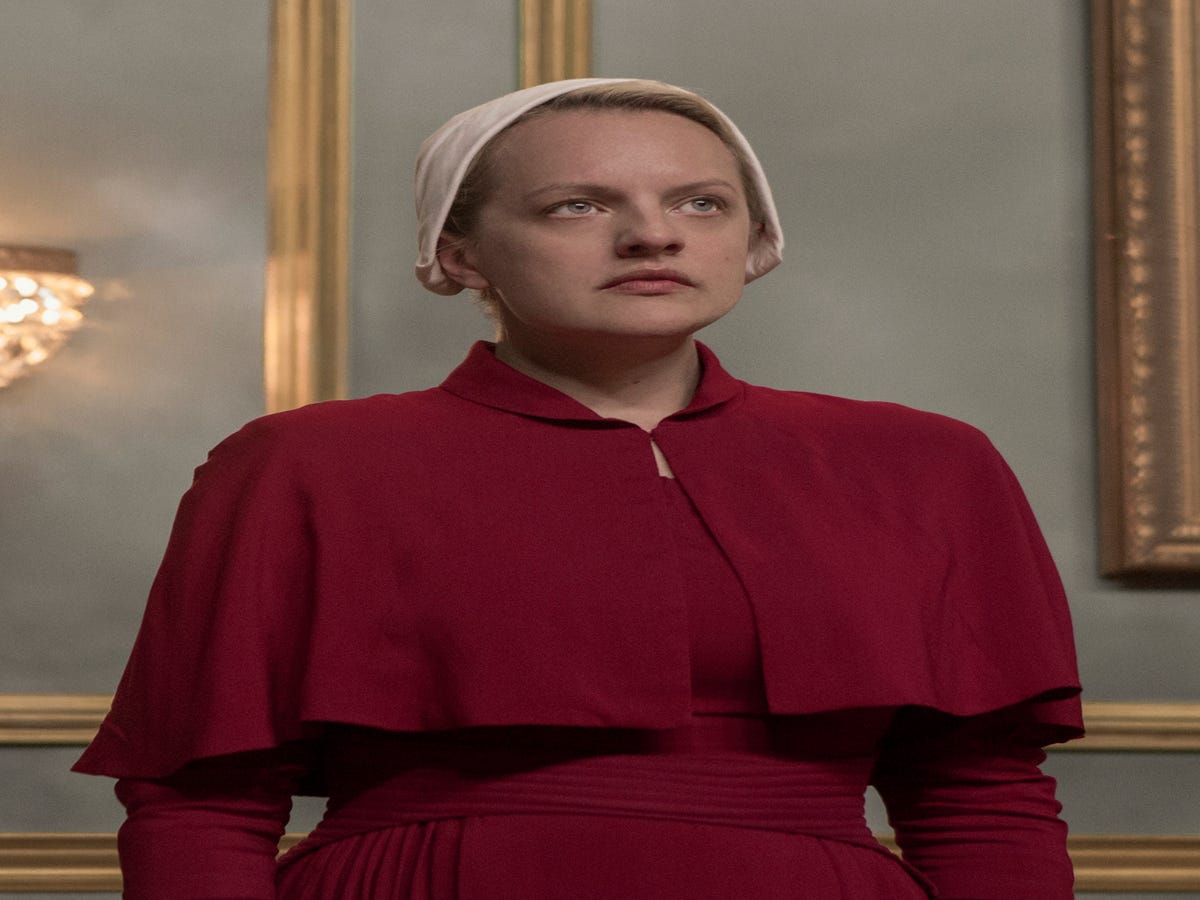 The following story includes spoilers for season 3 of The Handmaid's Tale.
In the dystopian world of Gilead, every day is a fight for survival. So, for many of the women in Hulu's hit series The Handmaid's Tale, mascara and foundation aren't top of mind. But behind the scenes, the makeup department uses cosmetics to send subtle messages about the characters' emotional states.
We spoke to Burton LeBlanc, the lead makeup artist for the show, who tells Refinery29 that the real significance is in the hidden details — especially this season. "June, Commander Waterford, and Serena are going through changes, and their appearances reflect that," he says.
We're halfway into season 3, and devout fans of the drama agree that the action is ramping up: June (played by Elisabeth Moss) has successfully managed to get her newborn daughter, Nicole, to the Canadian boarder for refuge; the tension between June and the Waterfords is at an all-time high; and she's moved into a new household with Commander Lawrence.
On the surface, it would appear that, while the plot shifts dramatically, the hair and makeup in season 3 has stayed relatively consistent. But, like most things in Gilead, nothing is ever as it seems. Ahead, LeBlanc breaks down all the tiny beauty details that shape your favorite Handmaid's characters.
At Refinery29, we're here to help you navigate this overwhelming world of stuff. All of our market picks are independently selected and curated by the editorial team. If you buy something we link to on our site, Refinery29 may earn commission.
June
In Season 3, June is in "fight mode," according to LeBlanc. In her quest to rescue her daughter Hannah from The Republic of Gilead and protect her newborn Nicole, June's image is changing. "June is taking action, so I've chiseled her face with subtle shadows along her jawline, temples, and under her cheeks, which gives her a stronger look without using a lot of makeup," he says.
Otherwise, the makeup is super minimal. For the majority of the Handmaids, LeBlanc uses Laura Mercier Oil-Free Tinted Moisturizer. "This gives the skin a slight sheen that doesn't totally mask imperfections," he explains. LeBlanc uses the shade Porcelain for Moss. "That color is lighter than her actual complexion, which is done purposefully," he says. "June has little opportunity to get any sun, so we keep her skin pale." When the show flashes back to June's life before Gilead, LeBlanc uses the shade Natural to depict the difference between her past and present worlds.
Another key element to Moss' on-camera look: faux eyebrow hairs. "We apply a few individual hairs between their eyebrows and on the outer tails to keep them looking natural and grown-in, since Handmaids and Marthas wouldn't have access to tweezers in Gilead," he tells us.
Photo: Courtesy of Hulu.
Serena Joy
On the flip side, Wives are made to look more "polished," due to their economic and social status. "They are supposed to have on some makeup because, realistically, they have money and access to some basic product," says …read more
Source:: Refinery29
(Visited 1 times, 1 visits today)
All The Makeup Details You're Overlooking In The Handmaid's Tale