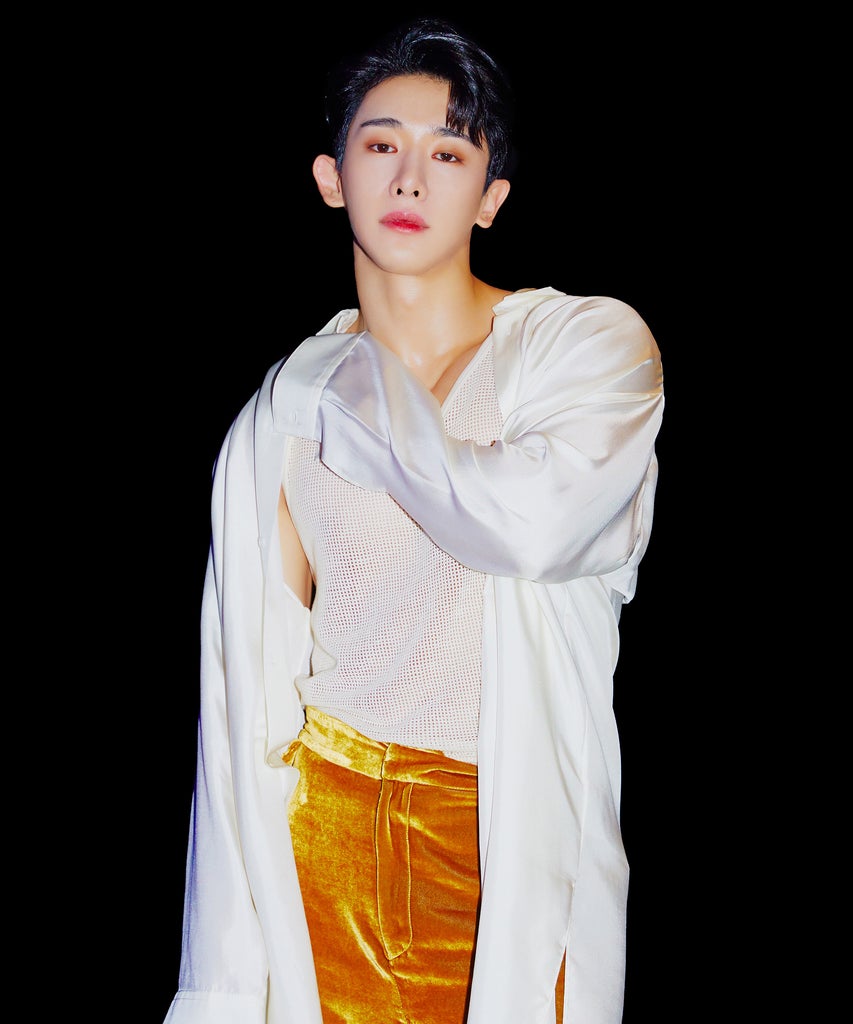 It's a bright September afternoon in Seoul, and singer-songwriter Wonho is talking to me about his abs. He's wearing a gray muscle shirt and laughing as he pats his stomach, joking that highlighting his chiseled abdomen was the main reason he chose the album art for his debut solo EP Love Synonym (#1): Right for Me. I can't help but laugh along with him — he has an infectious, ebullient giggle that takes over his entire body. And he's not lying — a version of the album cover is basically an artsy collage of the singer with an open shirt. For a celebrity, Wonho is refreshingly self-aware.
It's safe to assume that any conversation about Wonho, née Lee Hoseok, will eventually include a mention of the singer's impressive physique. It's been a major calling card of his ever since he auditioned for the singing competition show No Mercy in 2014, and he lifted his shirt mid-performance. During his tenure in the K-pop group Monsta X —  who Koreans call "beast idols" for their intense style — fans could count on almost every ferocious performance culminating in Wonho ripping off whatever doomed piece of fabric he'd chosen to wear that day. His first performance for his lead single, "Open Mind"? Straps and abs all day.
It would make sense, then, to imagine Wonho as a giant, hulk-like caricature offstage, too; one whose fervent hunger for Fruit of the Loom and protein shakes is matched by a high degree of narcissism. But, nothing could be further from the truth. As soon as the music finishes and the stage lights dim, the 27-year-old completely transforms: His shoulders drop, his brown eyes soften, and all the unbridled energy that roars out of him like a roiling sea retreats as quickly as the tide. 
The Anyang, South Korea native is actually remarkably shy when he's not on stage, and he'll be the first to admit it. "My strength as a performer is that I'm energetic and physically powerful; I can express myself with lots of strength," Wonho tells Refinery29 over video call, habitually running a hand through his bleached blond hair. "When I'm on the stage, I'm showing something that I've practiced a lot for a long time. That makes me feel like the true me, and I can express it the way I want to. But in reality, offstage, I can't express it in quite the same way."
It took Wonho a while to find his voice. He had a difficult upbringing; he came from modest means — he's said that his entire family lived in one room — and was bullied so much in school that he latched on to an older, wayward crowd. But in discovering the entertainment world, and being surrounded by people fueled by achieving a specific goal, Wonho found his …read more
Source:: Refinery29
(Visited 1 times, 1 visits today)