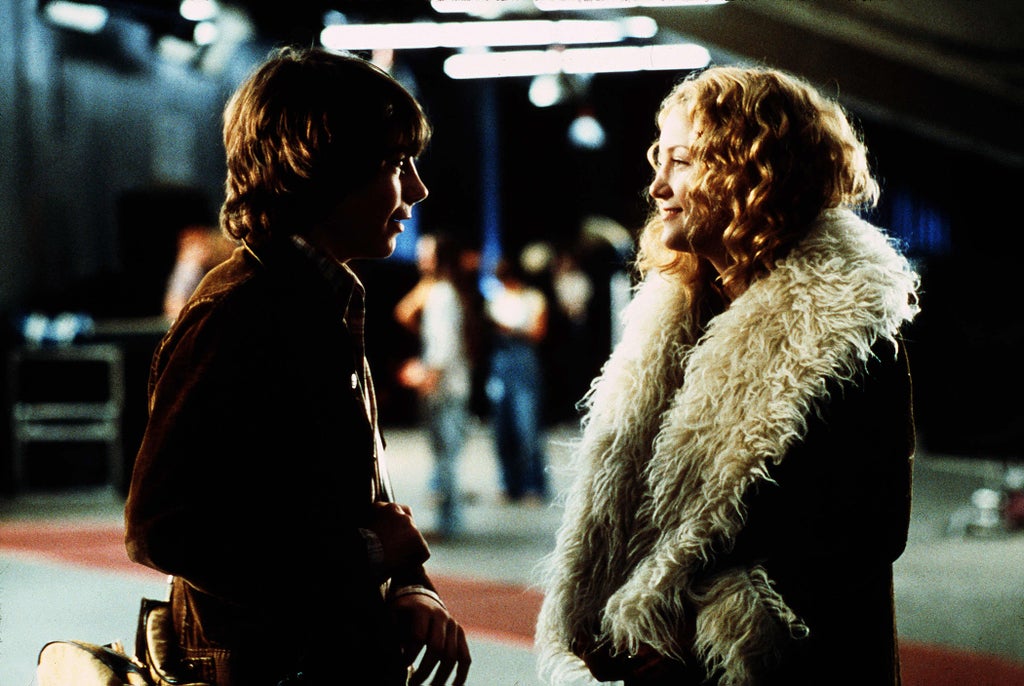 While Almost Famous' plot centers around the film's men — an early-'70s rock band led by Russell Hammond (Billy Crudup), as well as William (Patrick Fugit), a 15-year-old boy who is on tour with the band for a Rolling Stone assignment — it's Penny Lane (Kate Hudson) who made the most lasting impression, lighting up every scene in which she appears. Vehemently rejecting the label "groupie," Penny is a young woman following the band around (she calls herself a "Band-Aid"), and is paired off with Russell, though fully her own person with a fully developed fashion sense, with many of her looks frequently referenced over the last 20 years.
Costume designer Betsy Heimann says she was inspired by "many things" when outfitting Penny Lane — including women of the time, like Elaine Taylor, Pattie Boyd, and Janis Joplin (the sartorial inspiration for the fur hat Hudson wears in the film); photographs by Baron Wolman; and, more generally, the fashion of the late-'60s — but, she was most influenced by Almost Famous' writer-director Cameron Crowe's descriptions in the script. "How the character was written on the page was very inspiring. She jumped from the page at me," Heimann says. "From there, she was sort of creatively born in my mind."
We first see Penny Lane outside the back entrance of a music venue. Though surrounded by the other girls, she instantly stands out on her own. "She is the leader of the pack. She's a little bit down-home girl and a little bit of a rock chick," Heimann says. "Her [regular] style was more casual, the jean-and-beautiful-blouse girl, and then with the very spectacular coat that was her persona, her shield, her cocoon that she could emerge from as a butterfly." Indeed the olive green coat, with its furry collar and cuffs and a pleated back, is the film's biggest fashion legacy.
"I was inspired by some drawings of Erté from the 1920s because they showed beautiful women hiding inside these voluminous coats," Heimann says. "I also like to base my things in reality, and then take it from there. And, in reality, during that time, the embroidered coats from Afghanistan were very popular, and they had these long-haired sheepskin collars." While working on the collar, she got inspired in an unlikely place. "I was in Urban Outfitters one day, and I was in the housewares department, and they had these rugs that were thick like the fur that I wanted for the collar. So I bought about five of those rugs, and [the costume department team] cut them up in all different sizes and shapes and dyed them in different colors of cream and white to see what would work best with the lighting," she says. "[Penny Lane] was lit from within, her spirit and the emotional vulnerability that she hides, and her love of the music and what it does to her whole persona and her face when she hears the music. I wanted that coat collar to help illuminate …read more
Source:: Refinery29
(Visited 1 times, 1 visits today)