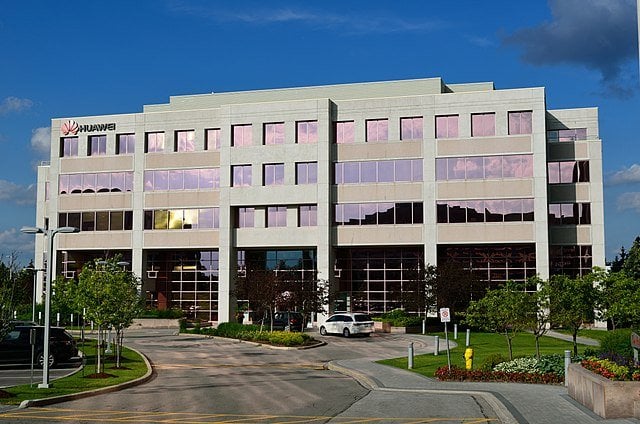 After the United States announced charges against the Huawei CFO some experts predicted a potential backlash from China. Some even compared the situation to the CFO of Apple or Amazon being arrested by Bejing. Below is a round up of what big bank analysts believe will be the fall out from the big news at Huawei.
By Open Grid Scheduler / Grid Engine – Own work, CC0, Link
Stifel Nicholas
According to multiple sources, Huawei CFO Meng Wanzhou, daughter of the company founder Ren Zhengfei, has been arrested by Canadian officials. The arrest is said to have come about by request of the US government, which is currently looking into extradition for Ms. Meng, who faces charges stemming from potential violations of US-imposed sanctions against Iran. As confirmed by several sources, the arrest was made in Vancouver on December 1st, with an official extradition hearing set for Friday. While it is still too early to determine if a ban on sales of components to Huawei is likely – similar to what occurred with ZTE – we do expect weakness in shares within the optical component group as many have direct exposure to the vendor and believe the group is likely to remain under pressure until there is clarity on the potential for an equipment ban.
Nomura
Huwei's CFO is reported to have been detained by the Canadian authorities owing to potential violations of US sanctions against Iran, leading to overall trade war concerns escalating again. Huawei has become the world's third largest smartphone vendor this year, based on our estimates and we estimate it could be the second largest in 2019F.
Credit Suisse
The impact from a potential ban on Huawei from revenue disruption for foundries (TSMC, SMIC, Win Semi and VPEC) and equipment suppliers (CHPT) with high HiSilicon exposure. and also extends to back-end (ASE and KYEC) and IC Design through direct sales to the networking division (Mediatek, Realtek), with about 5-10% impact for most suppliers.
KeyBanc
According to media reports, a spokesman for Canada's justice department confirmed that Huawei's CFO Meng Wanzhou was arrested in Vancouver on Dec. 1. A bail hearing has been tentatively scheduled for Friday, according to the spokesman, and the U.S. is seeking Ms. Meng's extradition so that she will appear in federal court in the Eastern District of New York, according to the Wall Street Journal, citing its source. Note that Ms. Meng is the daughter of Ren Zhengfei, founder of Huawei. We believe this could have a similar, if not more severe, impact than the ZTE embargo earlier this year if the situation were to escalate into a ban. We see risks to companies with meaningful Communications exposure (%), including ADI (20%), CY (5%), MCHP (15%), MXIM (20%), QCOM (~5% Huawei), QRVO (~10% Huawei), SLAB (20%), SWKS (~8% Huawei), and XLNX (30%).
Credit Suisse Asia
HK/China tech sector stocks experienced significant pressure on 6 Dec in response to the news report on Huawei's …read more
Source:: ValueWalk
(Visited 5 times, 1 visits today)
Huawei CFO Arrested In Bombshell Announcement: Analysts React