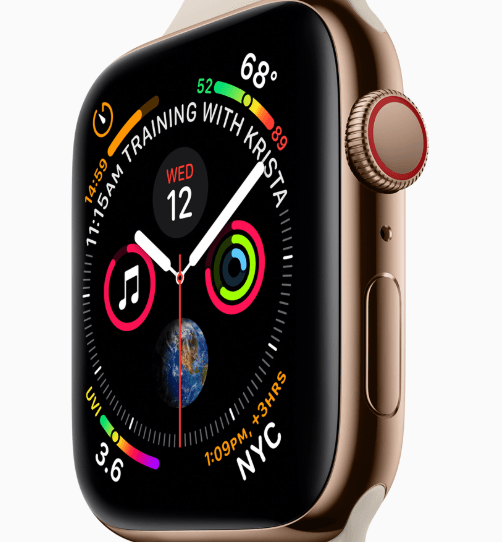 Image Source: Apple.com (screenshot)
Along with the new iPhones, Apple also announced the new Apple Watch Series 4 and the release date for watchOS 5 at the event on Wednesday. This new version of watchOS will be made available to users for download on Sept. 17.
watchOS 5 not compatible with all models
Apple previewed watchOS 5 at WWDC in June, revealing some of the most important features. Developers already got their hands on the beta version of watchOS 5, but everyone else will have to wait until Sept. 17. There is no public beta for watchOS.
Apple issued the first watchOS 5 beta and WatchKit to developers on June 4. The company soon withdrew the beta due to some issues. Since then, Apple has issued two updates to the beta, of which the second update was released on June 19.
watchOS 5 will not be compatible with the original Apple Watch, which the company is reportedly planning to phase out. The new version of the OS will support the Apple Watch Series 1, Series 2 and Series 3. It must be noted that the original Apple Watch had no series number. If you are not sure which model you own, you can head to Apple's FAQ page to figure it out.
It's clear that watchOS 5 is optimized for the Apple Watch Series 4, which has a screen that's about 30% bigger than that of previous models. Apple has overhauled the interface of watchOS to blend with bigger displays perfectly.
How to download watchOS 5
Before you start updating your Apple Watch to watchOS 5, it is essential to update your iPhone to iOS 12. If you don't, the new version of watchOS won't show up as an available update. After updating your iPhone to iOS 12, you can start preparations to update watchOS.
First, you need to make sure your watch is at least 50% charged. If not, then charge it and keep the charger plugged in even after 50% is reached, as the watch needs to continue charging during the update. Keep your iPhone near the watch to ensure a smooth update process.
To start the update, open the Watch app on your iPhone and select General > Software Update. After your iPhone shows the available update for watchOS, click Download and Install. You will have to enter the passcode when asked. It will take about 30 minutes for the whole process.
Focus on fitness and Siri
Apple's watchOS 5 focuses on Siri and is described as an "even stronger companion for fitness, communication and quick access to information." With the new version of the OS, the watch will be able to automatically detect when you have started a workout.
If you forget to click "start" before beginning the workout, the watch will give retroactive credit so it will provide accurate results. The watch will also send an alert to start the correct workout and also a reminder to end the workout session after it detects inactivity for some time. Apple's watchOS already offers 12 …read more
Source:: ValueWalk
(Visited 3 times, 1 visits today)
When Is watchOS 5 Being Released?