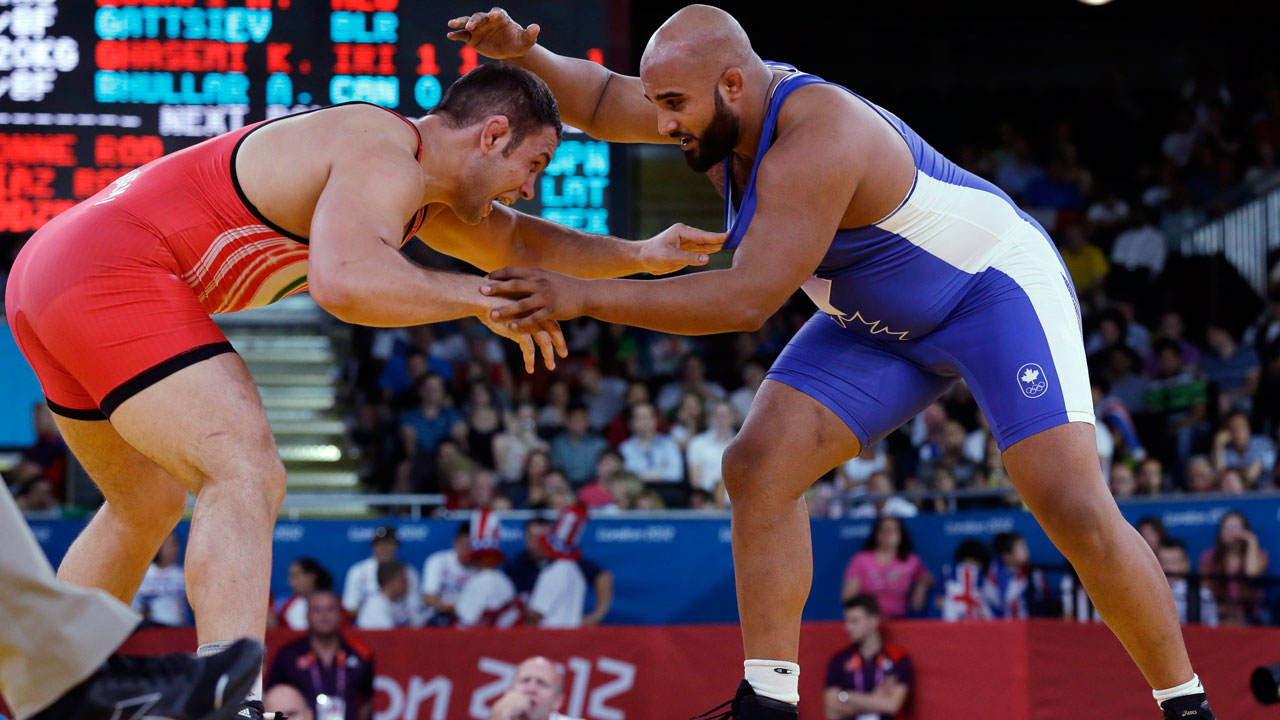 Arjan Bhullar usually celebrates Vaisakhi by attending parades, eating great food and doing a bit of charitable work in the Vancouver area. This year, however, he'll commemorate the annual Sikh festival by stepping barefoot into a cage in Arizona and getting into a fight.
The Richmond, B.C., native takes on Poland's Adam Wieczorek at Saturday's UFC Fight Night event with the aim to remain undefeated in professional mixed martial arts, while also showing the world who he is as an athlete and person.
Saturday's card in Glendale wasn't initially the one Bhullar wanted to be on. The 31-year-old had hoped to be slotted on a March 17 show in London, England. One reason being Bhullar was the first person of Indian decent signed by the UFC and there is a large Indian population in the London area. Another was his fond connection to the city after representing Canada in wrestling at the 2012 Summer Olympics.
Arjan Bhullar of Canada (in blue) seen here facing Komeil Ghasemi of Iran during the men's 120-kg freestyle wrestling competition at the 2012 Summer Olympic Games in London, England. (Paul Sancya/AP)
"We were trying to get on the London card in March. We were trying and trying," Bhullar told Sportsnet.
Bhullar and his management team pleaded their case to UFC brass but the organization countered with a proposal to fight on April 14, Vaisakhi of all days.
"I'm like, 'Are you kidding me? That's even better,'" said Bhullar, the first Sikh athlete in UFC history. "It's one of those things in life where opportunities open up, doors open and you just walk through and make the most of every opportunity. That's kind of what this is. It's funny how sometimes how that works in life."
You'll often hear Bhullar speaking about his heritage and the pride he feels representing his community. That wasn't always the case, though.
"Maybe when I was younger, because you are different, you look different, you talk different, you eat different foods, you are maybe a little more shy to speak of your heritage and your culture, or have that ability to have that voice as a young teenager or youth," Bhullar explained. "There was that aspect because everyone wants to fit in at that age, but as I've grown up I've learned to embrace that voice and being different.
"When I go talk to kids that's what I tell them all the time because I remember being in their shoes. It's great being different. That's embraced anytime you can stand out. And champions are different, so why wouldn't you want to stand out?"
Bhullar stood out as a newcomer to keep an eye on in his promotional debut at UFC 215 in Edmonton this past summer, earning a unanimous decision victory over Brazilian Luis Henrique to improve to 7-0 in MMA.
In addition to the world-class wrestling ability he honed while growing up on the mats at his family's Bhullar Wrestling Club in B.C., Bhullar boasts an effective jab, loads of power stored in his right hand, he presses …read more
Source:: Sportsnet.ca
(Visited 4 times, 1 visits today)