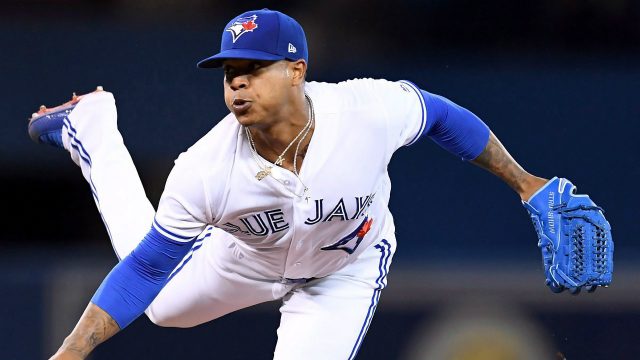 TORONTO — Josh Donaldson did some throwing on the field Sunday after the Toronto Blue Jays beat the New York Yankees 7-4, showing considerably more strength in his arm than he did on opening day.
The star third baseman, working through a bout of weakness in his right shoulder the club has described as "dead arm," progressively built up to 100 feet in the outfield before taking a series of grounders at third base from Luis Rivera, the team's third base and infield coach.
Toronto Blue Jays on Sportsnet NOW
Livestream the Toronto Blue Jays, including Blue Jays Central pre-game. Plus, get every single game of the Stanley Cup Playoffs, key Raptors & NBA Playoffs matchups and the 100th Mastercard Memorial Cup, all in one subscription.
SIGN UP NOW
Donaldson made several throws at different angles to quality assurance coach Mike Mordecai at first and second, while manager John Gibbons looked on from the dugout.
While he wasn't airing things by any stretch, there was a marked improvement from his lobs and one-hoppers across the diamond during Thursday's 6-1 loss to the Yankees.
Donaldson didn't appear to have any discomfort Sunday but his next steps weren't immediately clear. He served as the designated hitter for a third straight game Sunday.
Source:: Sportsnet.ca
(Visited 6 times, 1 visits today)