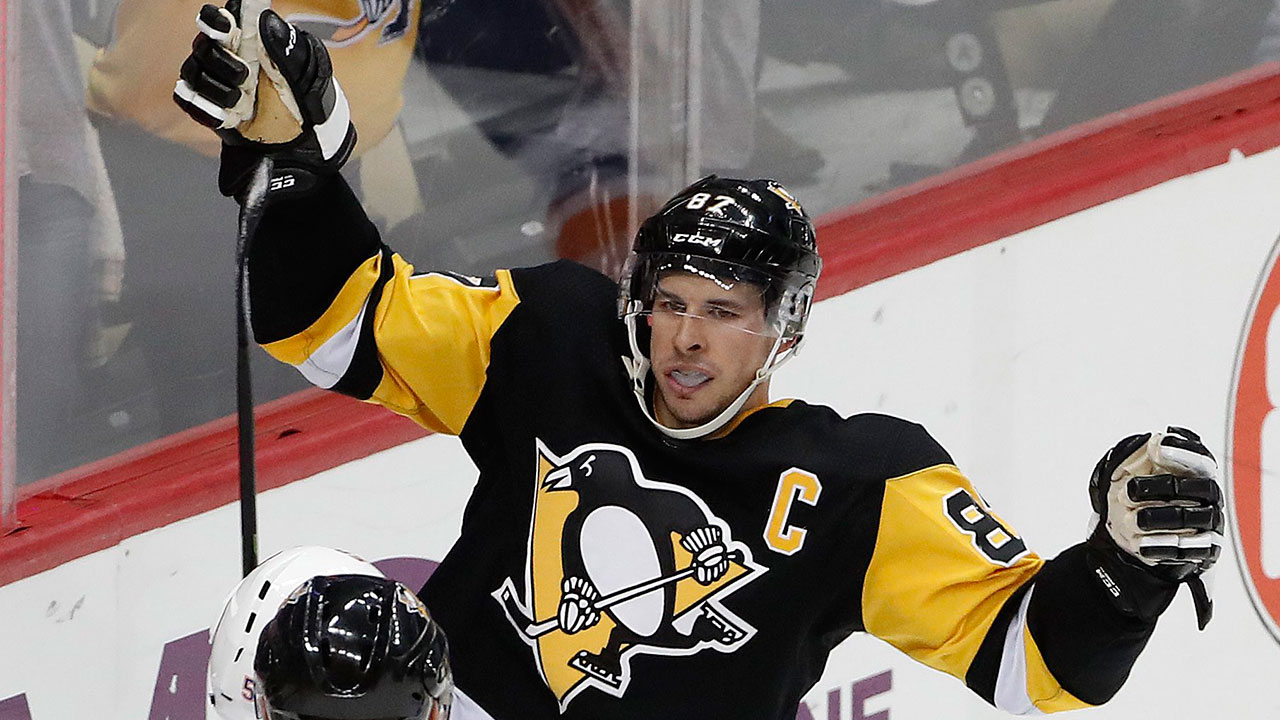 PITTSBURGH — Sidney Crosby let one chance to bury the New York Islanders slip away. The Pittsburgh Penguins star wasn't about to let it happen twice.
Crosby finished off a 2-on-1 by sneaking a wrist shot past Chris Gibson 3:48 into overtime to give the Penguins a 3-2 win Saturday. Pittsburgh's captain failed to convert on a rush moments earlier, but an outlet pass by Justin Schultz freed up Crosby once again.
This time he faked a pass to Conor Sheary and instead beat Gibson between the legs as the two-time defending Stanley Cup champions snapped a three-game losing streak.
"Thought I had a good opportunity to shoot and missed one right before that so glad to see it go in," Crosby said after picking up his 22nd goal of the season.
Derick Brassard's first goal with Pittsburgh tied it with less than nine minutes to go in regulation. Patric Hornqvist added his 18th goal of the season for the Penguins. Phil Kessel picked up two assists to become the sixth American-born player to reach 400 career assists. Tristan Jarry overcame a comically ugly start to finish with 25 saves.
Jarry's night began by giving up a goal to New York's Brandon Davidson just 1:11 into the game. Davidson flipped a slow backhand from outside the right circle only to see it go into the net when Jarry tripped and fell backward to the ice .
"It was a little easier when I came back to the bench and seen 90 per cent of the guys laughing at me," Jarry said. "It's a tough thing to swallow but I'm glad we won."
Anders Lee put New York up 4:59 into the third period when his shot caromed off Pittsburgh defenceman Jamie Oleksiak and over the goal line for his team-leading 31st. Gibson, making his first start in nearly two years, almost made it stand up. He finished with 47 saves in all but let Brassard jam one by him with 8:31 left in regulation to tie it and he was no match for Crosby late. The Islanders have dropped six straight.
Making just his fifth NHL start and first since April 10, 2016, Gibson spent most of the night trying to make up for lost time. The Penguins peppered the New York net for long stretches, often looking like they were on the power play despite being at even strength. Asked if he could remember the last time he faced 50 shots at any level, Gibson just shook his head.
"To be honest, I can't but it was great," Gibson said. "I loved every single second of it. I'm really happy with my game except that last goal and the loss there."
The Penguins were coming off an …read more
Source:: Sportsnet.ca
(Visited 5 times, 1 visits today)