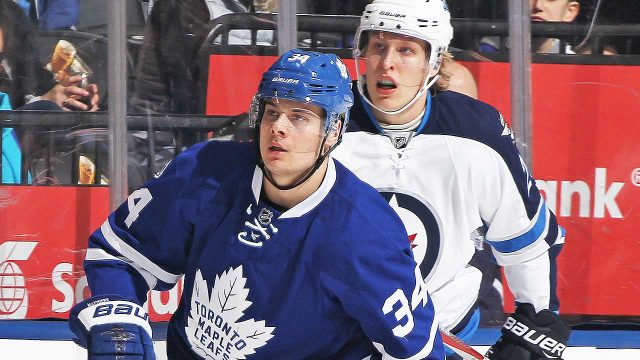 Every Monday, Sean McIndoe looks back at weekend play in the NHL and the league's biggest storylines. You can follow him on Twitter.
Opening faceoff: Leafs blown away
The Maple Leafs went into game two against the Bruins on Saturday night looking to remind us that they belonged in the series. They left Boston looking like a team that won't be back.
The Bruins did away with any suspense early in this one, jumping out to a 3–0 lead and chasing Frederik Andersen midway through the first period. They were up by four by the intermission, then cruised the rest of the way for a 7–3 win. Now the series heads back to Toronto for tonight's Game 3, with the Bruins up 2-0 and looking to all but end it.
The big story so far has been the Bruins' top line. Patrice Bergeron, Brad Marchand and David Pastrnak have dominated the series, racking up a combined five goals and 20 points while largely shutting down whoever the Maple Leafs threw at them. Pastrnak's six-point Saturday night was the sort of breakout game that boosts a player into the top tier of the league's young stars. Toronto has no answer for the trio, and Mike Babcock's attempts to match lines on the road didn't yield much beyond a pair of too-many-men penalties.
If you're a Maple Leafs fan looking for good news, well, there isn't a whole lot to be found. You could make the case that the team actually looked better on Saturday than they had in the opener, when they spent long stretches trapped in their own zone; the play wasn't quite as tilted in Game 2, even if the scoreboard didn't reflect it. That's true enough, but hardly comforting – if you can up your game and still get your doors blown off with relative ease, you're probably not long for a series.
So for now, the positive view is basically this: The series isn't over, at least not yet, and we shouldn't be closing the book on the Maple Leafs season until we've at least seen what they can do against the Bruins with home-ice advantage and the last line change.
And as many Leafs fans have pointed out, there's at least some precedent for hope here. The team's longest playoff run of the last half-century started off under similar circumstances, with the 1993 team getting blown out two straight in Detroit before returning home with a pair of close wins to get back in it. That team won the series in seven and played for another month, and to this day ranks as the most beloved Leafs team of the post-expansion era.
But while we're the last to deny anyone a good dose of 1993 nostalgia, the Leafs' current situation feels even more desperate than it did back then. That Leafs team had an edge in goaltending, while the current version is facing …read more
Source:: Sportsnet.ca
(Visited 4 times, 1 visits today)