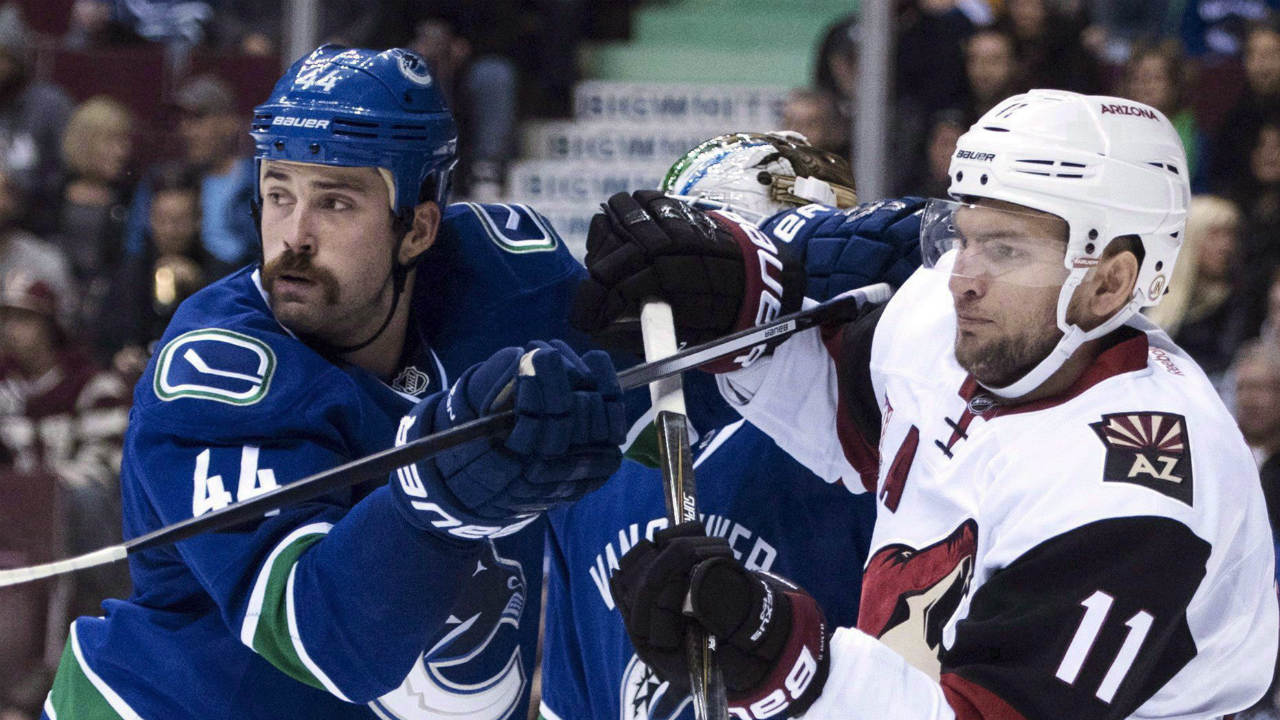 VANCOUVER – The decision by the Vancouver Canucks to make re-signing defencemen Erik Gudbranson a priority is not so much the solution to a problem but the identification of one.
As an unrestricted free agent on July 1, Gudbranson should be able to command more – in term and maybe dollars, too – than what the Canucks are likely willing to pay him as an important role player. Their eagerness to retain him will be tested by money. But so, too, will Gudbranson's stated desire to stay with the National Hockey League team.
For now, general manager Jim Benning wants to keep Gudbranson and the 26-year-old wants to stay. But negotiations haven't begun between the Canucks and Gudbranson's agent, Mark Guy, and with the Feb. 26 trade deadline ticking closer, there's a lot of work and compromising to be done for both sides to get their wish.
All they have so far are good intentions. That and five dollars will get you a half-hour of parking in Vancouver.
"I want to be here; that's the honest truth," Gudbranson said Wednesday after practising at Rogers Arena. "Free agency isn't always what it seems. You've seen horror stories of guys who shouldn't have gone in the first hour of July 1 and didn't get a deal until the day before training camp. If I can avoid it, I think I will.
"I still really haven't had that conversation with my agents. I saw the tweet, what Jim said about me. That's what I wanted. But we haven't started working quite yet. Once we have those conversations, I think everything will be considered."
Benning told Sportsnet on Tuesday: "He's a physical, stay-at-home defenceman who helps us. We have other defencemen who are more puck-moving guys, but we don't have anyone else with Gudbranson's style of play. As long as a player can play in today's game, you're always going to need a defenceman who can play physical, especially in our division.
"There's always going to be room for a guy like that in your top six."
Benning also said that with so many young, skilled prospects working their way towards the Canucks and the NHL, he wants players who will stand up for them once they arrive. This is why Gudbranson, six-foot-five and 225 pounds, is important to the Canucks and became even more so when winger Derek Dorsett was forced by back injuries to retire two months ago.
With Gudbranson out of the lineup due to back spasms – he hopes to play Thursday against the Chicago Blackhawks – Canucks rookie-of-the-year candidate Brock Boeser was cross-checked head-first into the boards last week by Los Angeles King Trevor Lewis.
if ( "1" == true && 'undefined' !== typeof window.getIndexAds ) {
var so = {preroll:{1:{1:{siteID:191888},2:{siteID:191889}}}};
adServerUrl = window.getIndexAds( 'http://pubads.g.doubleclick.net/gampad/ads?sz=640×360&iu=%2F7326%2Fen.sportsnet.web%2FVideo&ciu_szs=300×250&impl=s&gdfp_req=1&env=vp&output=vast&unviewed_position_start=1&ad_rule=1&vid=5718072773001&cmsid=384', so, permalink);
…read more
Source:: Sportsnet.ca
(Visited 3 times, 1 visits today)