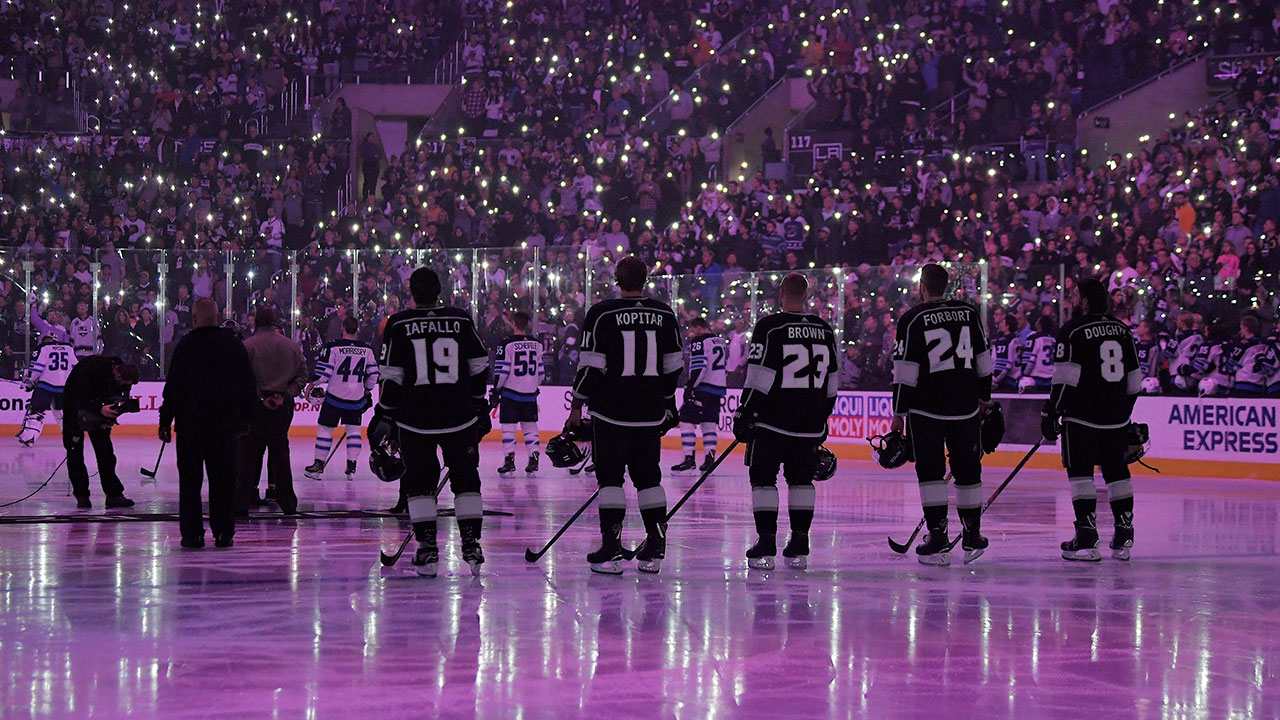 The Los Angeles Kings and Minnesota Wild will honour the victims of a mass shooting prior to their game at Staples Center Thursday after 12 people were killed at a country music bar Wednesday night in nearby Thousand Oaks., Calif.
The Kings announced both teams will observe a moment of silence prior to the game. The teams will also wear stickers during the game that read "ENOUGH" and that proceeds from a 50-50 draw will go towards the Ventura County Family Foundation.
"This is a horrible event, another senseless act of incredible violence and it clearly hits home here with us again as Thousand Oaks is part of our community," Kings president Luc Robitaille said in a press release. "We are thankful to the first responders and everyone who has been helping the victims and their loved ones. We definitely will do our part to help the community but more importantly we want to help amplify the message that enough is enough. No longer can we accept these incidents as a new reality."
The entire LA Kings organization is deeply shaken by this senseless and horrific act on one of our local communities. Our thoughts are with the victims and their families. We wish all the people of Thousands Oaks strength and peace and we share in their sadness and grief.
— LA Kings (@LAKings) November 8, 2018
Thinking of the precious lives lost last night. My heart goes out to all those who lost family and loved ones in Thousand Oaks.
— Anze Kopitar (@AnzeKopitar) November 8, 2018
So heartbreaking to wake up to the terrible news in Thousand Oaks. Sending my condolences to the families and friends of the victims.
— Tyler Toffoli (@tytoff16) November 8, 2018
#ThousandOaks
— Kyle Clifford (@13KCliffy) November 8, 2018
#ThousandsOaks
— Nathan Thompson (@NateThompson44) November 9, 2018
LA Kings to honor victims of Thousand Oaks tragedy tonight.
– 50-50 Raffle proceeds will be donated to Ventura County Family Foundation
– Kings players to match donations
– CHLA to set up blood donation sign ups at STAPLES Center
Learn how you can help. https://t.co/JiDVuUtylR
— LA Kings (@LAKings) November 8, 2018
Kings players have said they will match whatever money is raised in Thursday's 50-50 draw. There will also be a blood drive outside the venue prior to the game for fans that wish to help.
The Kings' AHL affiliate, the Ontario Reign, will donate the proceeds of the 50-50 draw at their next home game on Sunday against the Stockton Heat.
Source:: Sportsnet.ca
(Visited 3 times, 1 visits today)
Kings, Wild to honour victims of Thousand Oaks mass shooting