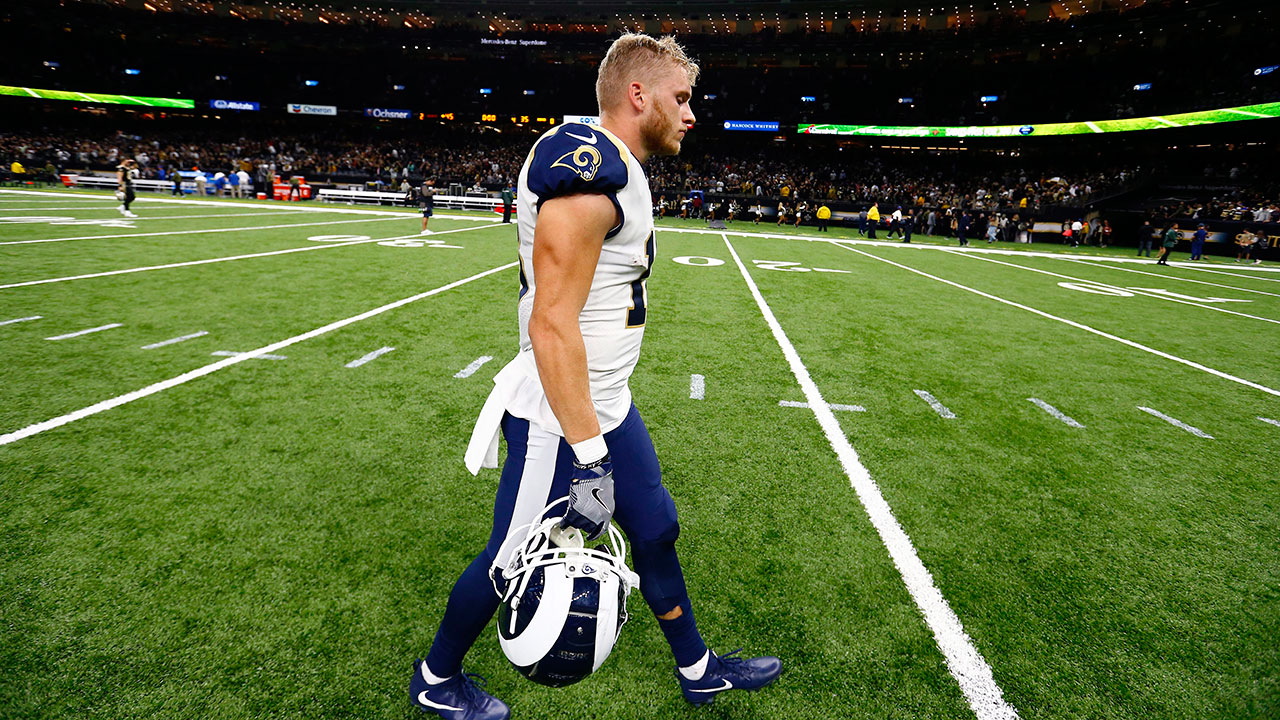 THOUSAND OAKS, Calif. — Andrew Whitworth and most of his Los Angeles Rams teammates live within a few miles of their team's training complex in Thousand Oaks. The Borderline Bar and Grill is only five miles south of their weekday headquarters in this placid suburban city.
The Rams all reacted with horror and sadness Thursday after a late-night mass shooting occurred about five miles north of their fields and training rooms.
"It's gut-wrenching, and it's emotional," said Whitworth, who lives in Thousand Oaks with his wife and four children. "I was up at 3:30, 4 o'clock reading about it, and ended up waking up my wife and talking about it. It's a hard reality. … The truth is that tragedy is everywhere, and you can't escape tragedy. All you can prepare is how you'll handle it and how you can approach adversity."
Marine combat veteran Ian David Long opened fire Wednesday night at the country music bar a 10-minute drive from the Rams' complex. He killed 12 people before apparently killing himself.
The Rams believe no one connected to their organization was at the bar, but coach Sean McVay and defensive co-ordinator Wade Phillips both described a sombre mood in the Rams' locker room before practice. Whitworth addressed the players and began the process of coming up with a way to honour the victims.
The team will hold a moment of silence before its home game against Seattle on Sunday, and the Rams may organize additional tributes to the victims, McVay said.
"It was very heartfelt throughout the entire team," offensive guard Rodger Saffold said. "We work here, and we spend most of our time out here. When we heard about it, it was very shocking. … It just hurt a lot. There's way too many mass shootings, and this one hit really close to home."
Phillips described the shooting as a "horrible tragedy."
"It's a sad, sad deal, and we feel for the people it happened to," Phillips added. "But it doesn't just affect those people. It affects everybody, and our players are genuinely and greatly concerned about it, as we all are."
The Rams built their training complex 2 1/2 years ago on a corner of the campus of Cal Lutheran University, which had students at the bar during the shooting. Recent graduate Justin Meek was killed, according to the school.
Classes were cancelled at CLU on Thursday.
Quarterback Jared Goff , punter Johnny Hekker , receiver Cooper Kupp and others tweeted about the tragedy before practice. After McVay and Whitworth spoke to the team, Saffold said the players discussed putting together a relief fund or other mechanisms of help for the victims.
"It's something that makes you step back and gives you a perspective," McVay said. "I …read more
Source:: Sportsnet.ca
(Visited 3 times, 1 visits today)
L.A. Rams horrified by mass shooting near their training base