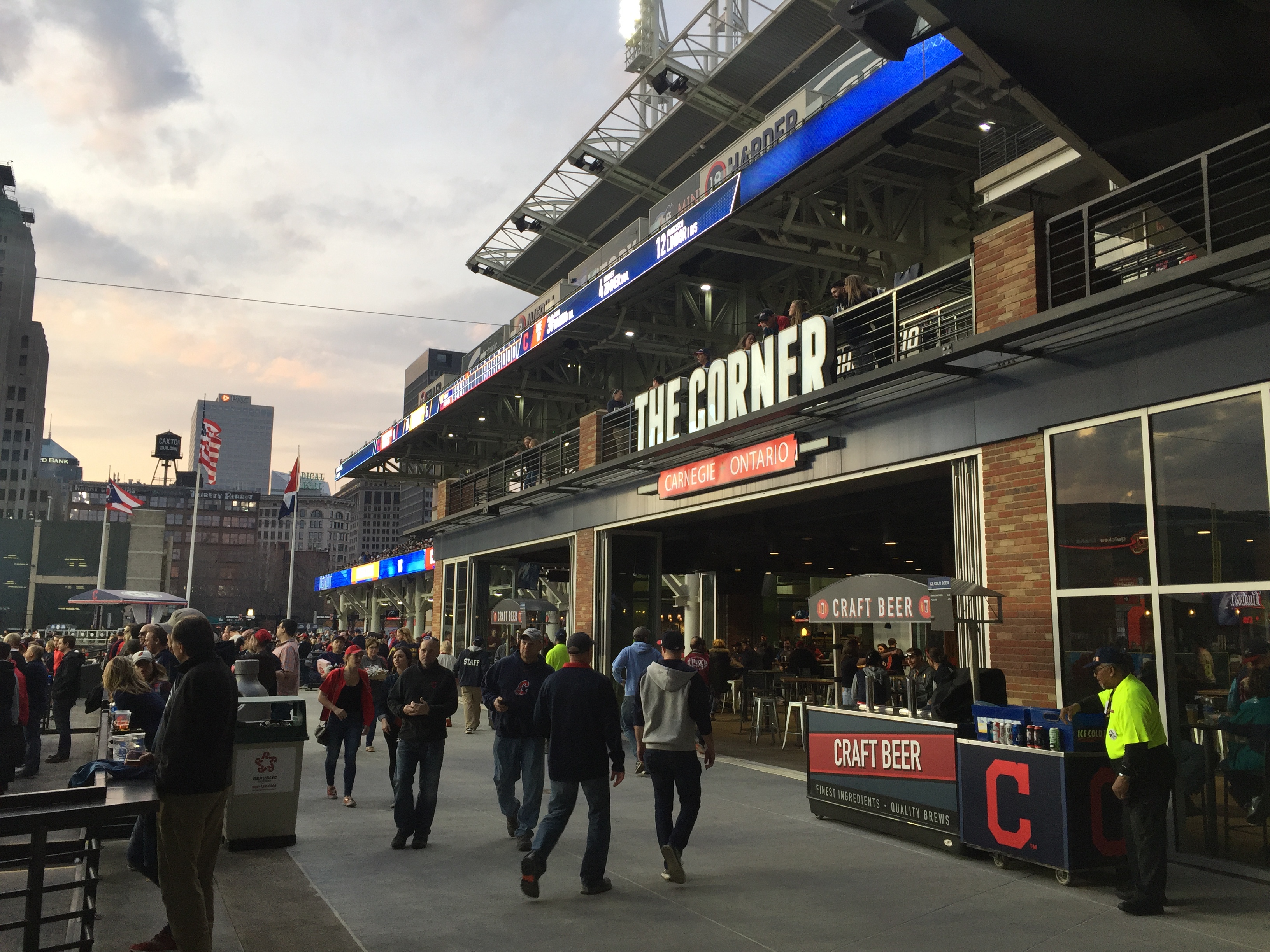 CLEVELAND – Changes are coming to Rogers Centre, and while the specifics of the renovations could be unveiled later this year, until then we're only guessing.
Well, mostly guessing. There's one place that hints at Rogers Centre's next steps: Cleveland's Progressive Field.
Before president and CEO Mark Shapiro joined the Blue Jays, he planned renovations at Progressive Field with assistance from Andrew Miller, now the Blue Jays' executive vice president of business operations. Many parallels exist between the two projects.
In Cleveland, Shapiro added social gathering spaces, opened up concourses and sightlines, and highlighted team history with a privately-funded renovation. If that sounds familiar, it's because Shapiro has spoken about making similar changes at Rogers Centre.
"We don't have a lot of openness of our concourse, openness to the field, openness to the city," he said recently. "It's dungeon-ous in different places and dark. It was like that even in Progressive Field before we renovated there. We have to open things up. We have to connect, we have to create different gathering spaces, we have to create a different set of experiences."
In some significant ways, then, Progressive Field offers a template for Rogers Centre. It's an imperfect one given that it's not a domed stadium and stylistically different, but many similarities do exist.
While in Cleveland covering the Blue Jays this weekend, I spent some time seeking out the changes at Progressive Field and wondering how they might apply in Toronto…
SOCIAL GATHERING AREAS
At Progressive Field
The latest round of renovations in Cleveland added a new two-level bar in right field. Named The Corner, it pays homage to broadcaster Tom Hamilton, who says "We're underway from the corner of Carnegie and Ontario" before home games. The Corner offers a variety of local beers on tap and local restaurants are stationed nearby.
Along the left field line, a beer garden offers the latest from Cleveland's Great Lakes Brewing Co.
The renovations at Progressive Field reduced the stadium's capacity from 43,000 to 35,225. One reason for that? The new group seating areas high up in right field take the place of bleachers and offer patio areas and views of downtown Cleveland. While changes at Progressive Field were largely welcomed, these modifications were met with mixed reviews as critics pointed out their resemblance to shipping containers.
Right field also features an expanded two-level kids clubhouse, where families can spend time playing games and learning about team history. Behind home plate, a new club now caters to season ticket holders. From most of these spaces, fans can see the club's new left field scoreboard.
If applied at Rogers Centre…
When the Blue Jays renovate Rogers Centre, there will undoubtedly be increased emphasis on social gathering spaces. Expect a place for families to spend time and more spots for fans to socialize over a beer even if they're not watching every pitch with their full attention. The renovations in Cleveland also suggest that Rogers Centre will eventually feature more local food and drinks than it does now.
OPEN SPACES
At Progressive Field
In an attempt to create more of …read more
Source:: Sportsnet.ca
(Visited 2 times, 1 visits today)