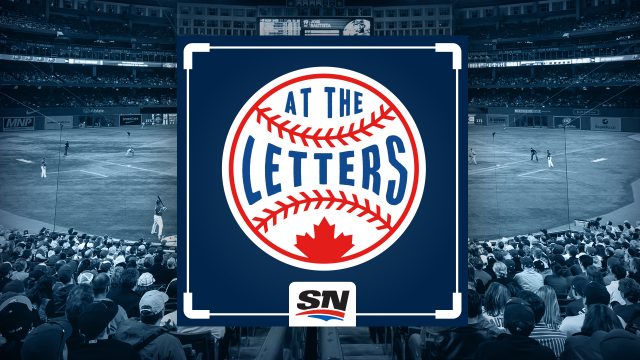 Regardless of the fine-tuning done on the roster in the coming weeks, this will be a markedly different Toronto Blue Jays team this season.
While the Blue Jays didn't play at the deep end of the free agent pool – and who did, really? – the additions to the team are meaningful. This is a deeper roster, with a multitude of possibilities.
Throughout my week at spring training, there a number of lineups that you could certainly imagine playing in a regular-season contest. One of those that didn't was the already legendary game in Sarasota against the Baltimore Orioles, which had its own other level of intrigue.
At the Letters
Ben Nicholson-Smith and Arden Zwelling take fans inside the Blue Jays and around MLB with news, analysis and interviews.
Home
| Subscribe
| Ben on Twitter
| Arden on Twitter
Here are a few observations from my week with the Blue Jays in Florida.
The Sarasota game
It's hard to tell from Florida to what extent the excitement has travelled north from the game on March 8 where Vladimir Guerrero Jr. and Bo Bichette had the first of many coming-out parties.
I had passed on checking the lineup in the Dunedin clubhouse in favour of getting on the road earlier for Sarasota. As I sat at the light just before the ramp entering Highway 19 South, an exclamatory text message popped up on my watch: "Vlad and Bo today!"
By the time the Blue Jays bus arrived at Ed Smith Stadium, the buzz was contagious around the stadium. Around the dugout, the media stopped to take in the view of the newcomers. Time stood still for their batting practice sessions. And each at-bat was received with rapt attention.
By the game's end, the strong performances of these two along, with fellow prospect Anthony Alford was enough to make it feel as though this one exhibition game on a sunny Thursday afternoon in March was so much more noteworthy than that.
Anthony Alford
While Alford's raw tools have been raved about since he switched his focus towards baseball, it's the refinements he has made since that stand out this spring.
Alford has noticeably cultivated his skills at the plate. Seeing Alford at spring training in 2016, there was much to admire in his game, though it felt as though his hit tool would need significant work before he could legitimately be considered ready for the big leagues. While he had impressive bat speed, the bat crossed through the hitting zone at a 45-degree angle in a violent upper cut swing. Such a swing would seem to be too easy for big-league pitchers to exploit.
This year, however, Alford's bat looks flatter through the zone, without giving up much oomph. The flatter bat path allows him to get to pitches on the outside of the plate, so even when making poor contact, he has enough strength to muscle pitchers' pitches in play with this better …read more
Source:: Sportsnet.ca
(Visited 3 times, 1 visits today)