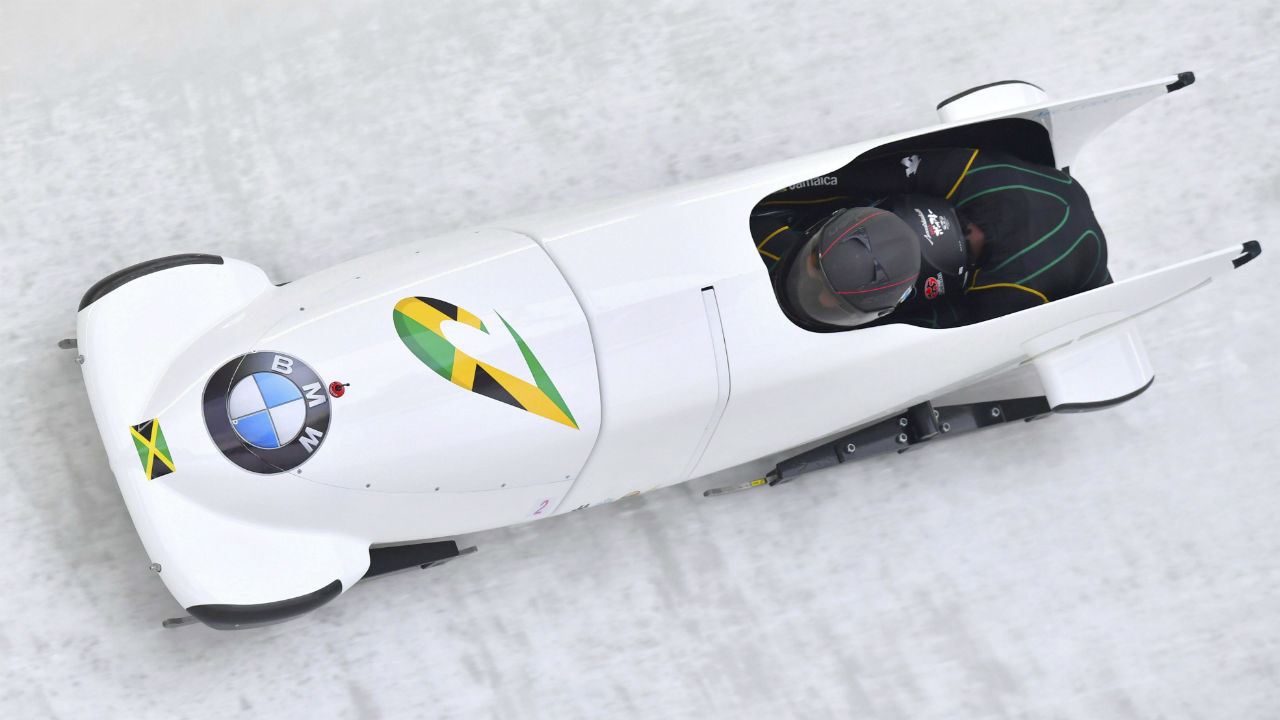 It may not be possible to catch all the best moments in a single day of the Olympic Games, but we're going to try. Every day, we'll award medals for standout achievements at (and around) Pyeongchang 2018 and feats that may or may not be recognized on the podium (and may or may not even be of an athletic nature).
Here are our picks for Day 1, which includes some dominant performances by some of the world's finest female athletes.
Gold medal for making journalists cry…
…Goes to Jamaican bobsledder Jazmine Fenlator-Victorian, whose incredible words during a Pyeongchang press conference brought tears and applause from all in attendance.
Fenlator-Victorian was part of the United States' bobsleigh entry in Sochi in 2014, but chose to represent her father's native Jamaica a few years ago with the goal of promoting diversity in sport and helping make Olympic history.
Thirty years after the Jamaican men's foursome arrived in Calgary and inspired Cool Runnings, Fenlator-Victorian will pilot the nation's first-ever women's entry in the sport, along with teammate Carrie Russell. And unlike the Cool Runnings crew, these women are here to really compete.
"It's important to me that little girls and boys see someone that looks like them, talks like them, has the same culture as them, has crazy curly hair and wears it natural, has brown skin-included in different things in this world" Jazmine Fenlator-Victorian #PyeongChang2018 pic.twitter.com/9vfJ0FK1wL

— Jamaica Bobsled Team (@Jambobsled) February 10, 2018
Watch out for Mr. Cool Bolt—that's the name of their sled—when women's bobsleigh hits the track on Feb. 15.
Continuing on the theme of strong female leads…
Gold medal for making women's Olympic history…
…Goes to Norwegian cross-country skier Marit Bjoergen, who earned a silver medal in the women's 15-kilometre skiathlon — the first medal event of the Games.
With that silver, the 37-year-old now has 11 career Olympic medals (six gold, four silver, one bronze), making her the most decorated female winter Olympian ever. She first reached the Olympic podium in Salt Lake City in 2002, winning silver, and has won at least one medal in five straight Games including five medals (three of which were gold) in Vancouver 2010 and three more golds in Sochi 2014. Amazing.
"I am here to take medals," Bjorgen told reporters. "It is my fifth Olympics and still to be there, I am happy with that. I am happy to be here at my age."
Gold medal for uniting in the name of sport…
…Goes to the unified women's Korean hockey team, which hit the ice for the first time in these Olympics and demonstrated what these games are about.
There are hundreds lining the streets outside Kwandong Hockey Center chanting and waving Korean unification flags before the first game for the joint women's hockey team. #PyeongChang2018 pic.twitter.com/VPu1kf8GLK

— Jake Seiner (@Jake_Seiner) February 10, 2018
North and South Korea joined forces to put together its women's Olympic hockey team back in January due to a political accord and a desire to show good will in the name of sport. This is the first time the divided nations have ever joined forces on a single team in any Olympic sport.
Big game for 3 countries involved. Swiss President Alain Berset shakes hands with S. Korean President Moon Jae-in. North Korea represented by nominal head of state Kim Yong-nam and country's leader's sister Kim Yo-jong sitting next to IOC President Thomas Bach. #PyeongChang2018 pic.twitter.com/mrDOKu1aM6

— IIHF (@IIHFHockey) February 10, 2018
Though Korea lost the lopsided matchup against Switzerland, it was a victory for the Olympic spirit.
Gold medal for non-stop scoring…
…Goes to Swiss women's hockey player Alina Muller, who registered a whopping four goals to open up Switzerland's tournament against the unified Korean team.
Muller needed less than 10 minutes to score a natural hat trick in the first period, and later added her fourth …read more
Source:: Sportsnet.ca
(Visited 3 times, 1 visits today)