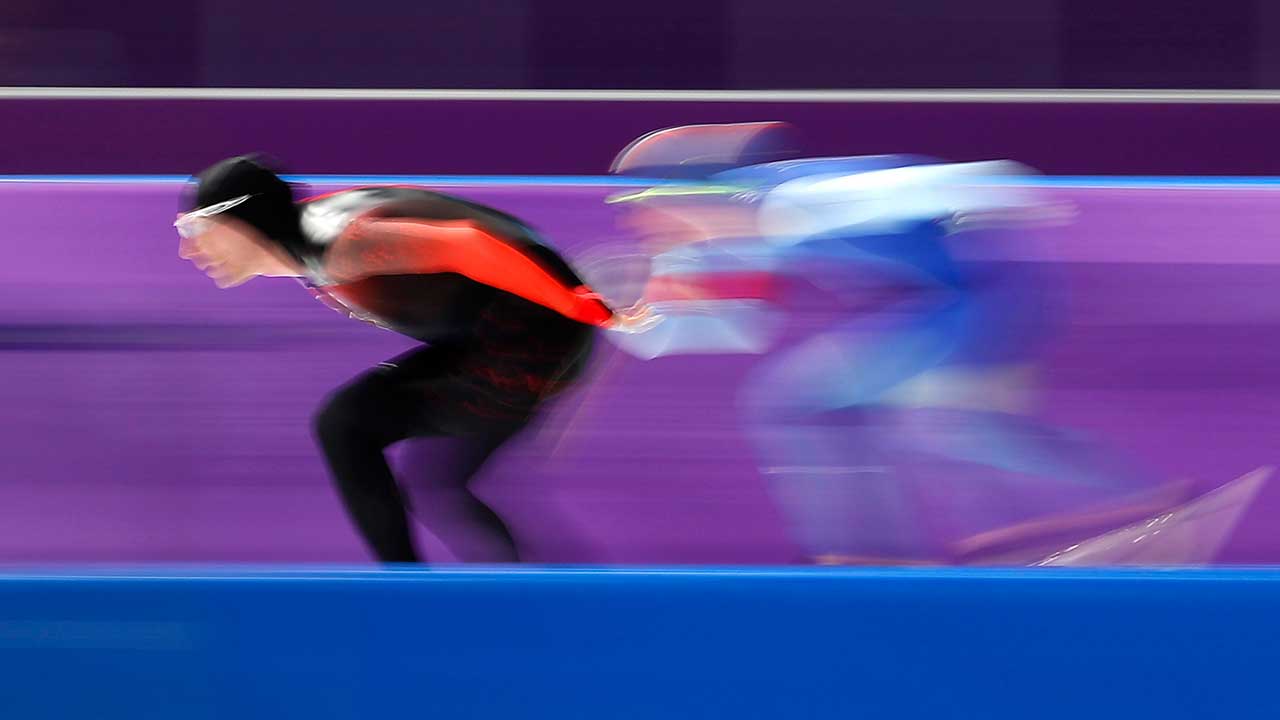 It may not be possible to catch all the best moments in a single day of the Olympic Games, but we're going to try. Every day, we'll award medals for standout achievements at (and around) Pyeongchang 2018 and feats that may or may not be recognized on the podium (and may or may not even be of an athletic nature).
Day 2 of the Olympic Winter Games featured about as close a finish as you will ever see, a couple of curlers doing what curlers do second best, and a teenager that will make you question your life choices.
Gold medal for closest finish
Ted Jan-Bloemen had quite a bit of ground to cover down the stretch in his men's 5,000-metre heat against Norway's Sverre Lunde Pedersen. The Canadian trailed by two-hundredths of a second after the last turn, but the 10,000-metre specialist (and current world-record holder in that distance) had fuel to burn and was able to close the gap by the time they crossed the line. And by close, we really mean close.
The duo crossed with seemingly identical times of six minutes 11.61 seconds, with Jan-Bloemen getting the edge by two-thousandths of a second after review. His silver medal is Canada's first podium finish in the men's 5,000-metres since 1932, according to CBC.
Here's how close the photo finish was:
PHOTO FINISH determines #TeamCanada's @TedJan Bloemen finishes in front of Norway's Pedersen by the smallest of marginshttps://t.co/OHpiY4IkM6 pic.twitter.com/mP3vmu2cf6

— CBC Olympics (@CBCOlympics) February 11, 2018
Netherland's Sven Kramer, who could easily take gold in a Sidney Crosby impersonation event, eventually won the 5,000-metres at 6:09.76, an Olympic record. It was Kramer's third straight gold in the discipline.
But that finish, though…
Gold medal for nicest snipe
Speaking of finishes, check out Rebecca Johnston's second goal of Canada's Pyeongchang opener against the Olympic Athletes from Russia team.
Rebecca Johnston roofs her second of the game
Canada up 4-0 @RBC pic.twitter.com/FeVQlGTY9V
— CBC Olympics (@CBCOlympics) February 11, 2018
Canada-OAR was a scoreless affair after one period, before the Canadians – looking for their fifth consecutive gold – took control with three goals in the second.
Johnston, who was a part of Canada's 2010 and 2014 teams, also opened the scoring for Canada, and finished the game with three points.
Canada plays Finland on Wednesday.
Gold medal for sticking to the spirit of your sport
This is not to disparage the skill required to be an elite curler, because the sport is insanely difficult.
However, you gotta love mustachioed American curler Matt Hamilton and Canada's John Morris sharing a brew in the dressing room – in recognition of curling's more sociable traditions.
Morris, whose mixed doubles team with Kaitlyn Lawes plays Norway for a trip to the final on Sunday, posted the moment on Instagram, captioning "I know it's the Olympics… but at the end of the day its [sic] still curling."
Hamilton described "broom stacking" (curling's encouragement of inebriation) as such:
"Broom stacking is something they did back in the day. About half way through the game all the old guys would put their brooms in the middle of the ice and go inside to …read more
Source:: Sportsnet.ca
(Visited 1 times, 1 visits today)