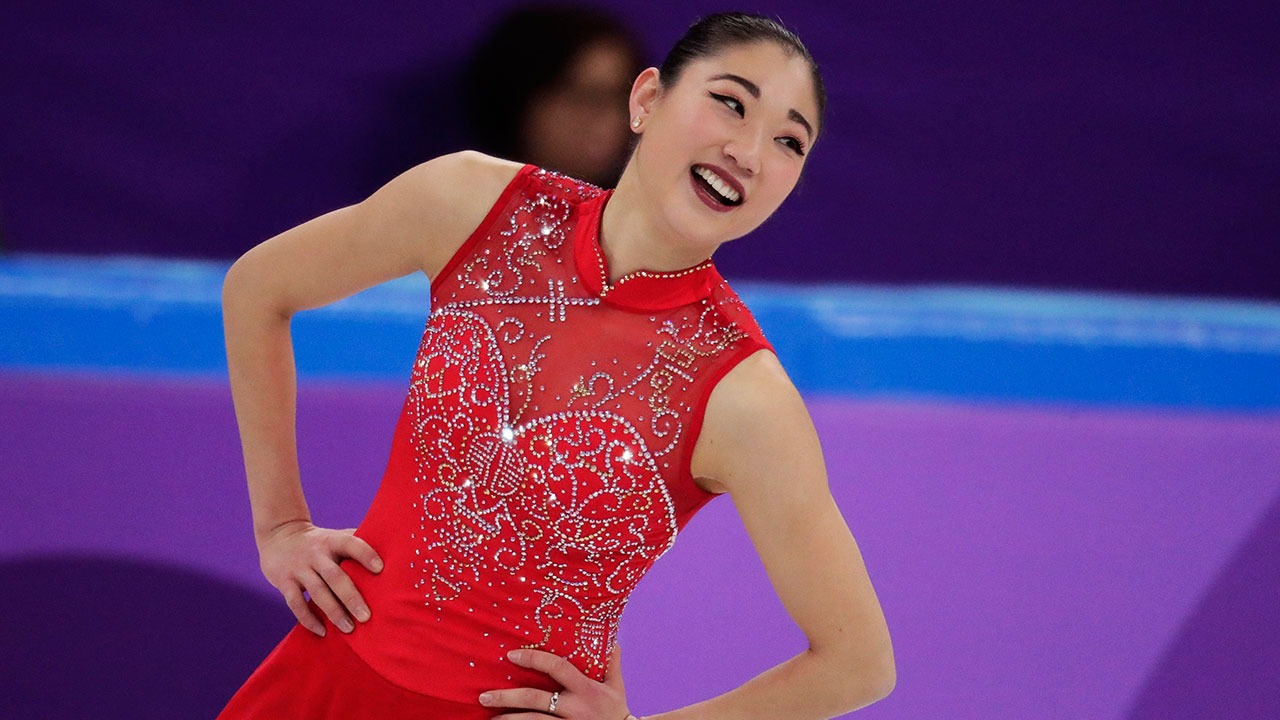 It may not be possible to catch all the best moments in a single day of the Olympic Games, but we're going to try. Every day, we'll award medals for standout achievements at (and around) Pyeongchang 2018 and feats that may or may not be recognized on the podium (and may or may not even be of an athletic nature).
Day 3 of the Olympic Winter Games featured Mr. T, ice cream, a triple axel and gusting winds. I make sense of it all with the help of Twitter below.
Gold medal for going for it
Team USA figure skater Mirai Nagasu became the first American woman to land a triple axel at the Olympics. She landed the move in the women's free skate portion of the team figure skating event.
Not only is it impressive that Nagasu landed it, it was incredibly unselfish that she tried it in the team event and didn't hold out to attempt it in the personal competition later in the winter Olympics.
In Pyeongchang, South Korea Nagasu earned a 137.53 score. That was good enough for second in the ladies' free skate, giving the United States a valuable nine points in the team competition. Japanese skaters Midori Ito and Mao Asada are the only other women to land the triple axel at the Olympics.
Wow @mirai_nagasu !!! Congratulations…tears of joy for you again! #1stAmerican3axel #hero
— Kristi Yamaguchi (@kristiyamaguchi) February 12, 2018
Take a bow, @mirai_nagasu. First US woman to land a triple Axel in the #WinterOlympics, third ever. Emotion POURING out after she's done #PyeongChang2018 pic.twitter.com/6cCnclVFlH

— Nick McCarvel (@NickMcCarvel) February 12, 2018
"That was shiny, sparkling redemption." – @JohnnyGWeir
Mirai was eating In and Out with @Adaripp and watching the last Olympics when she was left off the team. Tonight, she's the first US woman to land a triple axel at the Olympics.

— Kalyn Kahler (@kalynkahler) February 12, 2018
That long program, complete with a TRIPLE AXEL, from Mirai Nagasu was the epitome of COURAGE. No one would have blamed her if she left that element out for the team event. But NOPE, she went out guns blazing and made some American Olympic history! I still have goosebumps!

— Chris Schleicher (@cschleichsrun) February 12, 2018
Gold medal for live-tweeting
Apparently, Mr. T likes the Olympics, and he likes curling specifically. I'm hard pressed to think of a more unlikely headline. "I pity the fool" that hasn't been following him throughout the games.
Here is a sampling of his best reactions to the world's greatest sports spectacle.
I am really Pumped watching the Winter Olympics. I am watching events I never thought I would watch before, like curling. You heard me, curling Fool!

— Mr. T (@MrT) February 11, 2018
Curling is kind of different, but it's Exciting. It's not as easy as it looks. It takes some skills that's for sure. I like it!

— Mr. T (@MrT) February 11, 2018
Watching the Opening Ceremony of the Winter Olympics. I felt so Proud watching all of the Americans walk In. #WinterOlympics

— Mr. T (@MrT) February 10, 2018
When I saw the American Flag, followed by over 240 Olympians, it made me feel really good. I Wish All of them Success! Go USA #2018WinterOlympics

— Mr. T (@MrT) February 10, 2018
Watching these Olympic athletes, makes me all of a sudden feel out of shape and lazy. Especially after learning how hard they've trained to get here! Whew!

— Mr. T (@MrT) February 11, 2018
I have so much respect for all the Olympic athletes. All of the challenges they had to face, the aches and pains, the worries and the doubts. Whew!

— Mr. T (@MrT) February 11, 2018
Gold medal for cravings
How do you deal with nerves? Some people bite their nails. Yes, we're talking about you LeBron James. Chloe Kim, who is quickly becoming the LeBron James of female snowboarding, gets cravings.
First, she wanted Churros to calm herself down. Then she wanted ice cream — not before but during competition. In between runs she sent out a tweet looking for a cold treat despite the cold temperatures. Then she weighed in on what flavour.
The American born to South Korean parents is poised to taste gold at the Olympic Games but she is just as concerned about snacking on a small treat as she is about grabbing big air.
Could be down for some ice cream rn

— Chloe Kim (@chloekimsnow) February 12, 2018
I'm so nervous!!!!!!!
— Chloe Kim (@chloekimsnow) February 11, 2018
Oh and I also had 2 churros today and they were pretty bomb so if you ever get nervous go eat a churro

— Chloe Kim (@chloekimsnow) February 11, 2018
Cookies & Cream is some good stuff. If anyone can get me some to the village thatd be dope

— Chloe Kim (@chloekimsnow) February 12, 2018
Gold medal for inclement weather
Rightfully so, athletes, media and spectators were not impressed with the conditions surrounding the women's slopestyle competition.
Monday's giant slalom was postponed due to strong winds. After the qualification for women's slopestyle was cancelled, the women's slopestyle final was negatively impacted when the gusting winds didn't improve. The question of whether the competition would still have been taking place if …read more
Source:: Sportsnet.ca
(Visited 2 times, 1 visits today)