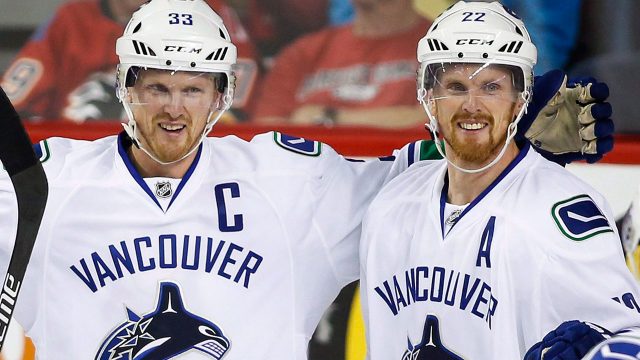 OK, so Brock Boeser isn't going to win the Calder Trophy. Maybe he should be considered for the Hart.
In four games since Boeser's season ended with a fracture in his lower back last week against the New York Islanders, the Vancouver Canucks are 0-4 and have been outscored 11-3. Half of those losses are against the Arizona Coyotes.
The Canucks actually played about as well as they could Monday against the Los Angeles Kings, but Vancouver couldn't get any of its 35 shots past goalie Jonathan Quick and the Canucks' goalless streak stretched to 152 minutes and nine seconds.
Without Boeser, the attack just isn't dangerous. And now, as is often the case in these situations, the problem is becoming as much about confidence as ability.
Daniel Sedin hit the post in the second period with Quick badly beaten and a lot of net showing, and Sam Gagner missed an open net – albeit from a slightly sharp angle, but with the puck on his forehand – when set up by Brandon Sutter.
The Canucks' annual death trudge isn't likely to get any cheerier when the team ends its three-games-in-four-days road trip Wednesday against the Anaheim Ducks. And Boeser will still be missing.
if ( "1" == true && 'undefined' !== typeof window.getIndexAds ) {
var so = {preroll:{1:{1:{siteID:191888},2:{siteID:191889}}}};
adServerUrl = window.getIndexAds( 'http://pubads.g.doubleclick.net/gampad/ads?sz=640×360&iu=%2F7326%2Fen.sportsnet.web%2FVideo&ciu_szs=300×250&impl=s&gdfp_req=1&env=vp&output=vast&unviewed_position_start=1&ad_rule=1&vid=5750211395001&cmsid=384', so, permalink);
} else {
adServerUrl = "http://pubads.g.doubleclick.net/gampad/ads?sz=640×360&iu=%2F7326%2Fen.sportsnet.web%2FVideo&ciu_szs=300×250&impl=s&gdfp_req=1&env=vp&output=vast&unviewed_position_start=1&ad_rule=1&vid=5750211395001&cmsid=384";
}
$el.after( unescape("%3Cscript src="" + (document.location.protocol == "https:" ? "https://sb" : "http://b") + ".scorecardresearch.com/beacon.js" %3E%3C/script%3E") );
$( document ).one( 'ready', function() {
$( "#video_container-437576" ).SNPlayer( {
bc_account_id: "1704050871",
bc_player_id: "rkedLxwfab",
//autoplay: false,
//is_has_autoplay_switch: false,
bc_videos: 5750211395001,
is_has_continuous_play: "false",
adserverurl: adServerUrl,
section: "",
thumbnail: "https://assets1.sportsnet.ca/wp-content/uploads/2018/03/1704050871_5750208526001_5750211395001-vs-1024×576.jpg",
…read more
Source:: Sportsnet.ca
(Visited 2 times, 1 visits today)