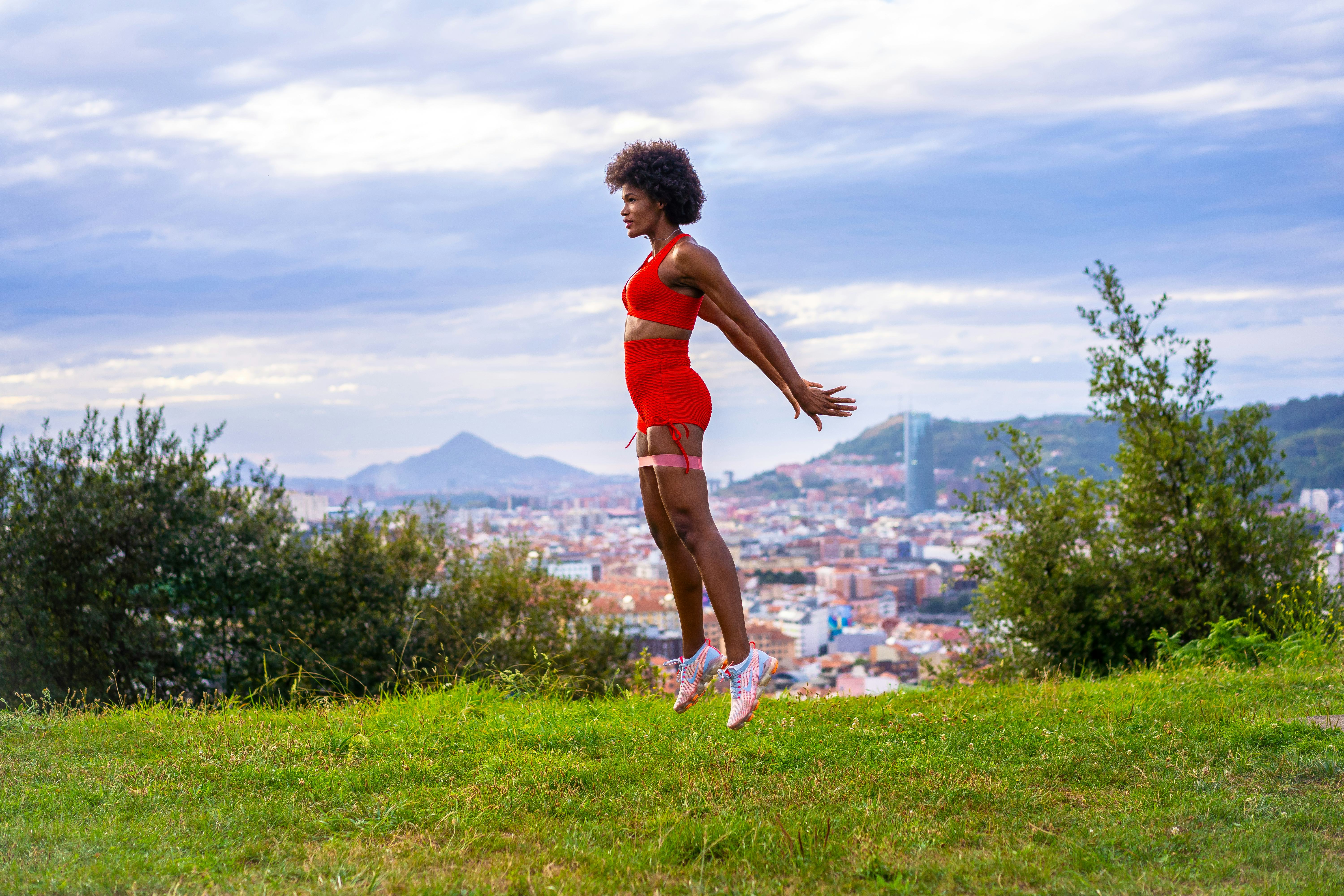 Ever feel like your body has stopped responding to your usual workout? Or are you just ready to challenge yourself after a year of being stuck inside? Meet plyometrics, a type of exercise that builds strength, power, and speed through fast, explosive movements. While it may sound intimidating, these beginner plyometric workouts can help you nail the basics as you get acquainted with this heart-pumping training style.
Though they're quick, plyometric exercises require maximum force in short bursts — think jump squats, burpees, and tuck jumps, says Dr. Rick Richey, an Everlast trainer and founder of New York City's Independent Training Spot. And there are plenty of reasons to give it a try: Besides increasing your power, these rapid-fire workouts build endurance and strengthen your muscles and connective tissue with force since you're working super-hard to push through fast, challenging reps. The explosive movements quickly stretch and shorten your muscle fibers, which conditions your body for speed and agility. And, like all other forms of exercise, plyo is a great way to release stress and boost your mood — after all, you can't help but break a smile with all that jumping around (at least after it's over).
Another perk of the workouts? Regular plyometric training can help you move better in everyday life. "The ability to react and generate force quickly is crucial to overall function and safety," says Or Artzi, a group fitness instructor for Equinox+. It's functional fitness.
While plyo is often the workout of choice for athletes who want to get stronger and faster, the training style can be adapted to suit people of all fitness levels and backgrounds, says Richey. The key? Mastering how to land fast-paced jump movements safely. "Once landing mechanics are optimized, the focus on force production can begin," he says. So if you're ready to jump into plyo (literally), check out these trainer-approved, beginner-friendly workouts.
1. Your Fave Workout, Plus Plyo
If you're new to plyometrics, avoid going from zero to 100 in one workout, says Richey. Instead, start small by incorporating basic plyometric exercises into your usual sweat sesh so that your muscles and joints can adjust slowly without putting you at risk for an injury. And if you feel any pain while you try plyo exercises for the first time, he cautions to stop and rest.
Artzi suggests starting with basic squat jumps, which incorporate all the phases of a plyometric exercise: The loading phase (when you bend your knees before the jump), the force production phase (when you jump), and the unloading phase (when you land and bend your knees again). Build 3 sets of 10 reps each of squat jumps into …read more
Source:: Bustle
(Visited 1 times, 1 visits today)

Dustin Johnson highlights | Round 3 | Genesis | 2021

In the third round of The Genesis Invitational 2021, Dustin Johnson recorded three birdies against 3 bogeys to remain even through 13 holes before play was suspended due to darkness. Johnson is 7-under-par for the tournament. The PGA TOUR returns to iconic Riviera Country Club for The Genesis Invitational. Tournament host Tiger Woods will be in attendance but won't play as he is still recovering from a back procedure last month. World No. 1 Dustin Johnson and defending champion Adam Scott are among the headliners. Notables in the invitation-only field include major champions Brooks Koepka, Bryson DeChambeau, Collin Morikawa, Jordan Spieth, and Francesco Molinari, plus world No. 2 Jon Rahm. Two-time FedExCup winner Rory McIlroy looks to finally lift the trophy at Riviera after holding a piece of the lead Sunday a year ago only to fall to T5. In addition to reigning champ Johnson, FedExCup winners in the field include Justin Thomas, Brandt Snedeker, and Jim Furyk.