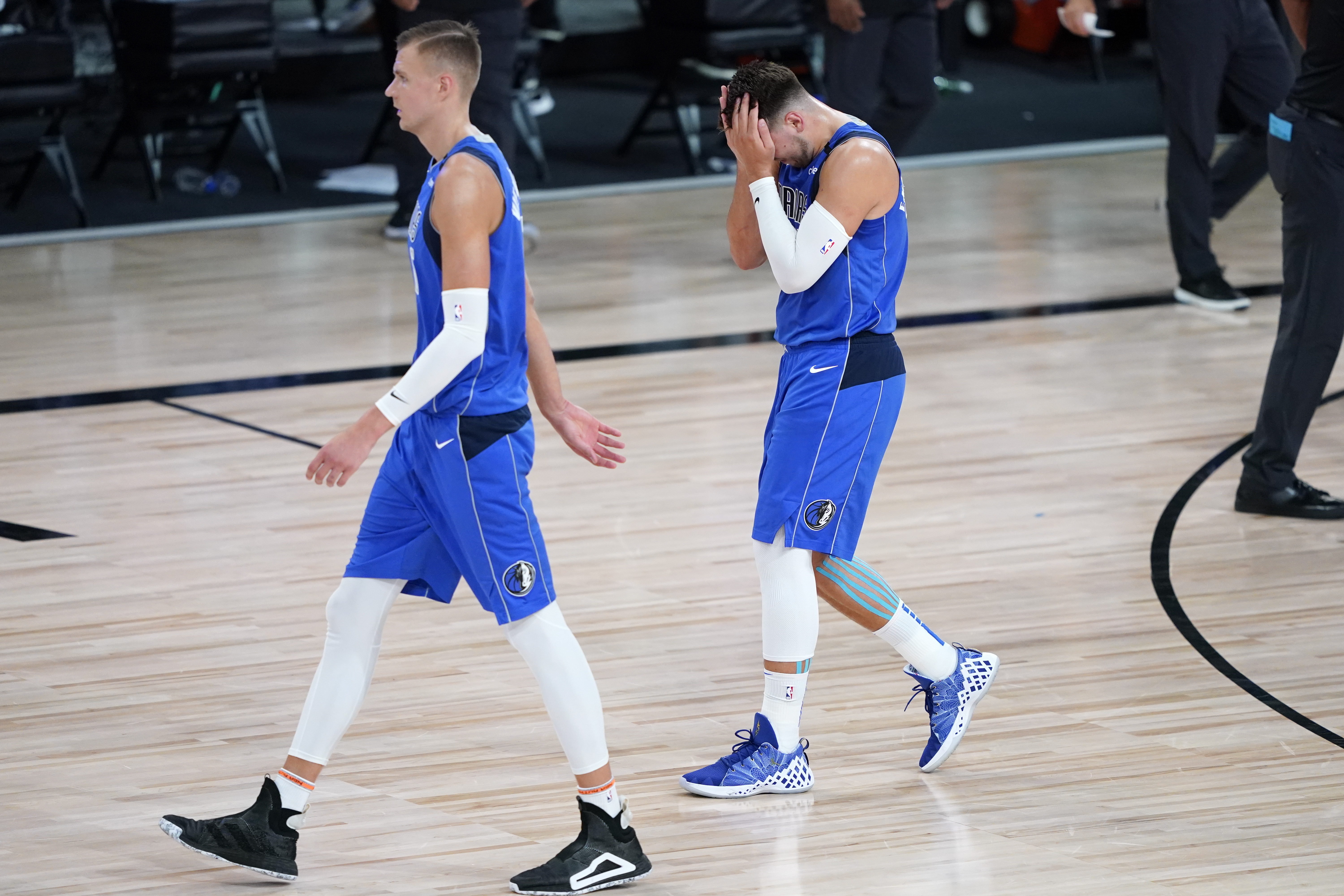 After earning a playoff berth for the first time since the 2015-16 season, the Dallas Mavericks have gotten off to a slow start through 29 games. But Luka Doncic has done just about everything possible to put the team on his back.
Unfortunately for the 21-year-old superstar, his diverse skill set has not made up for the Mavericks' ineptitude on the defensive end of the floor.
But if Dallas has any shot at turning its season around, it may soon have to break its best player's heart.
Dallas continues to struggle mightily on the defensive end of the floor
RELATED: Luka Doncic Surprisingly Admits the NBA Made a Huge Mistake Even Though It Benefits Him Most
Last year, the Mavericks made the postseason after compiling a 43-32 record. Most of their success stemmed from a high-powered offense that averaged 117 points per game.
On the other end of the floor, however, Dallas did not impress.
Rick Carlisle's team ranked just 16th in points allowed per game (112.1) and got eliminated by the LA Clippers due largely to a porous defense.
While their offense has taken a step back this season, the Mavericks have actually managed to regress on defense, too.
Opponents have averaged 113.8 points against Dallas, which puts them 23rd among the 30 NBA teams. In particular, a lack of a defensive-minded big man has severely inhibited the Mavericks.
So even though Kristaps Porzingis has provided plenty of scoring, his shortcomings on the other end of the floor continue to cause problems for a team that features one of the most dynamic young stars in the game: Luka Doncic.
Luka Doncic could soon experience a case of heartbreak courtesy of his own team
Luka Doncic may not like it, but the Mavericks may have to trade Kristaps Porzingis in order to upgrade their dismal defense. | Ashley Landis-Pool/Getty Images)
RELATED: Nike Denied LeBron James From Making Luka Doncic a Major Part of His Financial Portfolio
Dallas did well to trade for Kristaps Porzingis in order to pair him with Luka Doncic. After all, the idea of building around the dynamic duo seemed like a sound strategy.
But given his durability concerns and defensive deficiencies, the former New York Knicks star no longer seems like a lock to remain a Maverick.
In fact, Dallas may soon break Doncic's heart in order to give him what he truly needs. Because according to Jake Fischer of Bleacher Report, the two-time NBA All-Star's close friend and talented teammate could be on the move sooner than later.
The Mavericks reportedly have "quietly gauged the trade market" for Porzingis.
"They've kicked the tires on everybody on their roster that's not named Luka," one person with knowledge of the team's thinking told Fischer. "You know [president of basketball operations] Donnie [Nelson]; they're always tinkering."
Fischer's report also contained an interesting take from an assistant general manager.
"They've definitely sniffed around on him," the unnamed executive told Bleacher Report. "They're taking the temperature, because …read more
Source:: Sportscasting
(Visited 5 times, 1 visits today)

Dustin Johnson highlights | Round 3 | Genesis | 2021

In the third round of The Genesis Invitational 2021, Dustin Johnson recorded three birdies against 3 bogeys to remain even through 13 holes before play was suspended due to darkness. Johnson is 7-under-par for the tournament. The PGA TOUR returns to iconic Riviera Country Club for The Genesis Invitational. Tournament host Tiger Woods will be in attendance but won't play as he is still recovering from a back procedure last month. World No. 1 Dustin Johnson and defending champion Adam Scott are among the headliners. Notables in the invitation-only field include major champions Brooks Koepka, Bryson DeChambeau, Collin Morikawa, Jordan Spieth, and Francesco Molinari, plus world No. 2 Jon Rahm. Two-time FedExCup winner Rory McIlroy looks to finally lift the trophy at Riviera after holding a piece of the lead Sunday a year ago only to fall to T5. In addition to reigning champ Johnson, FedExCup winners in the field include Justin Thomas, Brandt Snedeker, and Jim Furyk. Here you can find everything you need to stay up to date with the world's foremost golf tour. Check in for highlights from every tournament plus player profiles, swing analysis and all the greatest shots and amazing moments. Teryn Gregson presents the craziest moments from around the world of golf in 'Good, Bad & Unusual'.