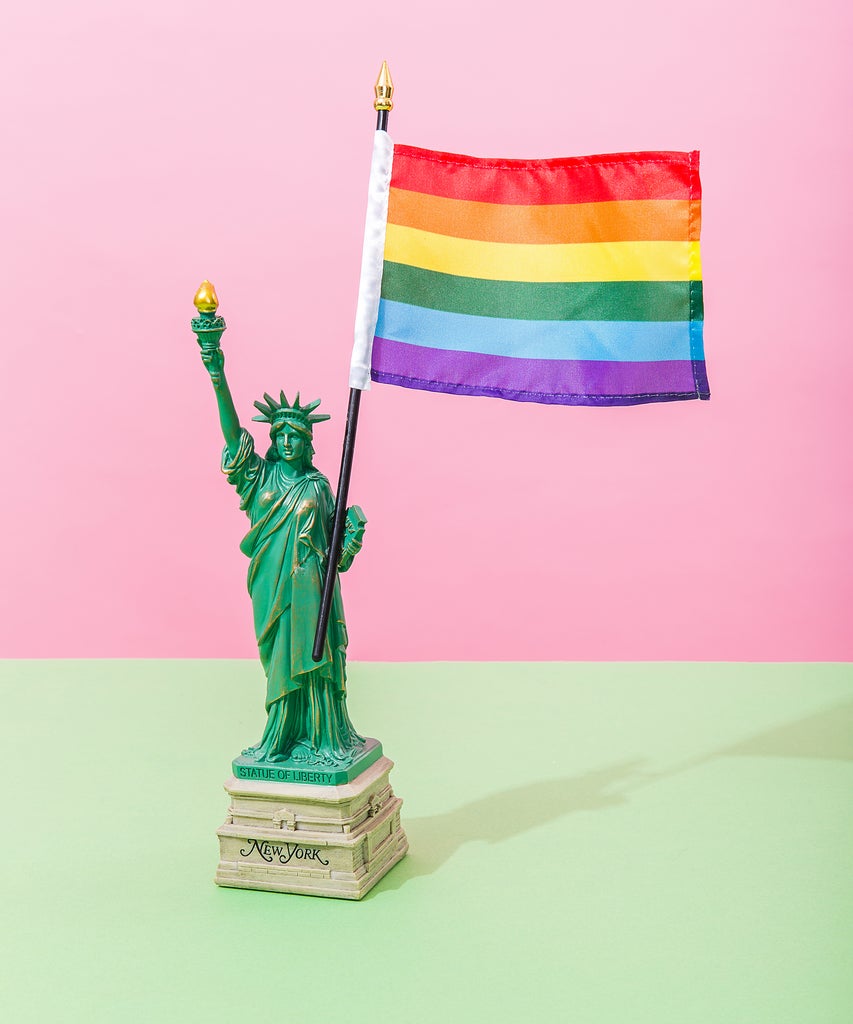 As uprisings around Black Lives Matter protests continue to span the country, there's a renewed interest in electoral politics and local change. Whether this is defunding the police or fighting for Black transgender lives, there's a clear shift in attention toward voting locally. This Pride Month, gender equality and gender justice has never been more pressing — right down to the ballot itself.
New York's fight for gender equality on the ballot was renewed in late February when advocates with New Kings Democrats, a Brooklyn initiative to get people into office, realized that a law required those running for county committee prevented any non-binary and genderfluid people from running for office under their own gender identity.
New Kings Democrats has run the #RepYourBlock campaign for the past six years to make running for a seat on County Committee more accessible to all people in Brooklyn. However, one of the biggest obstacles to participation is a rule that designates more than 5,000 seats as either "male" or "female" — excluding non-binary, intersex, and genderfluid people in Brooklyn from running for a seat on Brooklyn's Democratic County Committee without having to misgender themselves.
Around the country, rules have traditionally dictated how people run in elections at all levels. In one county in New Jersey, the statewide rule was overturned in favor of a "no gender" ballot. The California Democratic Party allows candidates to run as "self-identified other than female" or "self-identified other than male" which is a step in the right direction, but still upholds the gender binary in a way that's harmful to non-binary, genderfluid people, and intersex people. This is not the case in New York, though, or in most other U.S. states.
But the movement to change gender markers on the ballot is not a small one, either. More than 500 candidates of all levels, along with committees and organizations signed on, including Congresswoman Nydia Velásquez and Zellnor Myrie, signed a letter demanding that the rule be changed for non-binary and genderfluid candidates to be able to run without misgendering themselves. Rep Your Block, which usually focuses on doing trainings for candidates, offered to back candidates who wanted to file petitions without genders, and help them with a lawsuit to get the law changed. On April 3, the candidates filed a lawsuit against the state of New York challenging the rules.
"The Brooklyn Democratic Party is strengthened when everyone is included, and that means people of all backgrounds, races and ethnicities, classes, sexual orientations, and gender identities," says Caitlin Kawaguchi, the Communications Director for NKD. "In line with our mission of access, NKD believes this rule denying ballot access to anyone who does not identify as strictly male or female should be changed to expand access to all Brooklyn Democrats who want to run for a seat and serve on County Committee."
But a few weeks later, on April 29, the judge dismissed the claims that six …read more
Source:: Refinery29
(Visited 1 times, 1 visits today)