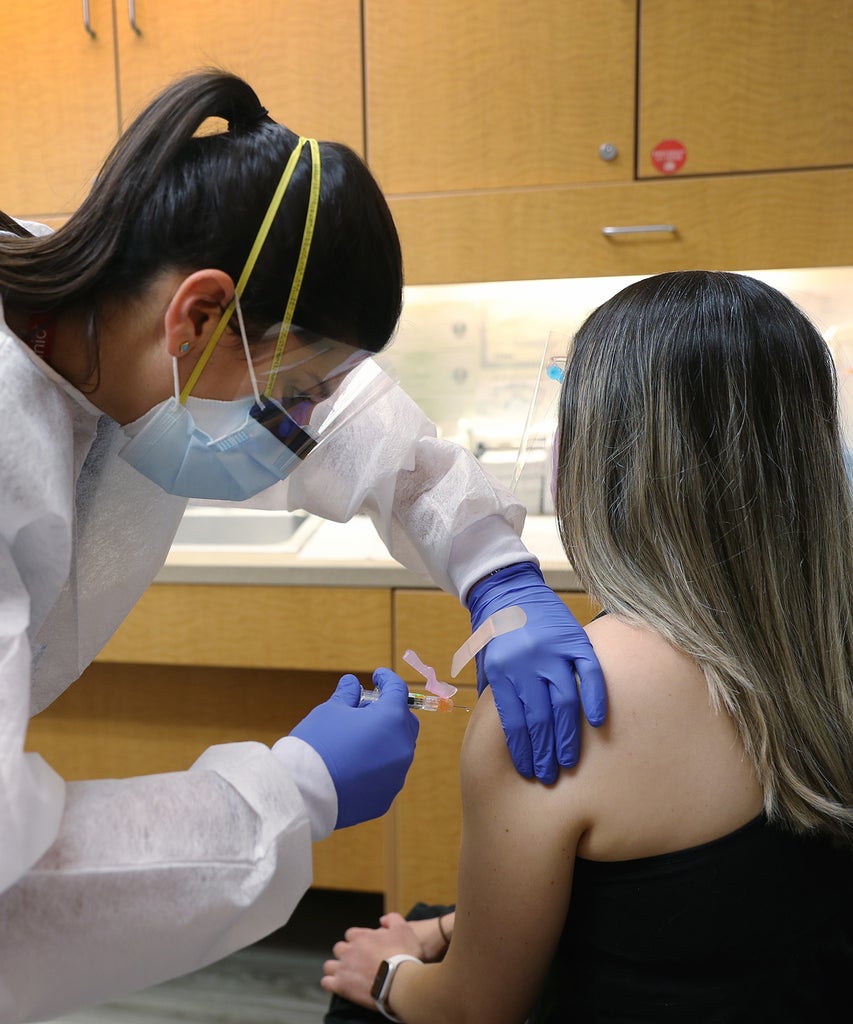 KEY BISCAYNE, FLORIDA – SEPTEMBER 03: Enbal Sabag, a Nurse Practitioner, wears personal protection equipment as she administers a flu vaccination to Noel Janzen at the CVS pharmacy and MinuteClinic on September 03, 2020 in Key Biscayne, Florida. Flu shots are available at the nearly 10,000 CVS pharmacies and approximately 100 MinuteClinic locations across the country. Heath experts say getting the flu shot this year is important because the dangers of having COVID-19 and the flu simultaneously are still unknown. (Photo by Joe Raedle/Getty Images)
Here's a sentence you'll be hearing a lot over the next several months: Get your flu shot. Experts, including top docs such as Anthony Fauci, MD, can't emphasize it enough. Influenza immunizations can help us avoid a "twindemic". They're critical. But many people are wondering when is the best time to get a flu shot. If you get it too early, will the effects "wear off" before the end of flu season?
We have answers. But first, a quick explainer about why flu shots are so critical: "Getting the shot prevents influenza infection, which reduces the burden on our healthcare system and keeps your immune system protected from the flu," explains Nate Favini, MD, the medical lead of Forward, a preventive primary care practice. "It also contributes to what's called 'herd immunity,' which reduces transmission of the flu through the population and protects children, older adults and people with medical conditions from the flu."
In short: It reduces your chances of getting sick. It protects vulnerable populations from getting sick. And it reduces the likelihood that hospitals and health centers will become overburdened again, as flu season and the pandemic converge. Sounds like a win-win-win situation, right?
Right. So, now that you've committed to getting your flu shot, here's everything you need to know about when to do it.
What's the best time to get a flu shot? 
Late October, explains Dr. Favini. Here's why: There's some evidence that getting a flu shot too soon in the season — such as August or September — might leave you with waning immunity by January or February, he says. That can be a problem, because flu season typically lasts through March, according to the Centers for Disease Control and Prevention. "This might be especially true for people over 65 who don't tend to have as strong of an immune response to vaccines," Dr. Favini says.
"On the other hand," he continues, "getting a shot early is dramatically better than not getting a shot at all. So while I tend to think that late October is the optimal time to get a flu shot, if you have a chance to do it sooner and might miss it later in the season, just go for it now." After getting poked, it'll take you about two weeks to build up immunity. 
When did the flu vaccine for 2020 become available? 
Manufacturers are rolling out the flu vaccine already, and doctors anticipate the full …read more
Source:: Refinery29
(Visited 1 times, 1 visits today)